Perogies are one of my FAVOURITE dishes over the holidays! While these babies are a little time consuming to make, trust me when I say they are nothing short of comfort food perfection! You can find our Vegan Perogie recipe in our Fraiche Food Full Hearts cookbook! For those of you who own our cookbook, I want to point out that there is a small typo in the recipe. Please flip to page 243 and adjust the water to 1 1/2 cups for the dough!
For those of you who don't yet have a copy of our cookbook (fingers crossed there will be one for you under the Christmas tree!), you're in luck as I'm sharing this recipe with all of YOU today! If you would like to purchase a copy of the Fraiche Food Full Hearts cookbook for the foodie in your life, you can do so, here!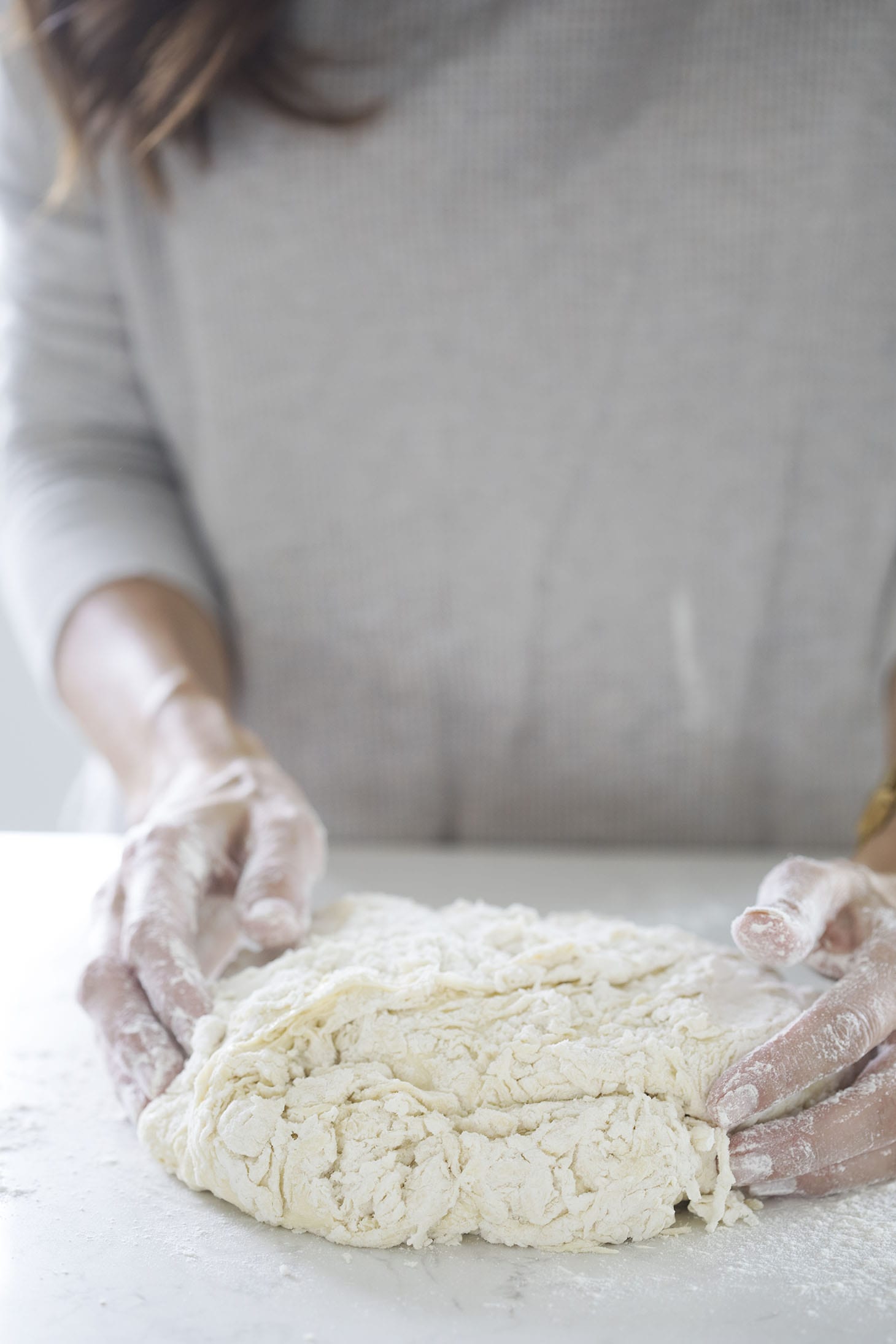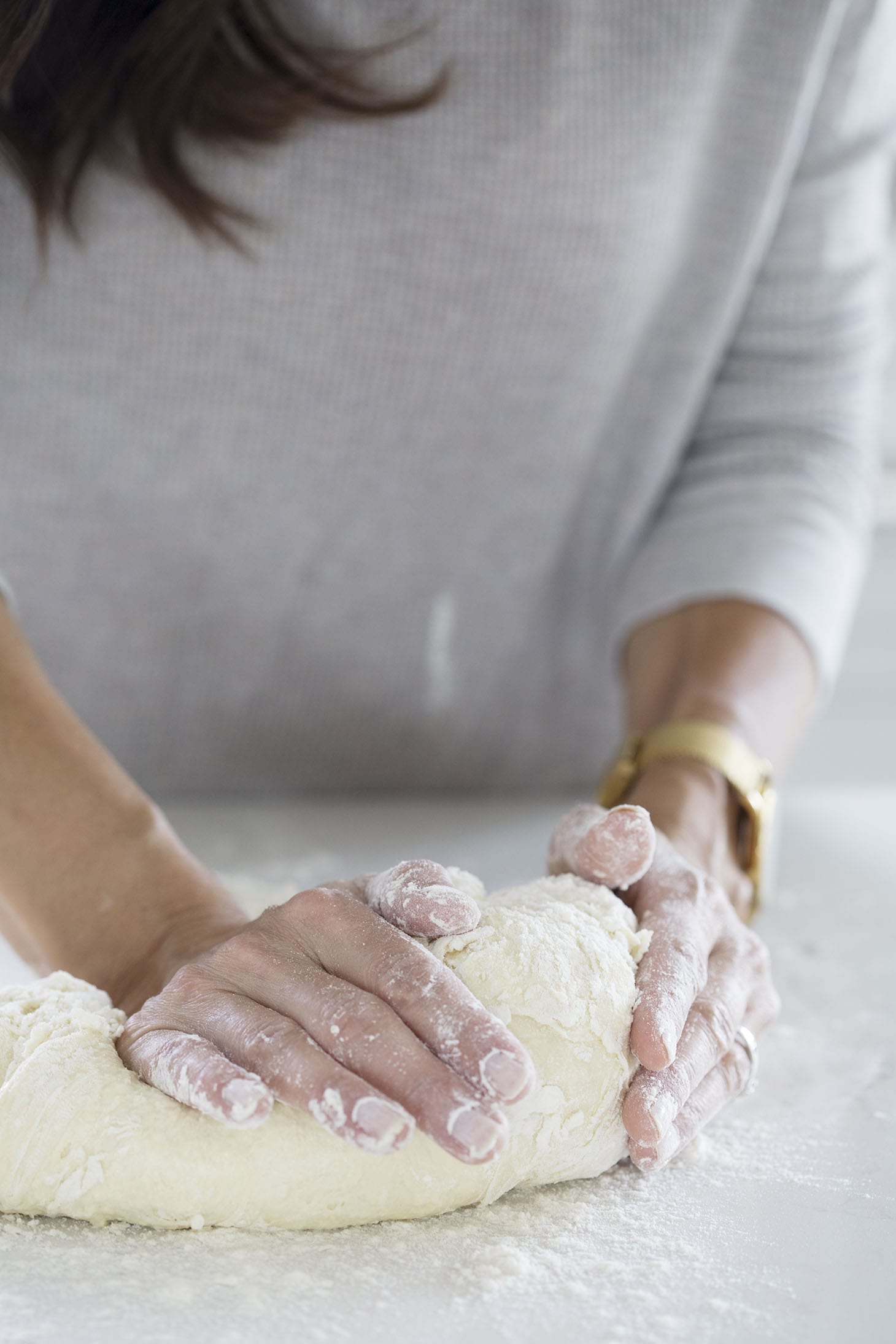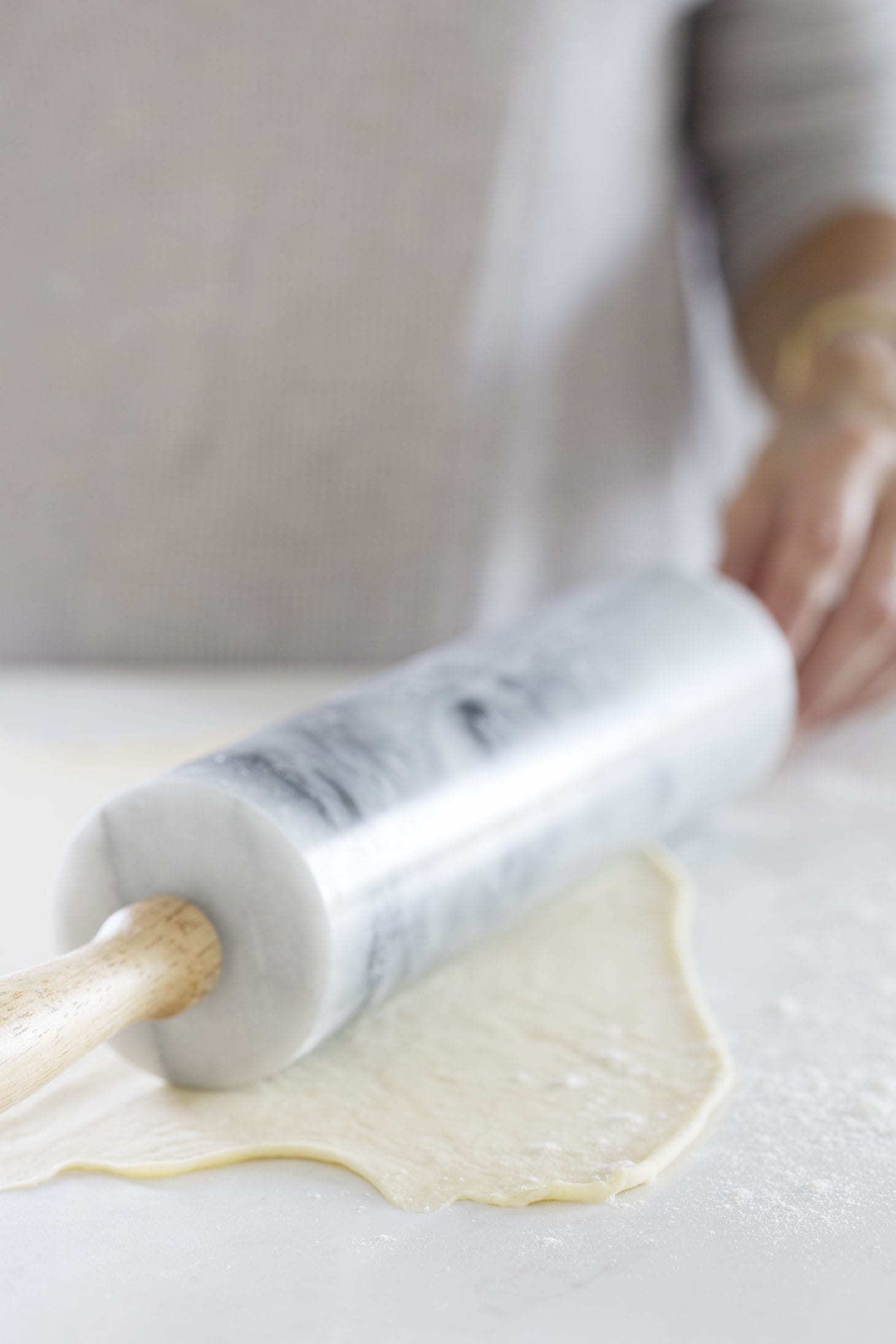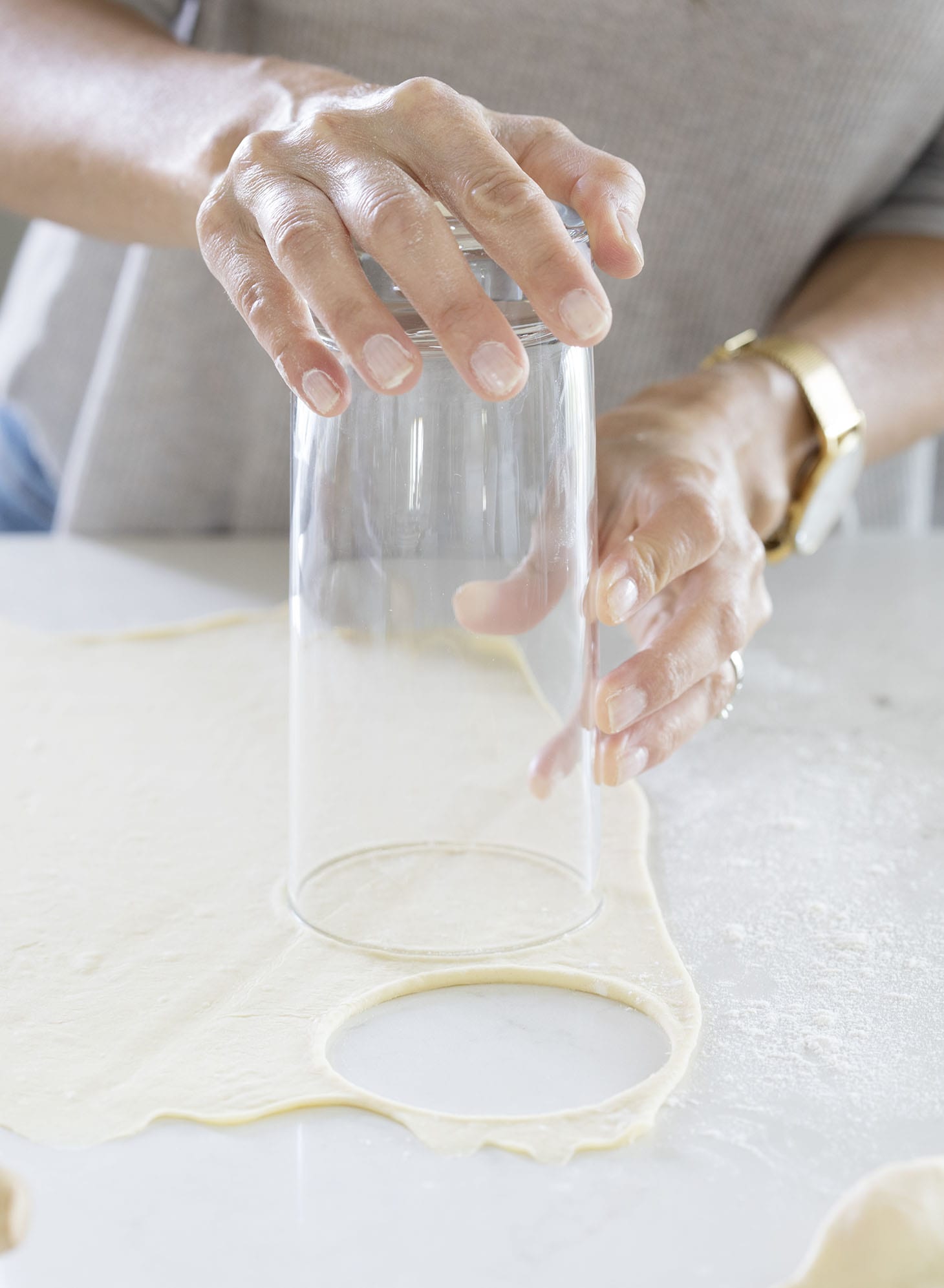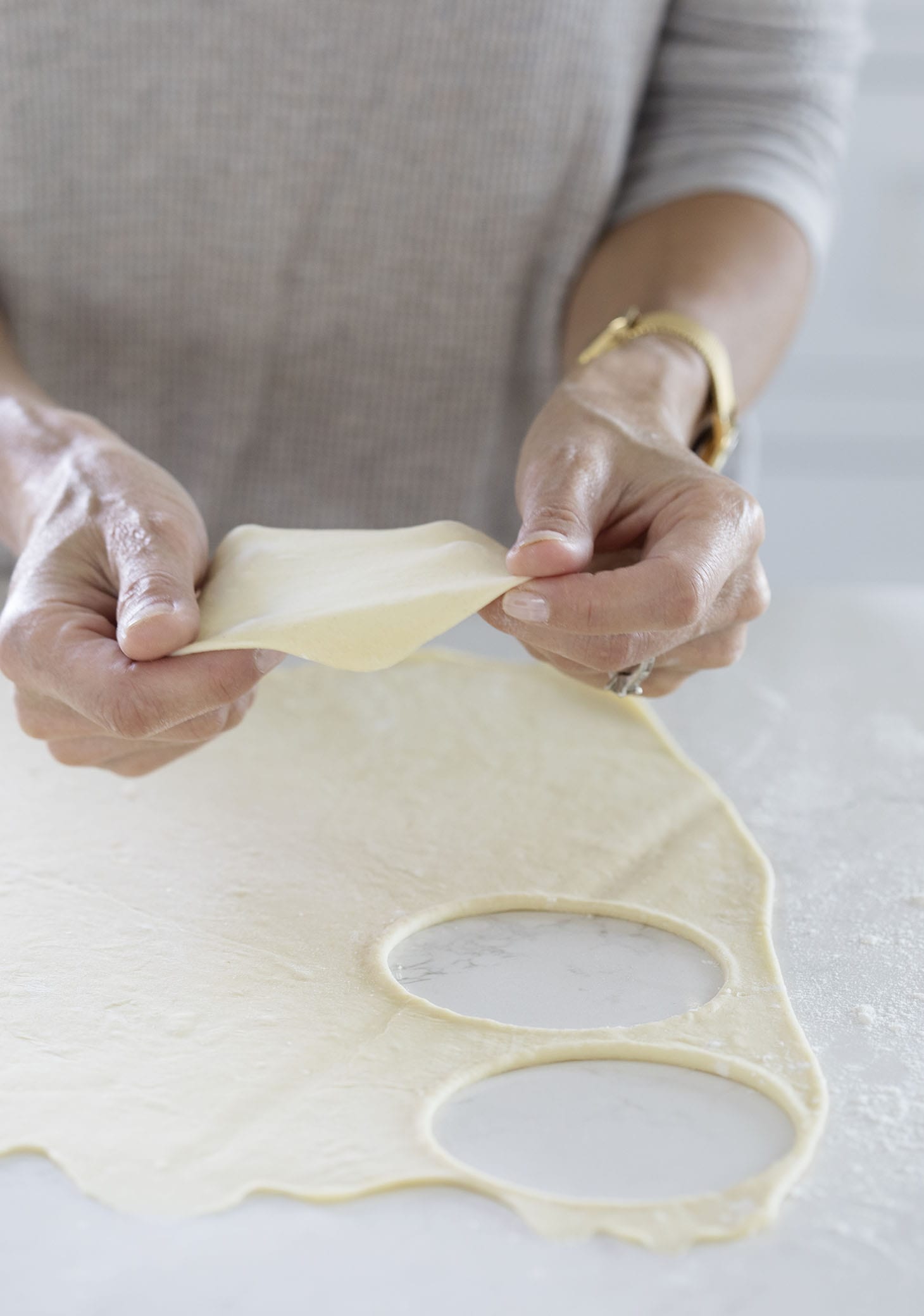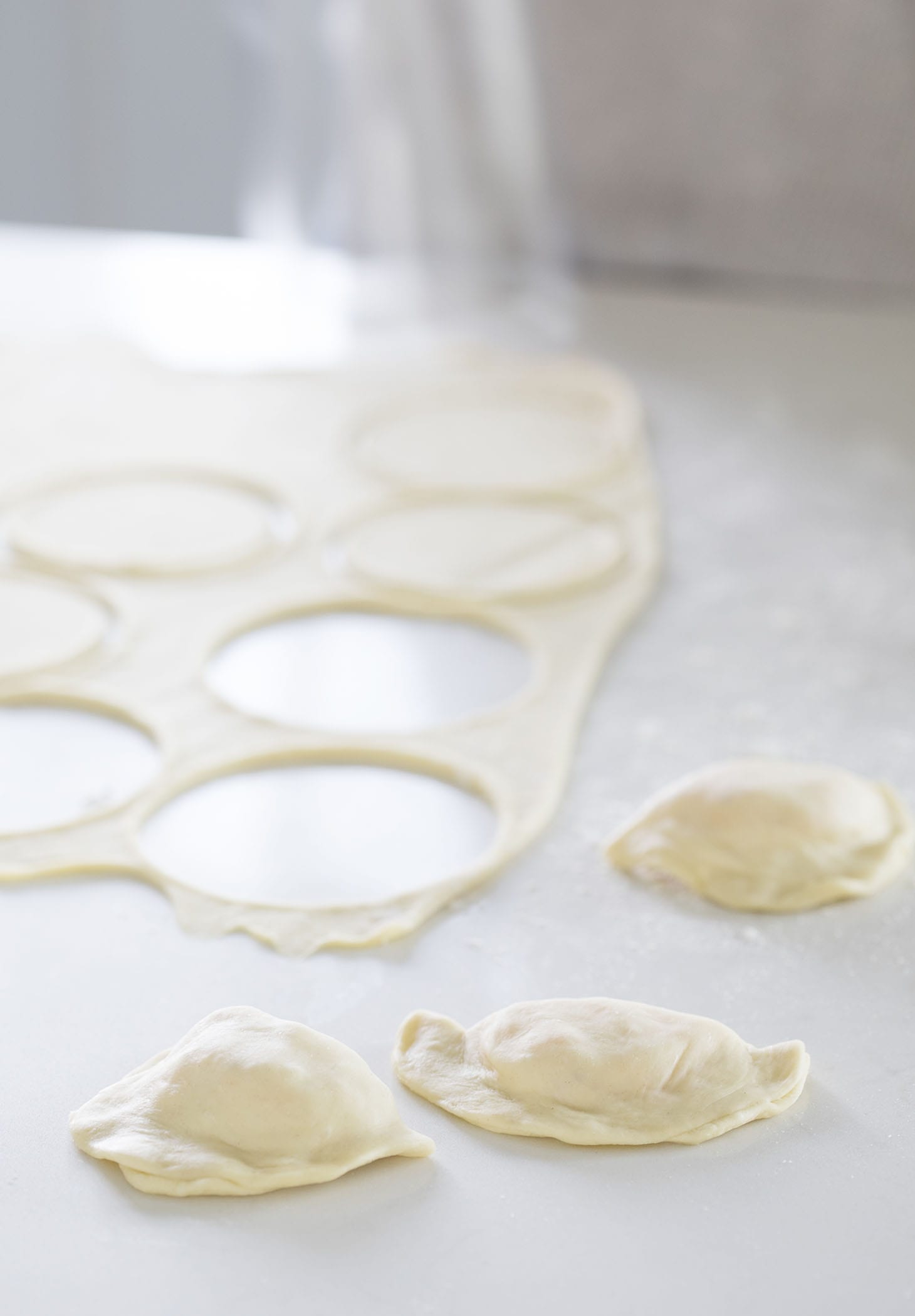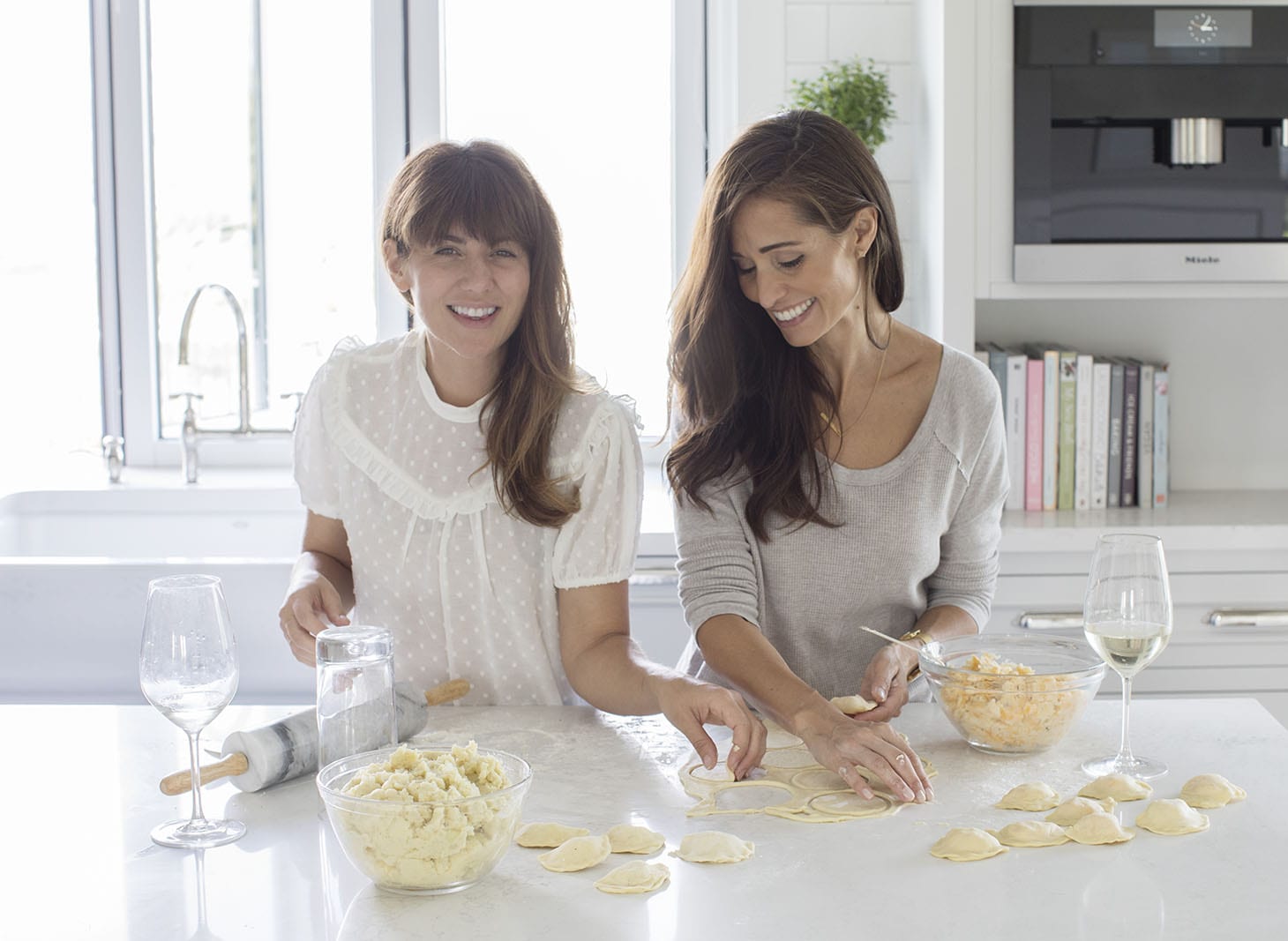 Ingredients
For the Dough

1 1/2 cups water
1/4 cup vegetable oil
4-5 cups all-purpose flour
1 teaspoon salt

For the Filling

4 tablespoons vegan butter, divided
2 cups finely chopped yellow onion (1 large onion)
3 pounds red potatoes, peeled and cubed
1 teaspoon salt, more if needed
1/4 cup nutritional yeast
Pepper

For the Topping

2 tablespoons vegan butter
1 cup finely chopped yellow onion (1 medium onion)
Vegan Sour Cream (page 315 of our cookbook), for serving
Instructions
MAKE THE DOUGH: Combine the water and the vegetable oil in a large bowl and whisk together.
Add 4 cups (IL) of the flour along with the salt and mix together with a wooden spoon. Turn the dough out onto a well-floured work surface and knead, gradually adding up to 1 cup (250 mL) more flour, to make a firm dough that is not sticky.
Place the ball of dough in a medium, lightly greased bowl (use olive oil or vegan butter), cover with a damp kitchen towel, and let rest for 30 minutes.
MEANWHILE, MAKE THE FILLING: In a small frying pan, heat 2 tablespoons (30mL) of the vegan butter over medium-low heat. Add the onions and cook, stirring occasionally, until golden brown and soft, about 20 minutes. Remove from the heat and set aside.
Meanwhile, bring 2 large pots of water to a boil. In one pot, boil the potatoes until very soft, about 15 minutes. Drain the potatoes in a colander and return them to the pot. Add the remaining 2 tablespoons (30mL) vegan butter and salt and mash the potatoes until they are smooth. Stir in the cooked onions, nutritional yeast, and pepper to taste. Add more salt if needed.
Once the dough has rested, divide it in half. On a lightly floured surface and using a lightly floured rolling pin, roll out one piece of dough until it is about 1/8 inch (3mm) thick. Cut out circles using a 2 to 2 1/2 inch (5 to 6 cm) cookie cutter, or simply cut the dough into circles or squares using a sharp knife. (There's less waste if you use a knife. You can reroll the dough scraps, but it gets tough.)
Place a piece of the cut-out dough in your hand and put 1 teaspoon (5mL) of the filling in the centre of the dough. Fold the dough over the filling to create a pocket and carefully pinch the edges of the dough together with your fingers to seal. Repeat with the remaining dough, setting the finished perogies on a kitchen towel or baking sheet lined with parchment paper. (You can freeze the perogies on a cookie sheet and then store them in a resealable plastic bag in the freezer for up to 2 months. You can cook them straight from the freezer.)
Working in batches so you don't overcrowd the perogies, gently drop the perogies into the second pot of boiling water and boil for 5 to 7 minutes; the perogies will float to the surface when cooked. Remove them with a slotted spoon, place in a large, oiled bowl, and repeat until all the perogies are cooked.
WHILE THE PEROGIES ARE COOKING, PREPARE THE ONIONS FOR TOPPING: Melt the vegan butter in a small frying pan over medium-low heat. Add the onions and cook, stirring occasionally, until soft and golden brown, about 20 minutes.
Transfer the cooked perogies to a serving bowl and toss them with the onion mixture, or lightly fry them in a nonstick pan with a bit of olive oil or vegan butter. Serve hot with sour cream or vegan sour cream.
https://jillianharris.com/vegan-perogies/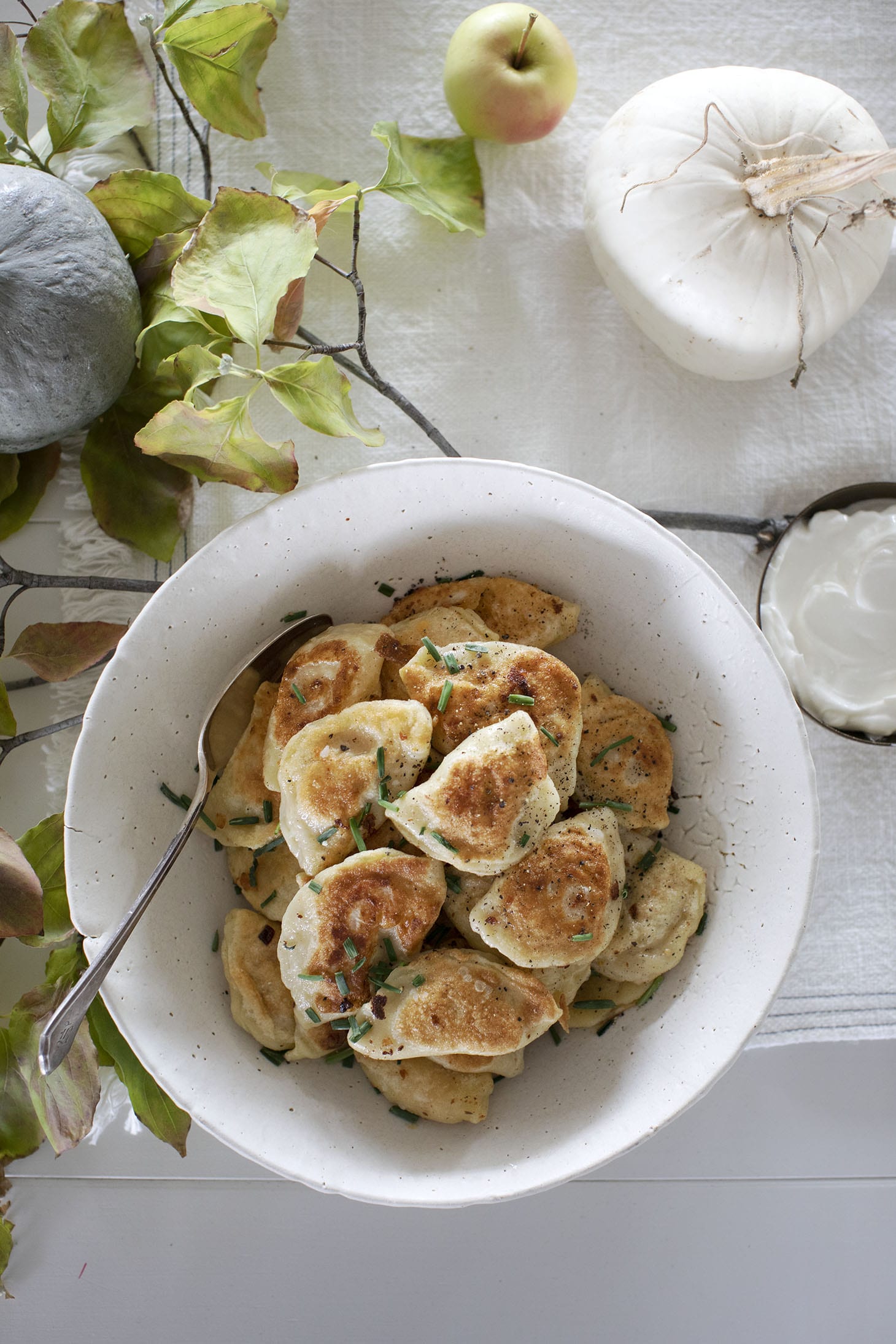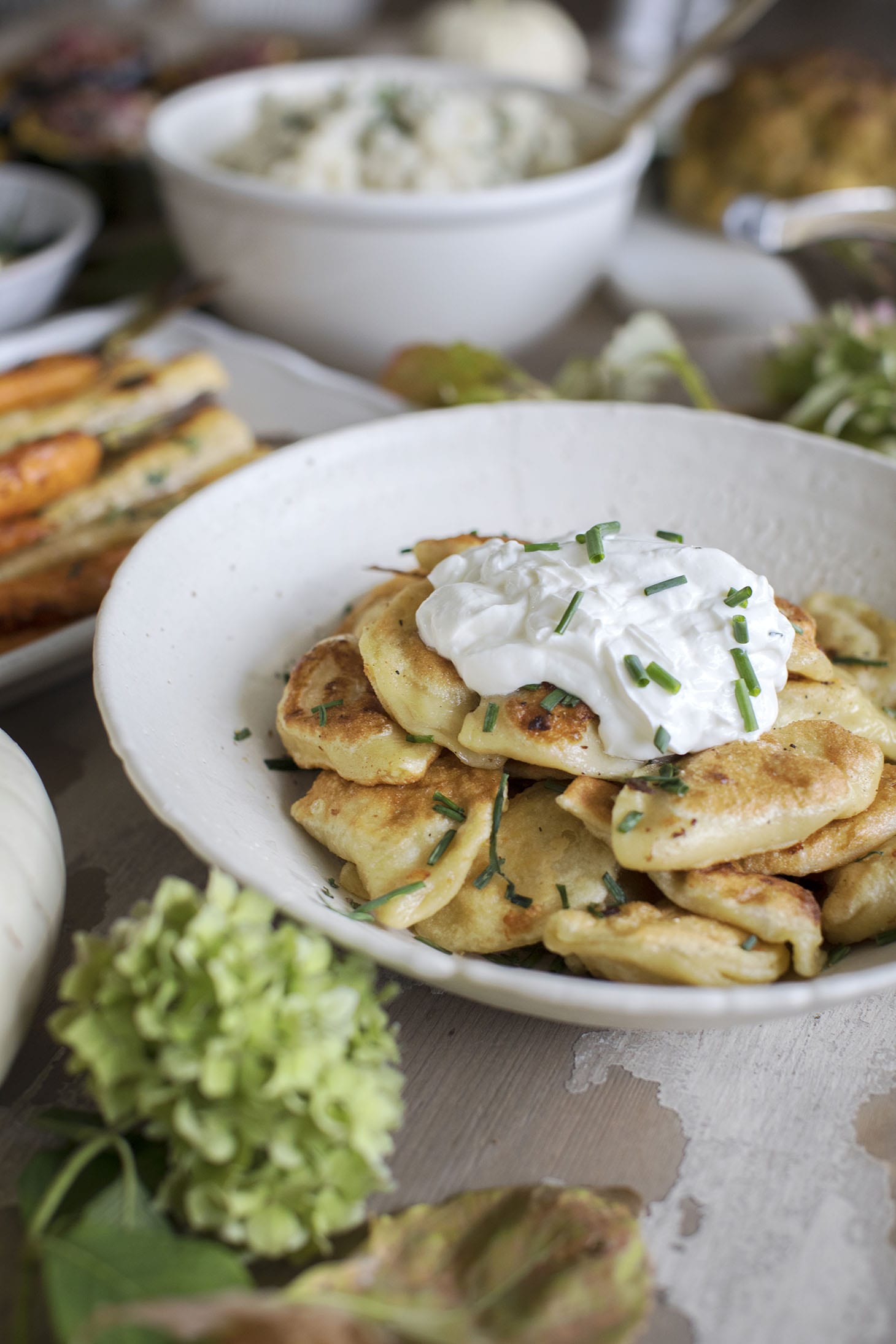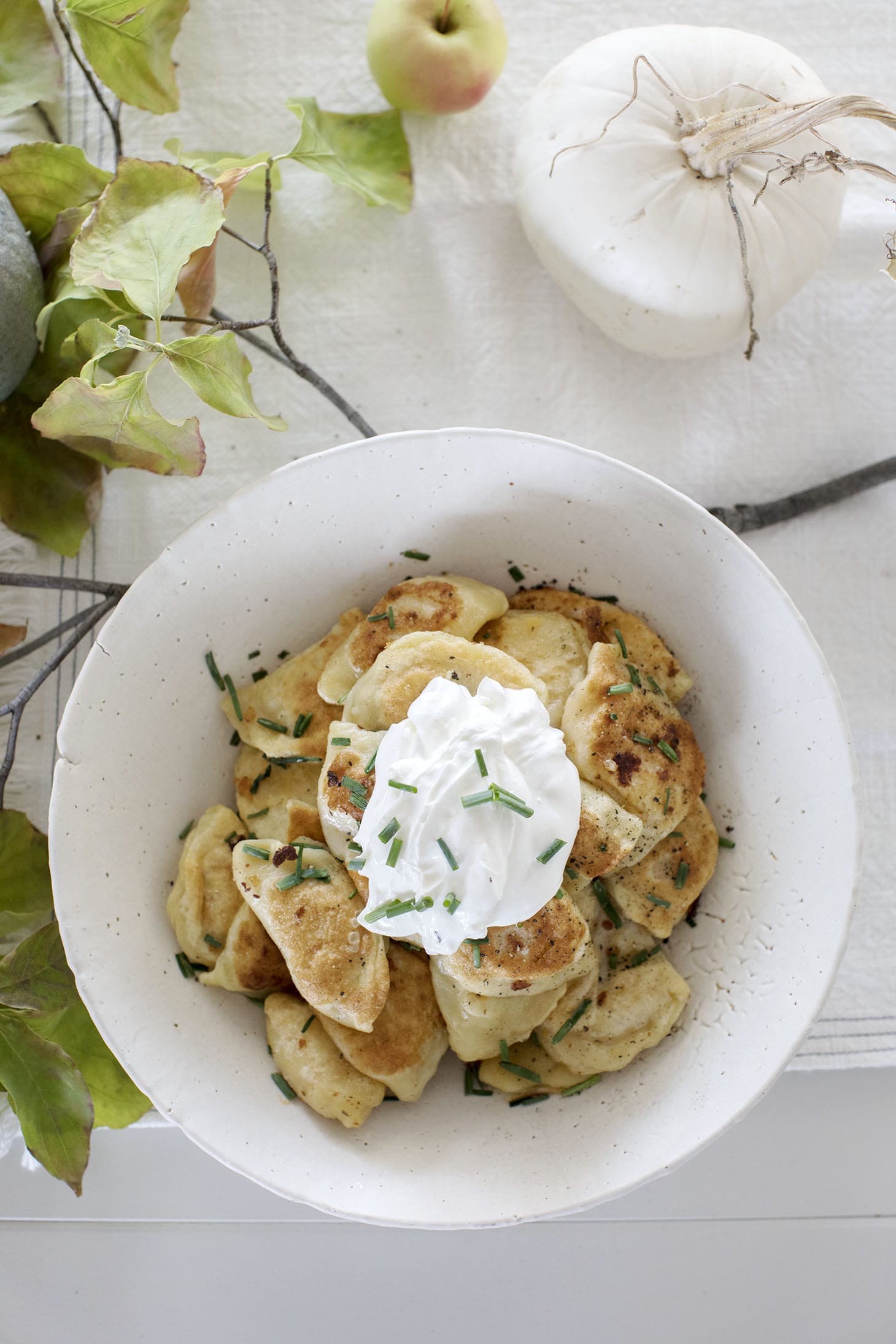 Have you tried our Vegan Perogies yet? If so, what did you think of them??
xo
Jilly