Even though I say I am a foodie, I only have two distinct Indian food memories…
1) In 2001 I went on a date with a guy who was shorter than me (I'm 5'2) because he was relentless. We drove his '67 Camaro (with a skull stick shift) to his aunt's Indian restaurant, where he proceeded to tell me, and the entire restaurant, that he was madly in love with me. This experience was bad.
2) About 10 years later, I dinned at Vij's in Vancouver and had what I believe is one of the best dishes in the entire world – his Lamb Popsicles.  I never tried any other Indian food again, because I believed there was no way it would ever compare.
About 3 weeks ago, my cousin-in-law Charles invited me over for Indian. I came over, but told him no thanks to dinner. But when I walked by the skillet and scooped a little of his dish onto a spoon…I wanted to die. HOW ON EARTH have I not been eating this my whole life?!
I am sure this recipe isn't authentic – so for my Indian readers, please don't get mad at me! For those of you who don't consider yourself "cultured" foodies you MUST try this dish! It's easy, addictive, healthy and different than all the very American/Canadian comfort food recipes I usually post.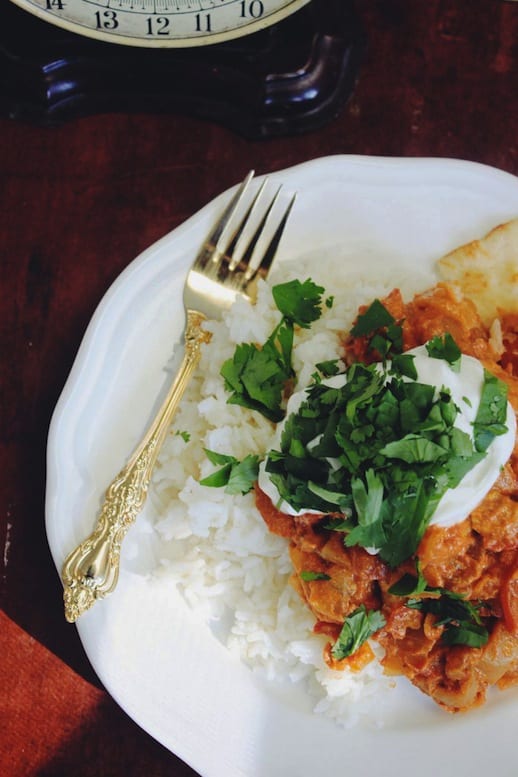 Ingredients
1 half yellow onion, finely diced
3 tablespoons olive oil
1 large can of diced tomatoes (strained)
2 chicken breasts, diced
8-10 brown mushrooms, diced (this is optional)
1 tablespoon cumin
1 tablespoon finely chopped ginger
1/2 tablespoon tumeric
1 tablespoon curry
1 can of light coconut milk
1/2 cup of chopped cilantro
3 cups of prepared jasmine rice (or fresh Naan bread)
1 cup of plain light yogurt
Instructions
1.    In a large skillet, warm oil and add onion.
2.    Cook until translucent.
3.    Add chicken and ALL spices including ginger.
4.    Add can of tomatoes almost immediately.
5.    After a few minutes, add mushrooms and coconut milk.
6.    Allow to simmer for about 20 minutes until reduced.
7.    Serve on a bed of rice or Naan bread with yogurt and chopped cilantro.
Happy feasting!
xoxo Jilly