If you follow me on Instagram you may have noticed over the last couple of months I have been practically living off of coffee, carbs, and wine, which has made me feel quite run down! To get myself back on track I have made some simple, yet effective changes like; eating more fruits and veggies, drinking less coffee and making sure I don't consume any alcohol at least three hours before bed (so I have switched to day drinking instead … LOL! Juust kidding!). I have been LOVING this new health kick and my body has been responding so well to the changes already!
Today I wanted to share one of my favourite recipes from our Fraiche Food Full Hearts cookbook, the Harvest Kale Slaw. It has been a go-to of mine during the last few weeks, it's packed with the daily nutrients I need and it's oh so filling!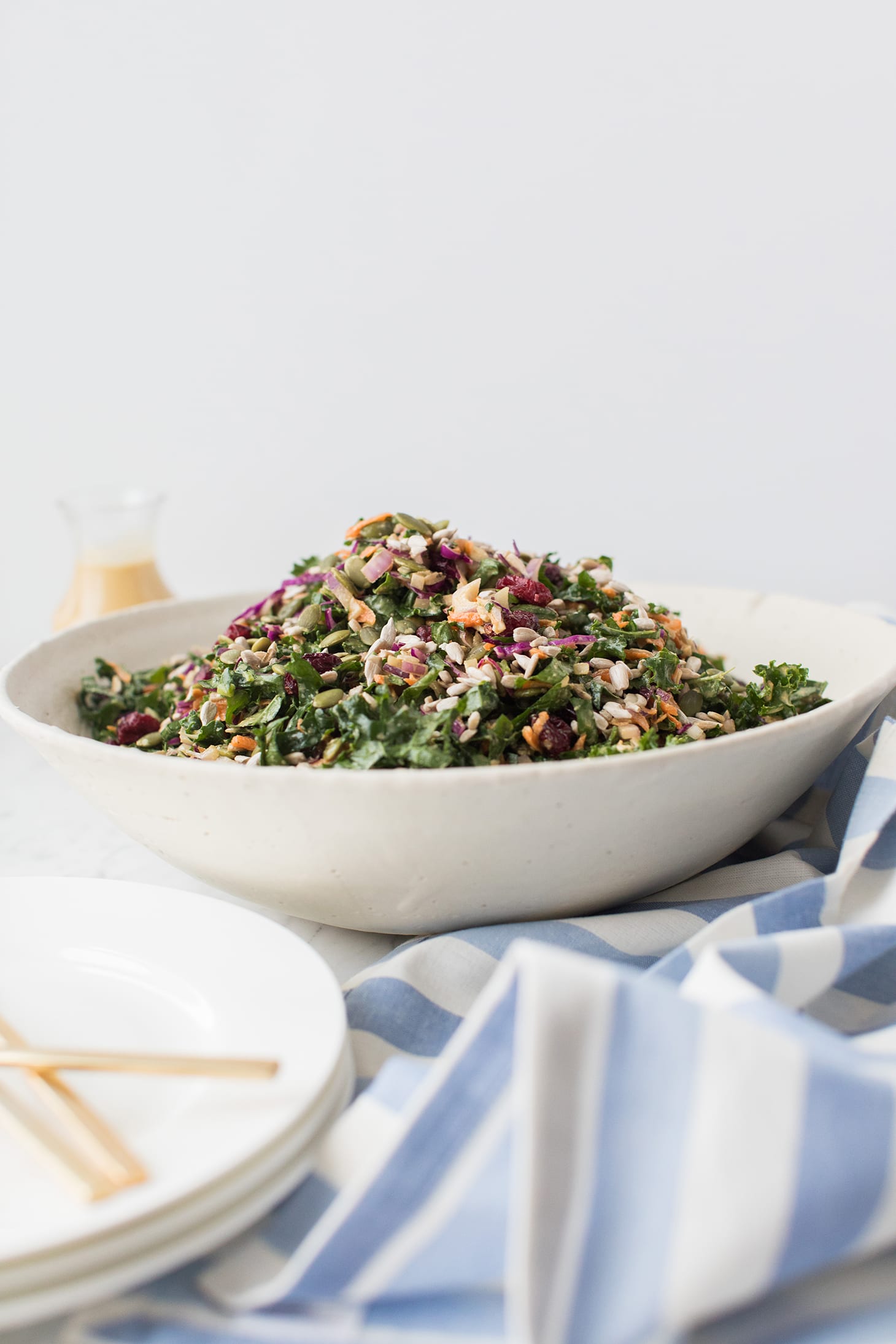 Not only is this recipe a favourite of mine but it also brings back so many memories! It was inspired by one of our first Team Jilly trips to Hawaii. We were only there for 3 days and we packed a lot in. If you're curious about all of the shenanigans we got up to, you can find those details here.
After a fun-filled three-day girls' trip and a red-eye flight back home, we ended up grabbing a quick bite to eat at Heirloom, a restaurant in Vancouver known for its vegetarian food. We ordered their kale salad to share and we all fought over who got the last bite. When we got back in Kelowna, we tried to recreate this salad so many times and Mackenzie whipped up her own version of the salad for us one day, and she totally nailed it!
Below I am going to share with you all of the steps and ingredients you will need to recreate this fresh and flavourful salad, perfect for welcoming the warm weather! If you already have the cookbook you can find this recipe on page 136.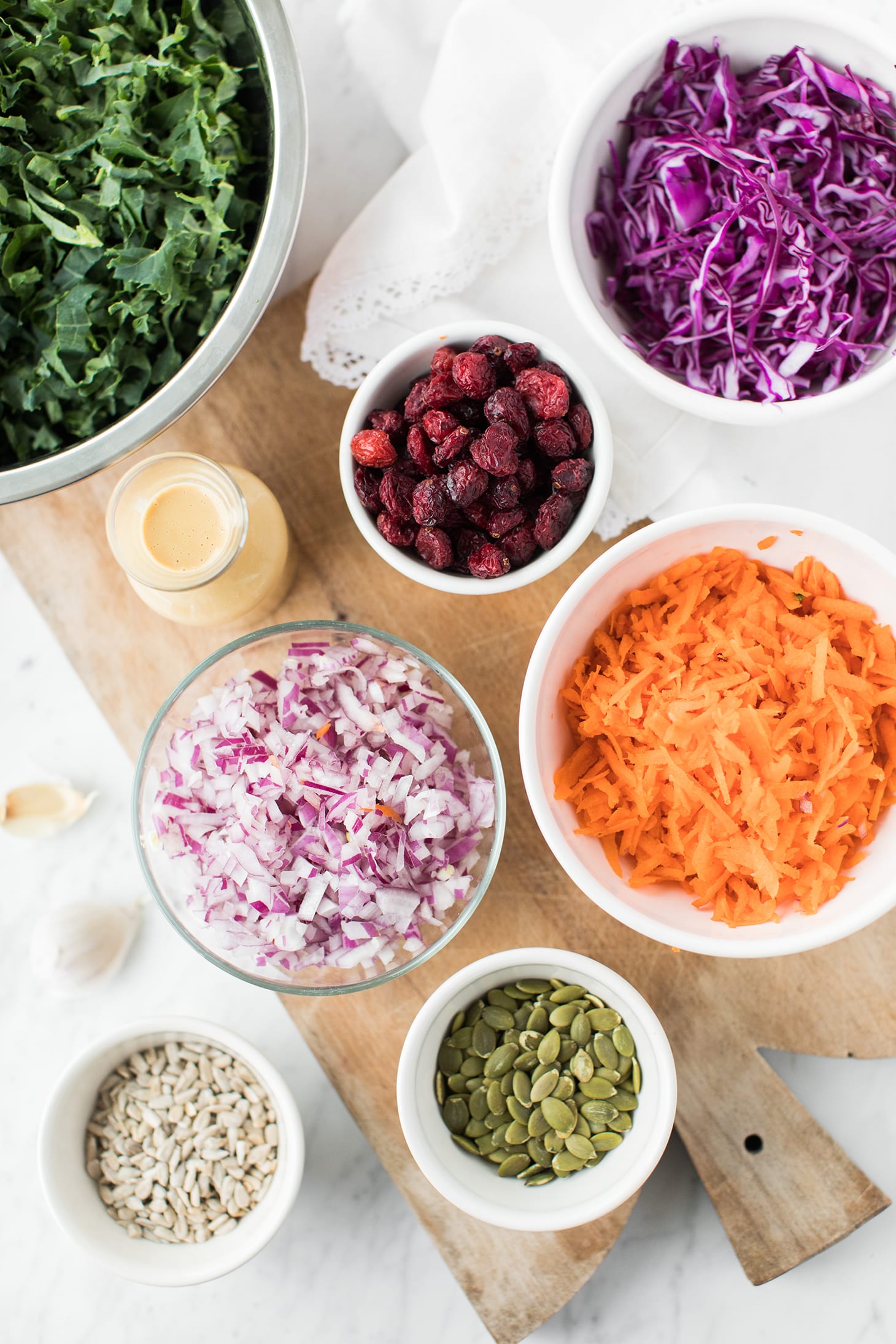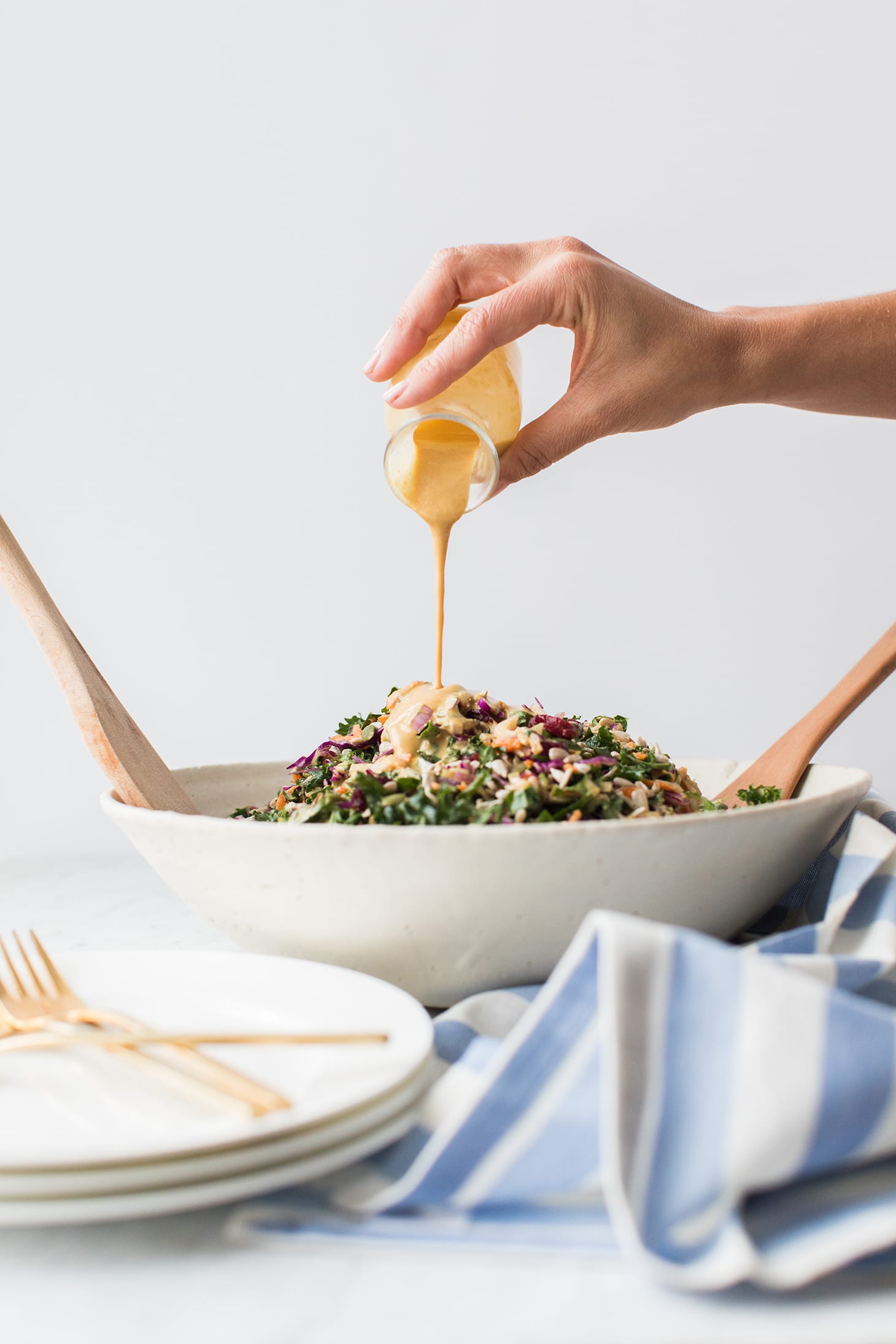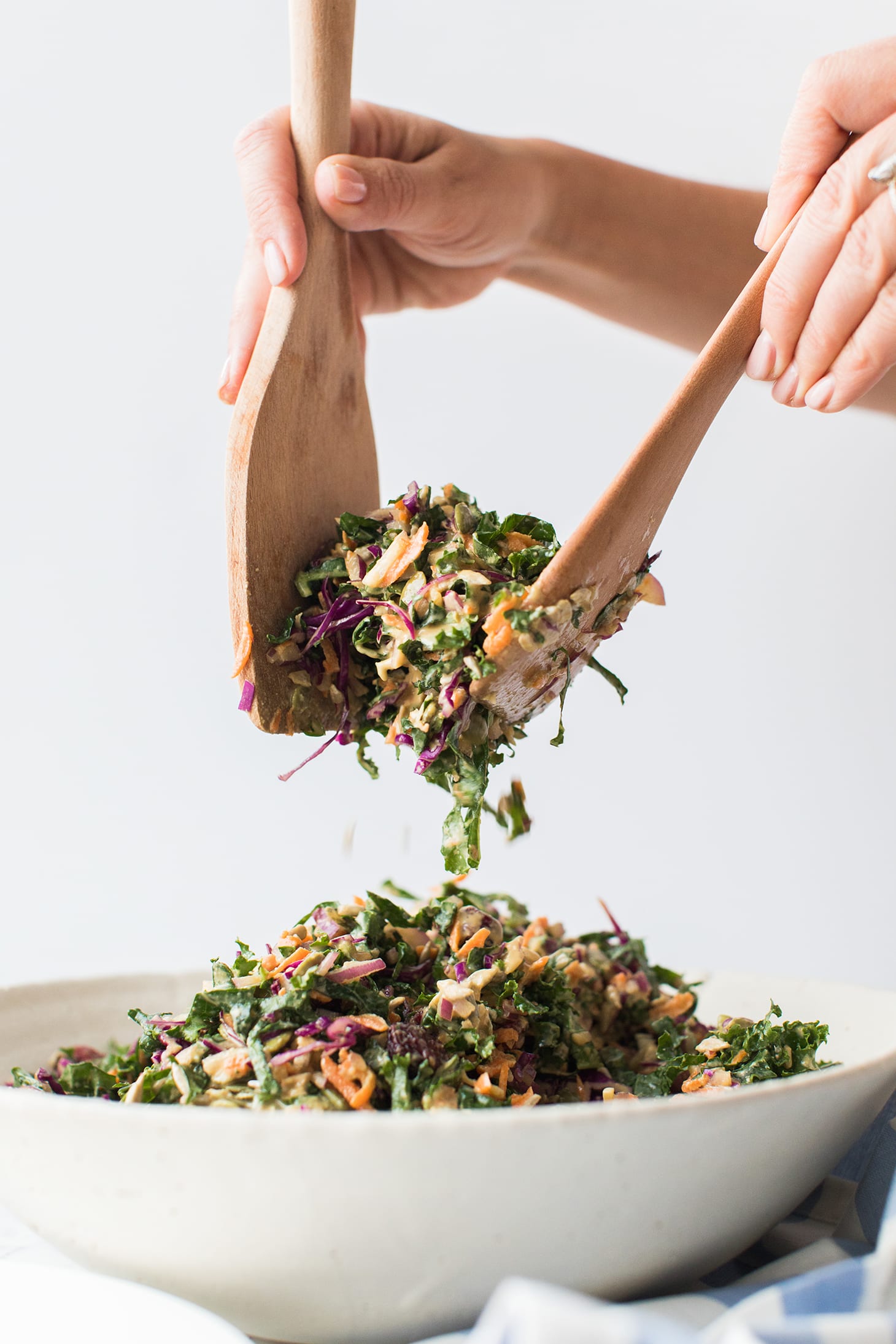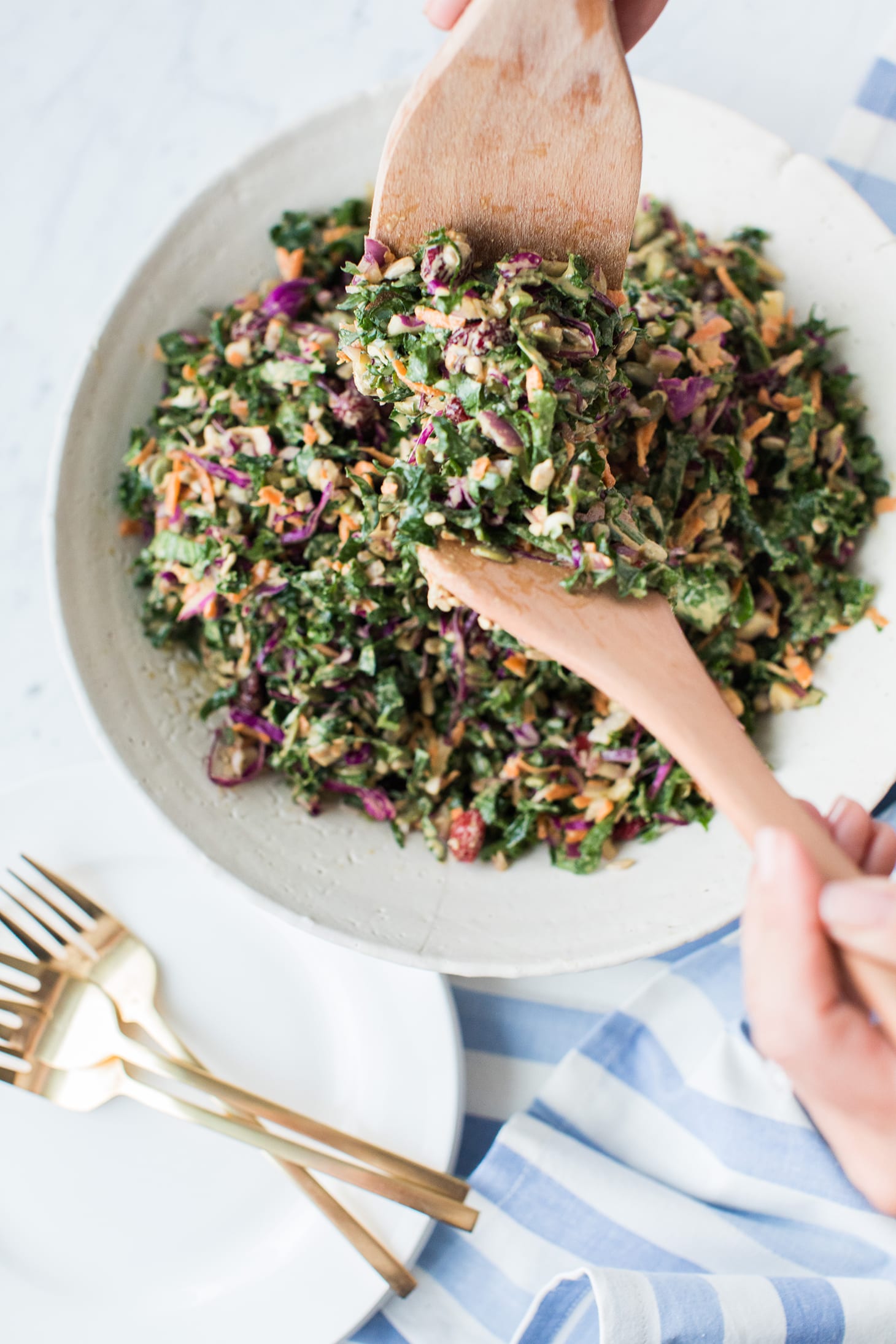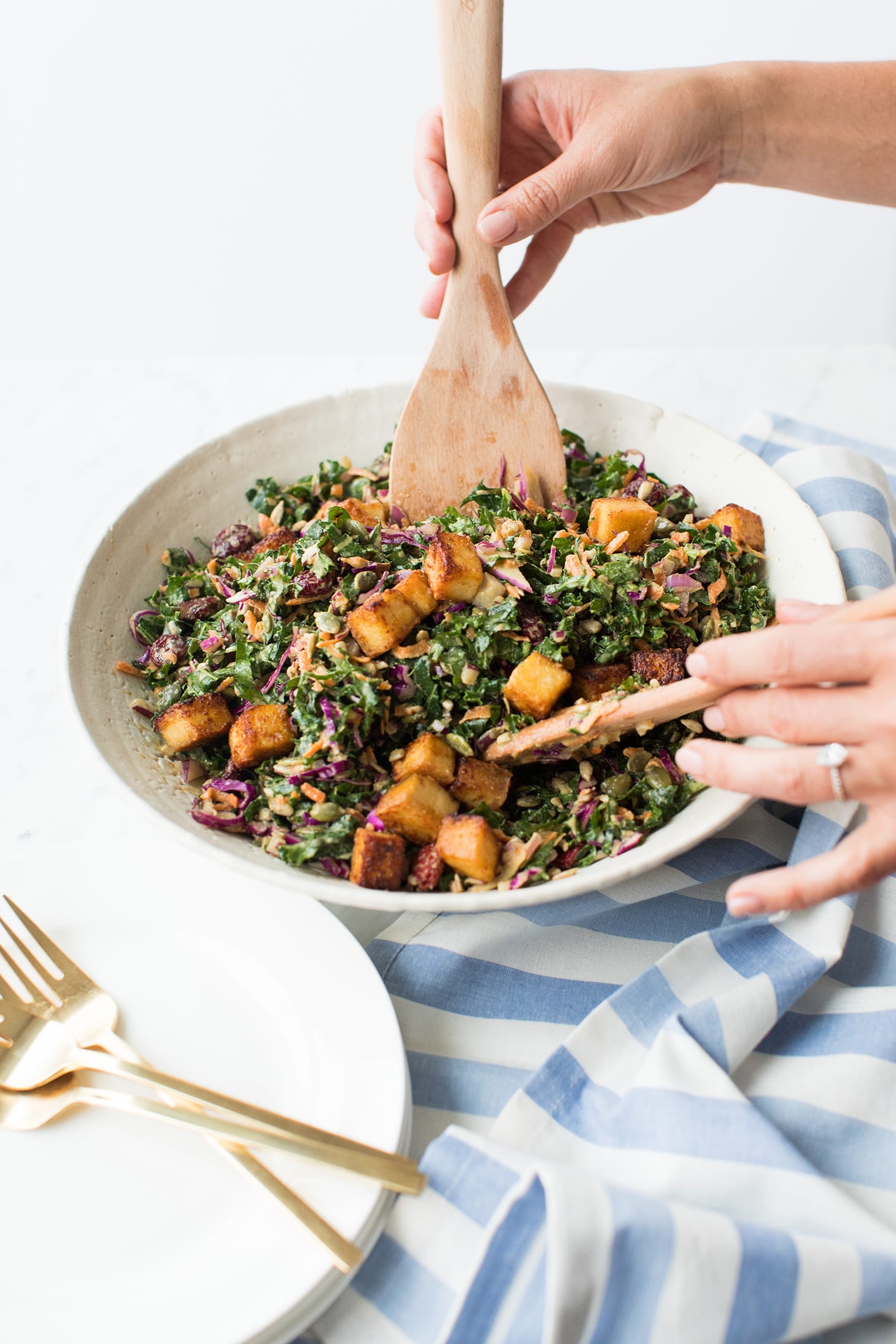 Ingredients
Tahini Dressing

2 cloves garlic, crushed
1/3 cup (75 mL) nutritional yeast
1/4 cup (60 mL) tahini
3 tablespoons + 1 1/2 teaspoons (52 mL) tamari
2 tablespoons (30 mL) apple cider vinegar
2 tablespoons (15 mL) fresh lemon juice
1/2 teaspoon (2 mL) pure maple syrup
1/2 cup (125 mL) water
1/4 cup (60 mL) avocado, grapeseed oil or other neutral-tasting oil

Harvest Kale Slaw

4 cups (1 L) lightly packed finely chopped green curly kale with stems removed
3 cups (750 mL) shredded red cabbage
1 1/2 cups (375 mL) grated carrots (2 to 3 large carrots)
1/3 cup (75 mL) finely chopped red onion
1/2 cup (125 mL) sunflower seeds
1/2 cup (125 mL) pumpkin seeds
1/2 cup (125 mL) dried cranberries
1 package (7 1/2 ounces/ 210 g) smoked extra-firm tofu, cut into 1/2-inch (1 cm) cubes
1 tablespoon (15 mL) cornstarch
2 tablespoons (30 mL) extra-virgin olive oil
Instructions
Make the Tahini Dressing:

In a blender (or deep, narrow container if using an immersion blender), combine the garlic, nutritional yeast, tahini, tamari, apple cider vinegar, lemon juice, maple syrup, water, and avocado oil. Blend for 2 minutes or until smooth.

Make the Harvest Kale Slaw:

In a large bowl combine the kale, cabbage, carrots, red onion, sunflower seeds, pumpkin seeds and cranberries. Toss to combine and set aside.
Press the tofu cubes between 2 sheets of paper towel or a kitchen towel to remove any extra moisture.
In a small bowl, sprinkle the tofu cubes with the cornstarch and toss to coat. Shake off any excess.
In a small frying pan, heat the olive oil over medium heat. Lightly fry the tofu cubes until they are light golden on all sides, about 2 minutes in total. Remove from heat and transfer the tofu to a plate to cool.
Slowly pour the Tahini Dressing over the Harvest Kale Slaw, adding just enough to coat the salad or to taste (you will not use all of the dressing). Add the tofu, toss again, and serve immediately.
https://jillianharris.com/harvest-kale-slaw/
Ok, but how DELICIOUS and easy does this salad look? If you decide to give it a try, I'd love to hear what your thoughts are in the comments below!
Bon Appetit!
xo
Jilly