I remember growing up in Peace River as a kid and plucking rhubarb straight from the bush and eating it raw (dipped in sugar, of course!) … so when Mackenzie said she wanted to try making strawberry rhubarb almond milk it immediately took me back to the "good ol days" and there was something so nostalgic about sipping on this almond milk!
The best time to make this is when rhubarb is in season, you can snag it from your local Farmer's Market … or, if you live in Peace River, I'm sure you have some growing right in your backyard!! LOL!!! Given its tart flavour, it pairs perfectly with strawberries which are even sweeter when they're cooked down into a jammy compote!!
The best way to enjoy this milk is with your morning oatmeal, cereal, or chia pudding! It's also delicious poured over ice as a cold refreshing summer drink. If you have leftover compote, stir into oatmeal (Mackenzie made this for us for breakfast just before our photo shoot and hot damn it was good!!) or spread over toast.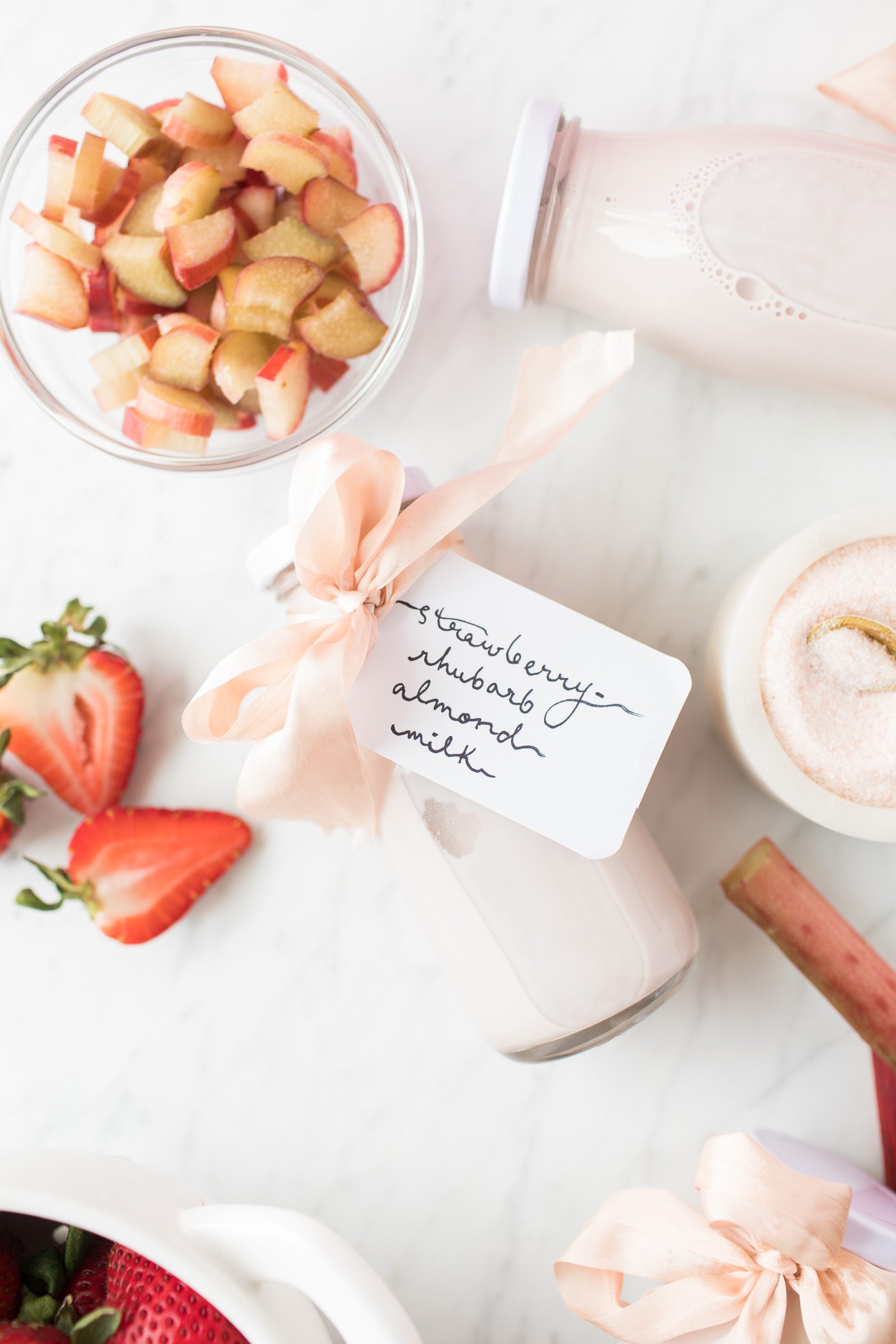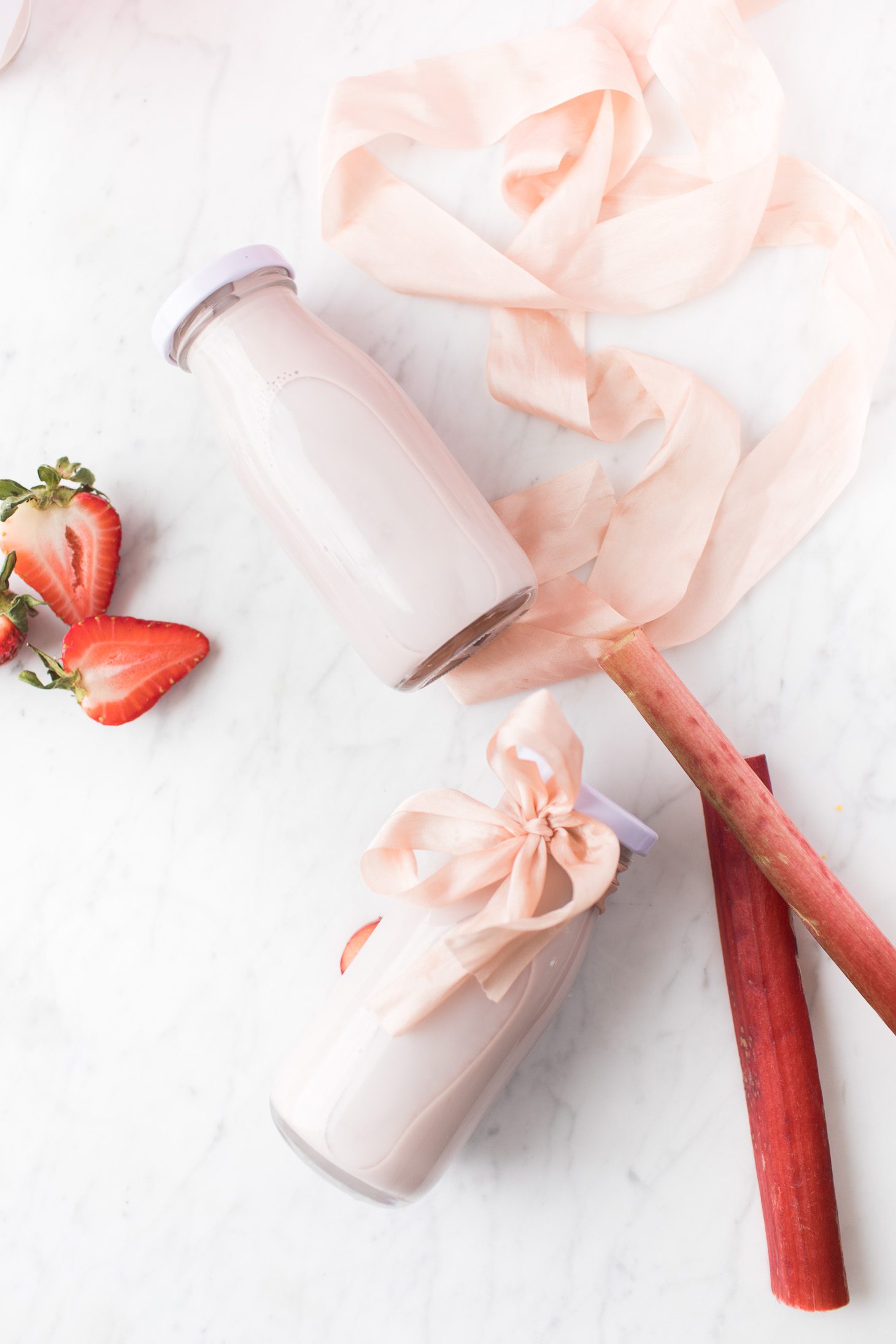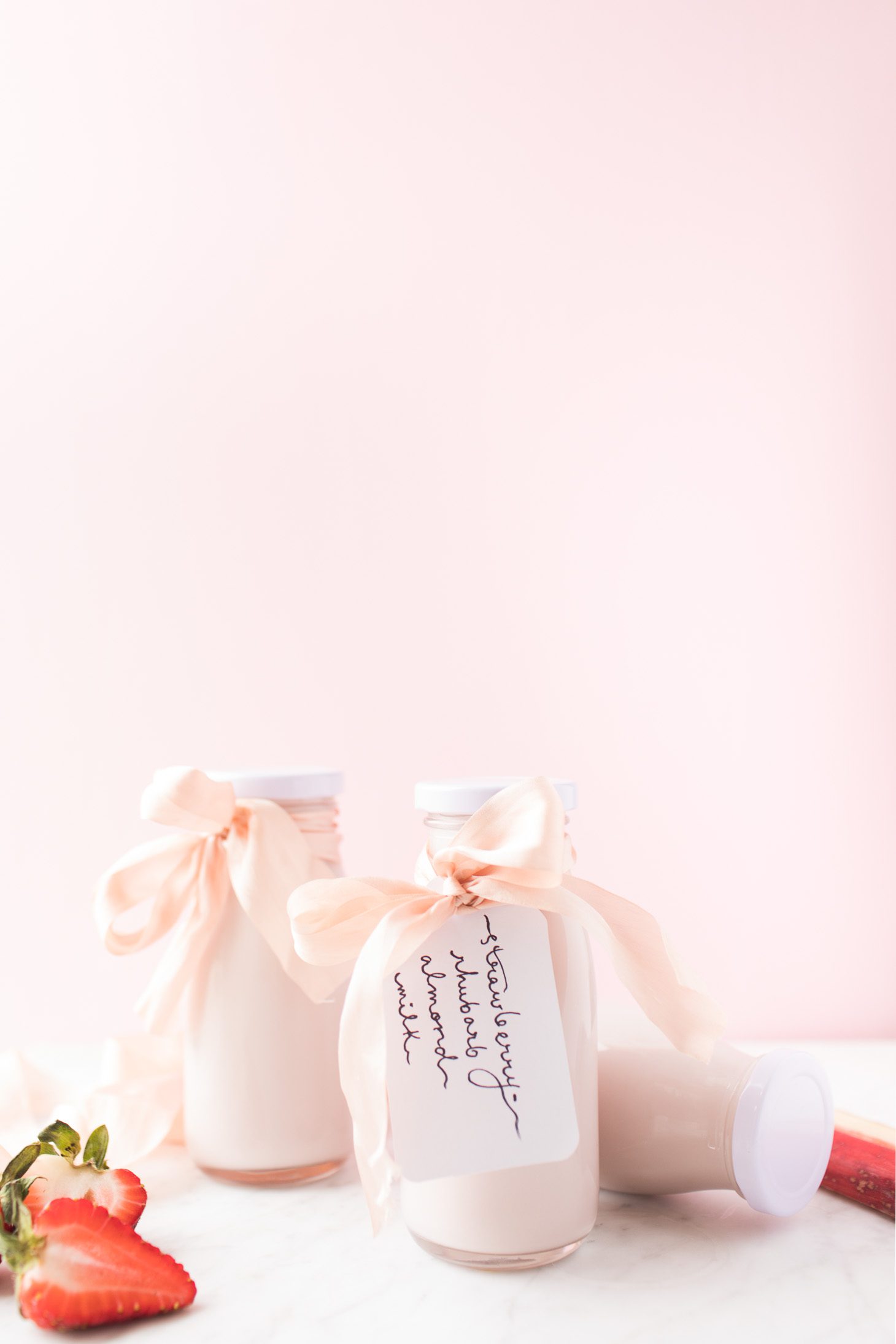 Ingredients
2 cups chopped strawberries
1 cup chopped rhubarb
1 tsp lemon juice
1 tbsp maple syrup
1/2 tsp salt
1 tsp vanilla
1 cup almonds, soaked for at least 8 hours
4 cups water
Instructions
Make the compote. In a small saucepan, combine chopped strawberries, rhubarb, lemon juice, maple syrup, and salt and stir to combine.
Bring to medium heat until mixture starts sizzling, and reduce to simmer, stirring every 2 minutes. Cook on low for 10-15 minutes until fruit breaks down. Stir in vanilla, and set aside to cool.
In a high-speed blender, combine almonds and water. Blend on high for two minutes on high (this may be more depending on the power of your blender). Reduce speed and begin slowly adding compote until you reach preferred colour / taste (we used all of it!).
Using a nut milk bag or cheesecloth, strain the milk into large bowl. Store in airtight container for up to four days.
Enjoy!
https://jillianharris.com/strawberry-rhubarb-almond-milk/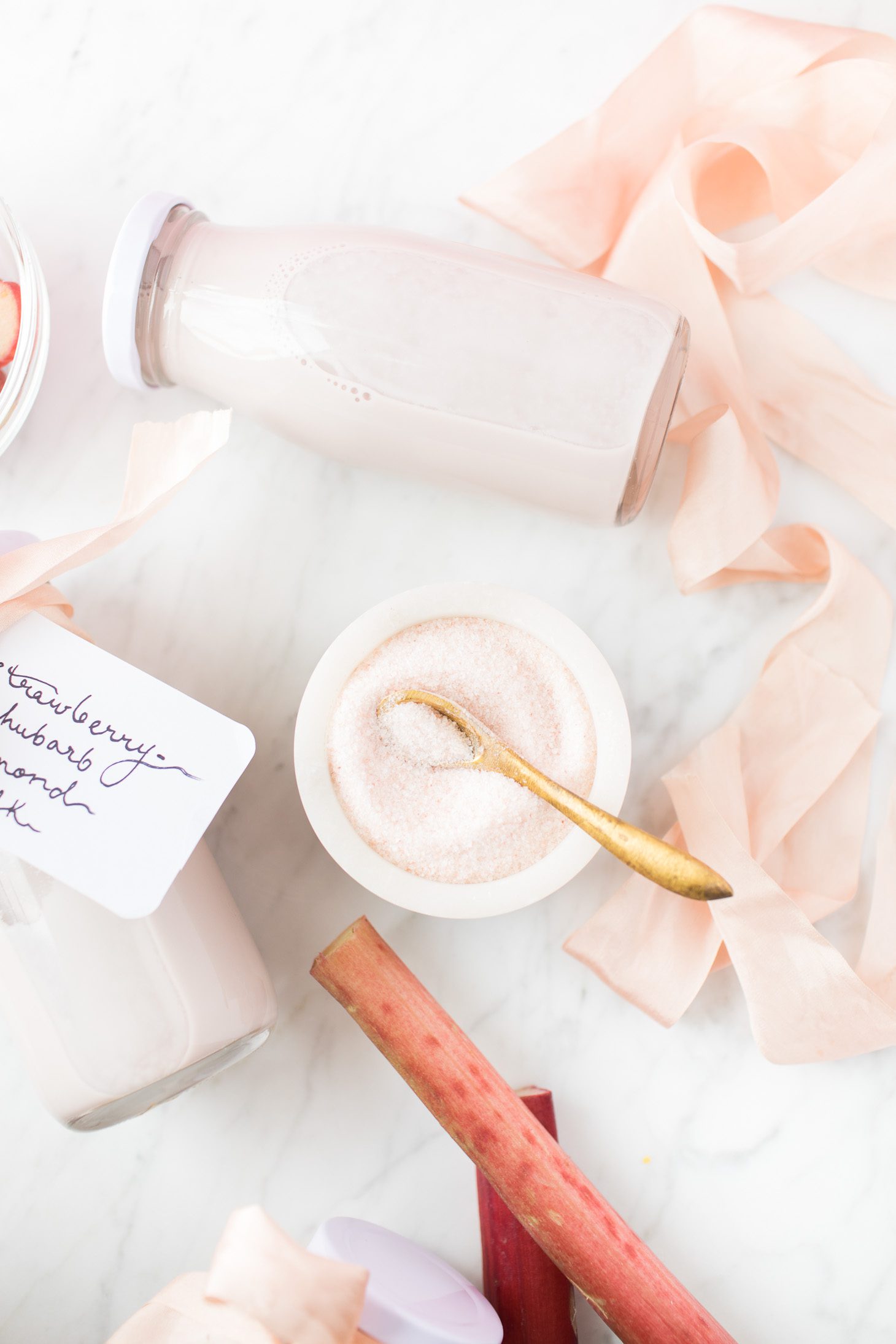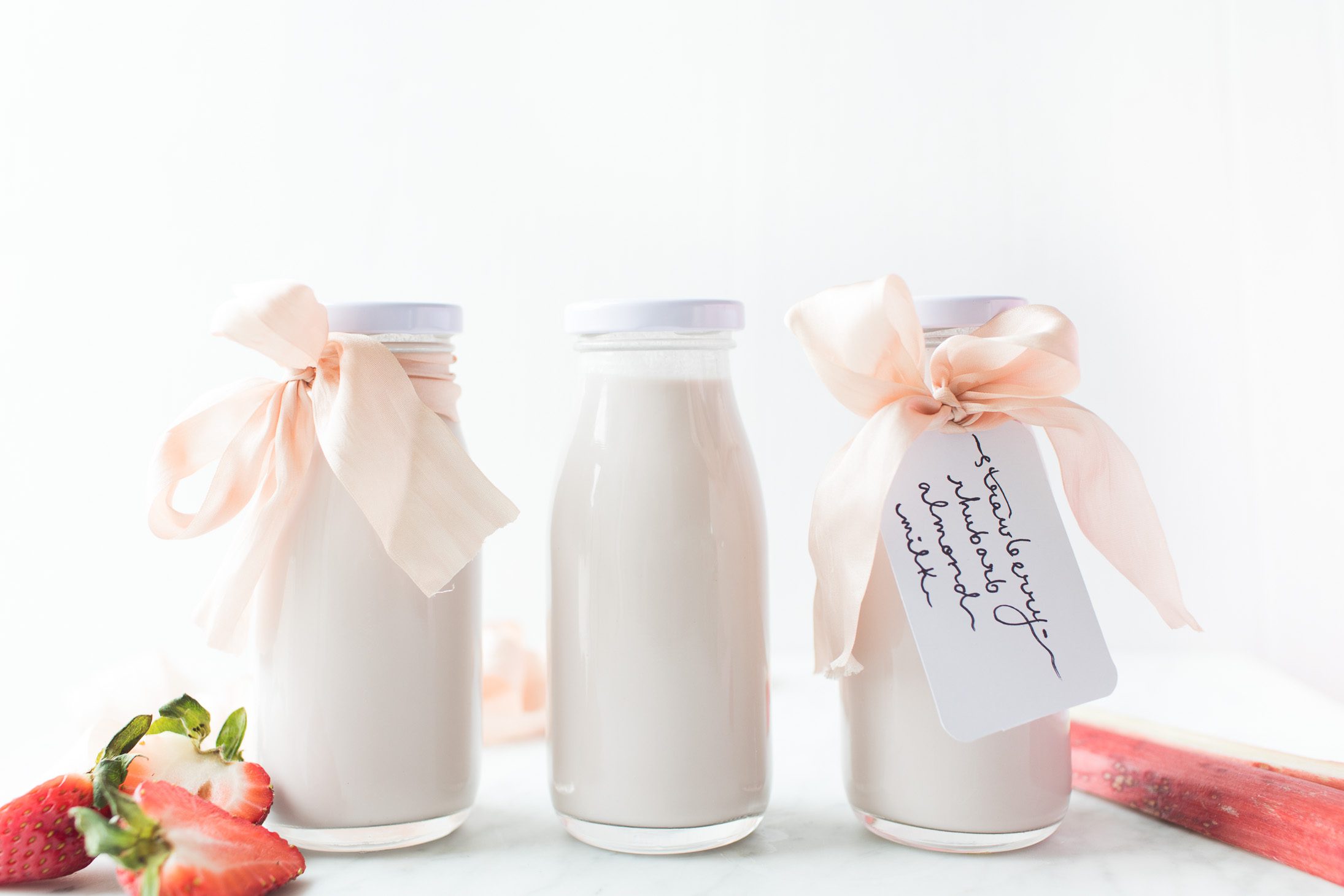 If you make this almond milk, make SURE to let us know what you thought of it and what you used it in! We love hearing your feedback!!
xo
Jilly