Fried Green Tomatoes is one of my favourite movies ever! I've probably watched it about 10 times and could watch it well over another 10 times. My favourite part of the movie is when they make their fried green tomatoes, they look so crispy and salty and have always made my mouth water!
I decided one day about 5 or 6 years ago that I would give these a try and it wasn't shocking that they were just as good as I have always imagined. Well, lately I've had a hankering for them, probably due to the fact that we have so many green tomatoes in our garden right now! So, we plucked a few green tomatoes from the vine (I should mention here that you want the tomatoes to be hard! That way they won't fall apart when you fry them!) and gave it a shot!
Typically I would only use almond milk for dredging the tomatoes but I recently came across a post which suggested using vegan mayo so we went this route (we thinned it out slightly with almond milk) and they turned out AMAZING! The vegan mayo gave them more flavour and it's also a great substitute for the egg which some people use for dredging the tomatoes in!
I've never been to Louisianna or Mississippi but these definitely make me feel like I'm taking a quick trip there from the comfort of my own home!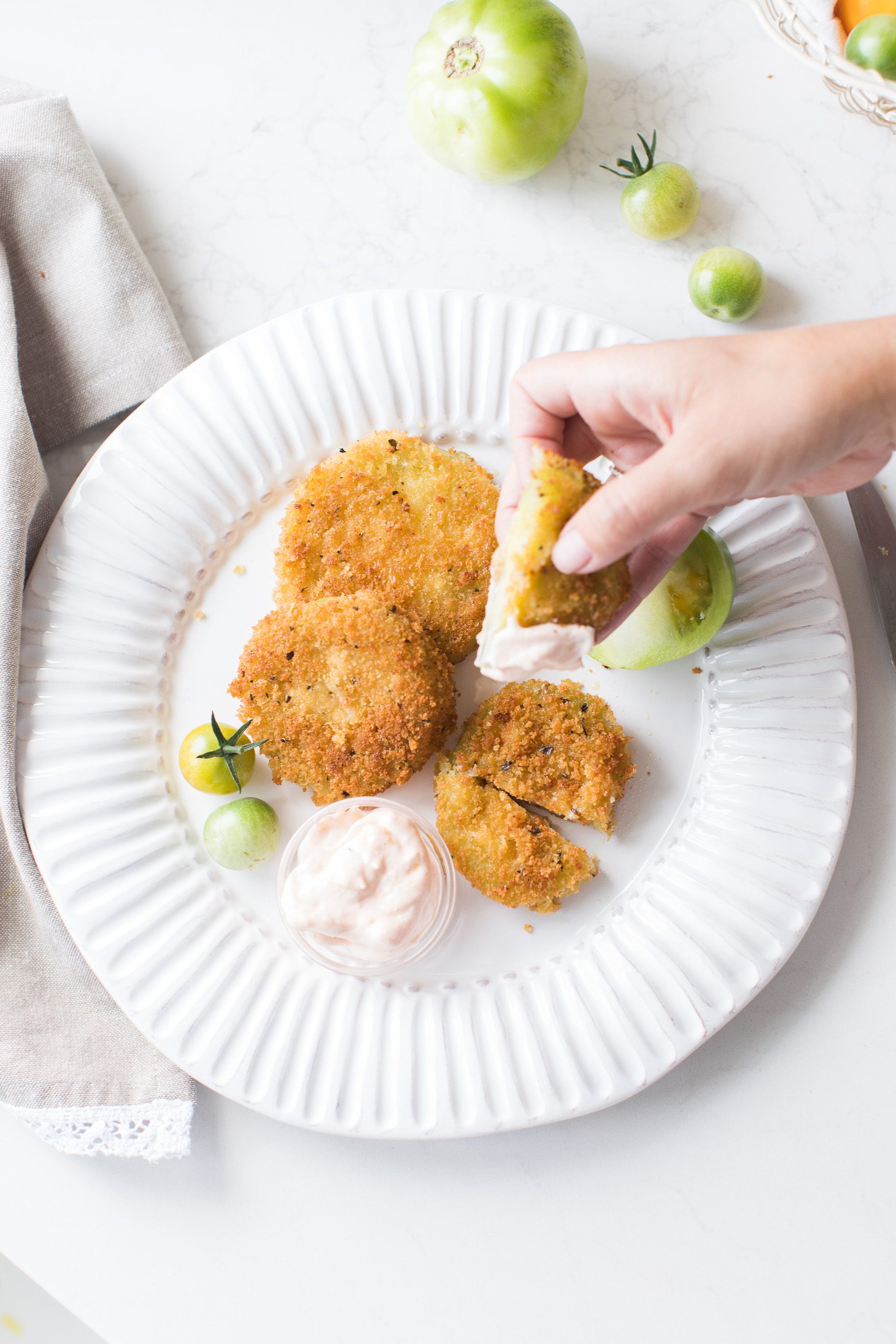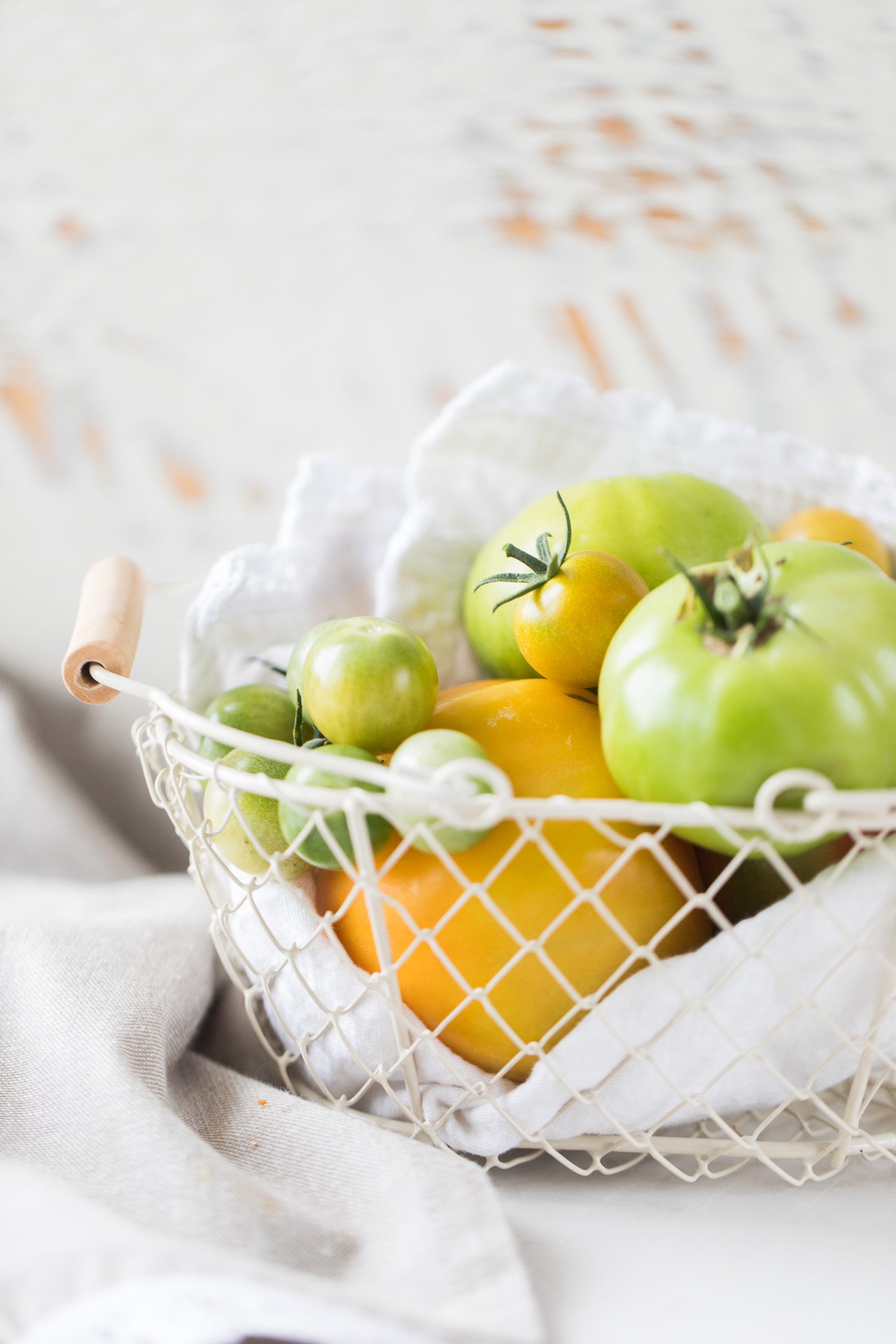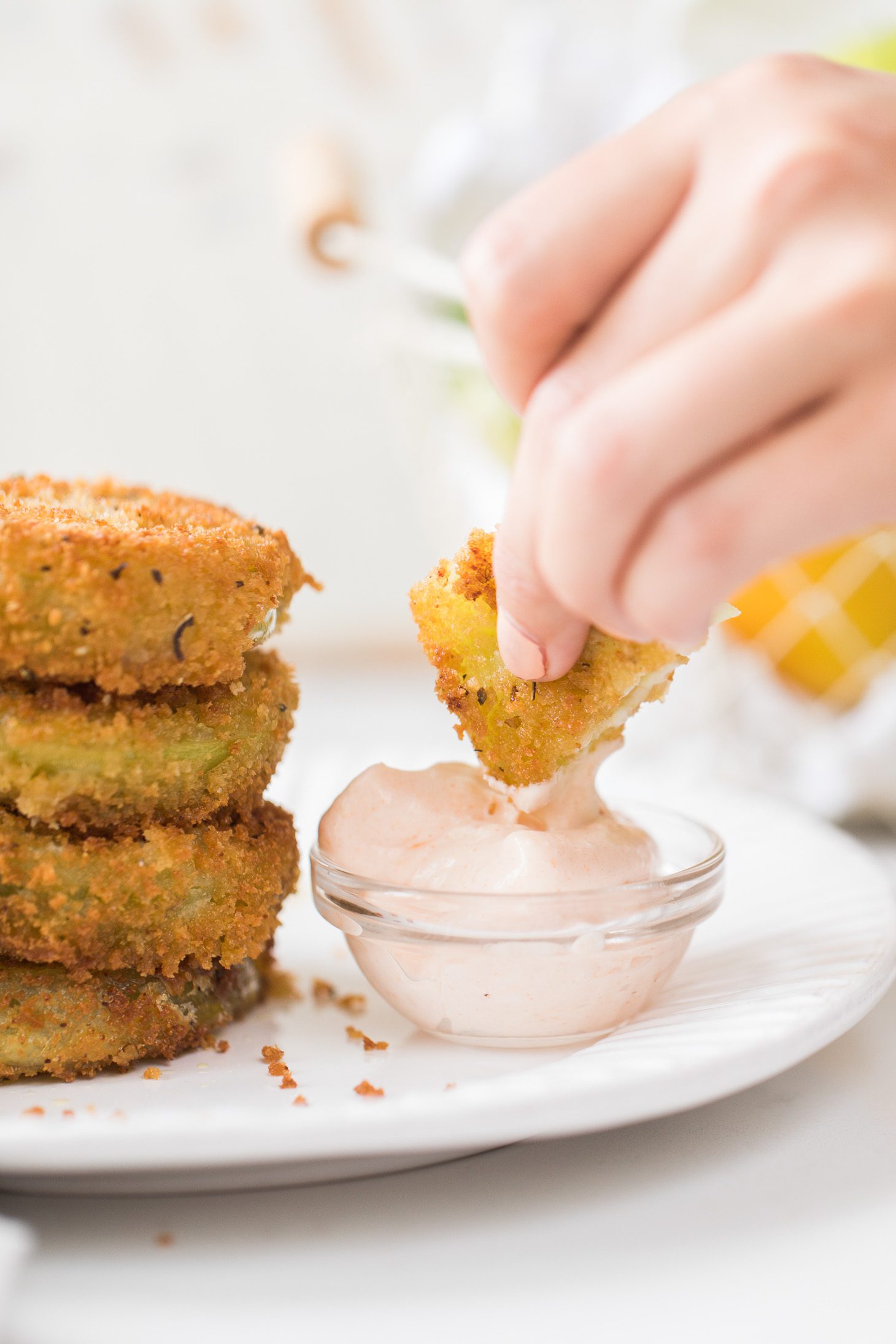 Ingredients
For the tomatoes:

2-3 firm green tomatoes
1/2 cup cornstarch
1/2 cup vegan mayonnaise
1/4 cup almond milk
1 1/2 cups panko breadcrumbs
2 tsp garlic powder
2 tsp oregano
2 tsp onion powder
1 tsp salt
Canola oil, for frying

For the dip:

1/4 cup vegan sour cream
1/4 cup vegan mayonnaise
1 tsp garlic powder
Juice of 1/2 lime
1 tbsp hot sauce (we used Frank's)
1/4 tsp salt, or to taste
Instructions
Place cornstarch in one shallow bowl.
Mix vegan mayo and almond milk in another shallow bowl.
Combine panko, garlic powder, oregano, onion powder and salt in another shallow bowl.
Slice tomatoes into 1 1/2 inch thick slices. Be sure to slice them thick enough that they'll stay together in the frying pan.
One by one, transfer slices tomatoes into cornstarch, coating all sides, transfer to vegan mayo / almond milk mixture, and finally in the panko mixture until all sides are coated. Repeat until all tomato slices are coated.
Make your dip. In a small bowl combine vegan sour cream, vegan mayo, garlic powder, lime juice and, hot sauce and salt. Stir to combine. Taste and adjust seasonings as needed.
Heat 1 inch of oil in shallow frying pan until oil reaches 350 degrees.
Using tongs, place sliced tomatoes into the pan and fry on each side until golden brown, about 2-3 minutes per side. Watch closely to ensure the tomatoes don't burn.
Transfer to paper towel-lined plate and serve immediately with spicy dip!
https://jillianharris.com/vegan-fried-green-tomatoes/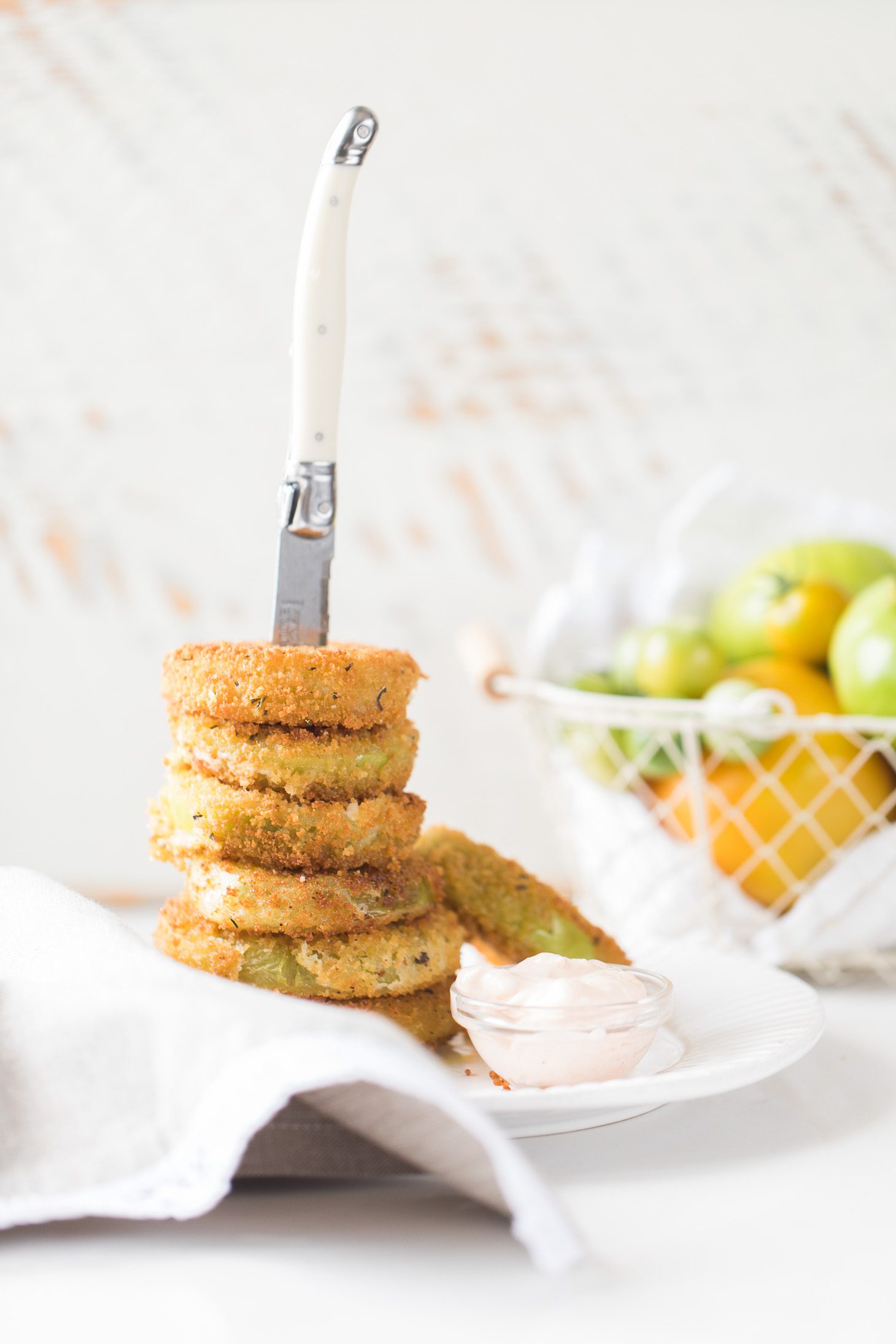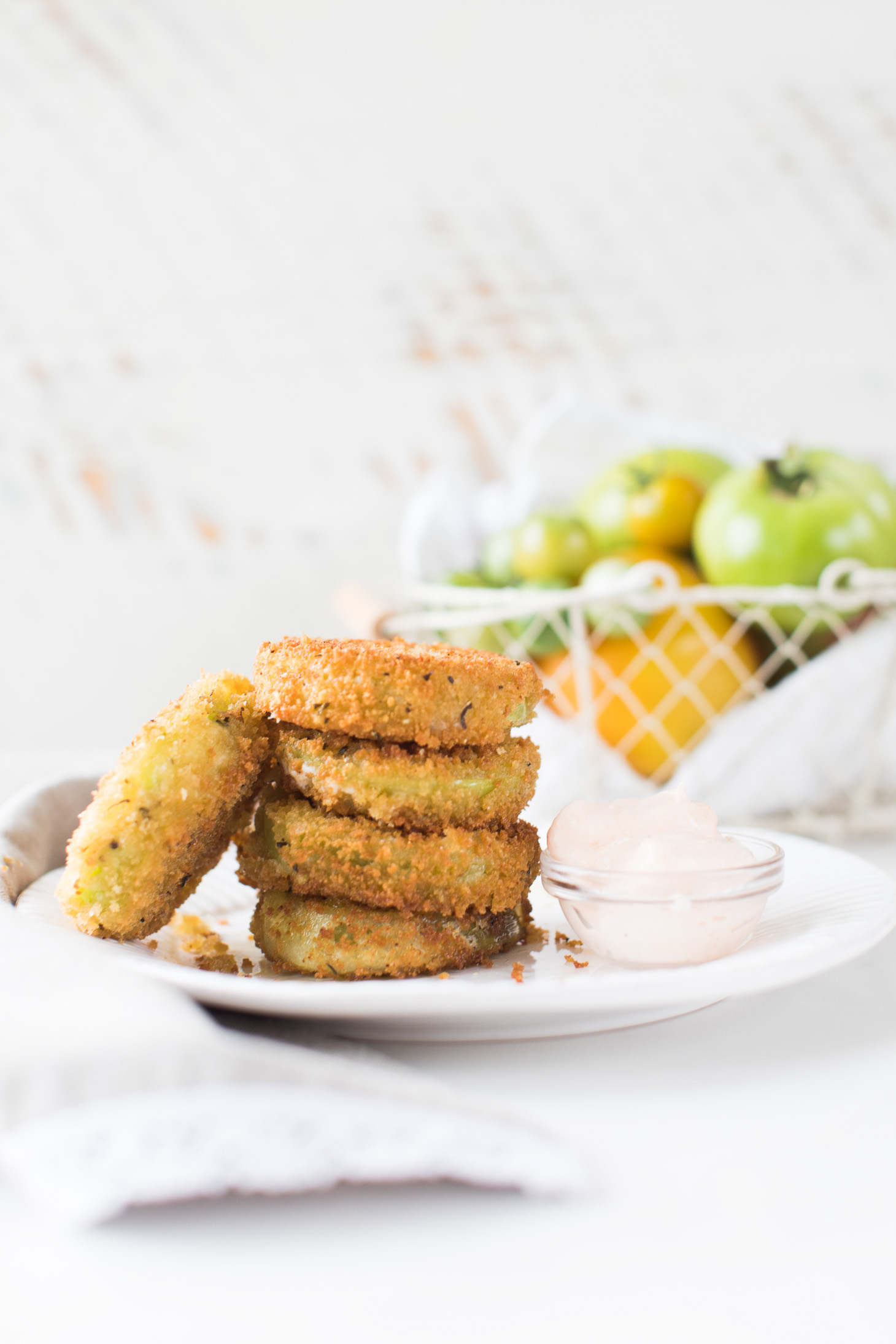 I hope you enjoy these as much as I do! Make sure to share your thoughts in the comments section below!
xo
Jilly