Happy Friday everyone!! As I mentioned on Instagram a few weeks ago, we have a few new contributors on the blog specifically to share some information surrounding Black History. Today, I am SO excited to welcome, Karlyn Percil, to the blog. Karlyn is the CEO of KDPM Consulting Group is a Certified Emotional Intelligence and Neuro-Life Coach with a particular focus on Diversity, Inclusion, and Belonging. She is the Founder of The SisterTalk Group Leadership and Wellness Academy and Chief Executive Officer of KDPM Consulting Group INC. She is a former bank executive, who has dedicated her career to helping companies identify problem areas (known as "Elephant Stories") that may interfere with an organization's inclusion and human optimization goals. Further, she provides transformational tools, like The Success Planner, to help women, groups, and individuals increase their emotional and social intelligence in order to lead and live more meaningful and fulfilling lives. She is a former VP of the Black Business and Professional Association and held the Chair position of The Harry Jerome Awards for 5 years. She is most recognized for her multiple features on Oprah's Lifeclass and mentions in Forbes and Essence and is a guest expert on Cityline.
So, without further adieu, I'm handing it off to Karlyn to share a critical thinking guide to Black History month!
"The advancement of Black people requires protest and a seat at the table to make change real. Both are critical. And there is a lot of work to do. And it's hard. And uncomfortable. But we need everyone, and we need all of it. #BlackLivesMatter" – Arisa Cox, Host & Executive Producer, Big Brother Canada (as seen in the 2021 Success Planner).
This Black History Month, I invite you to think critically and differently about Black History Month.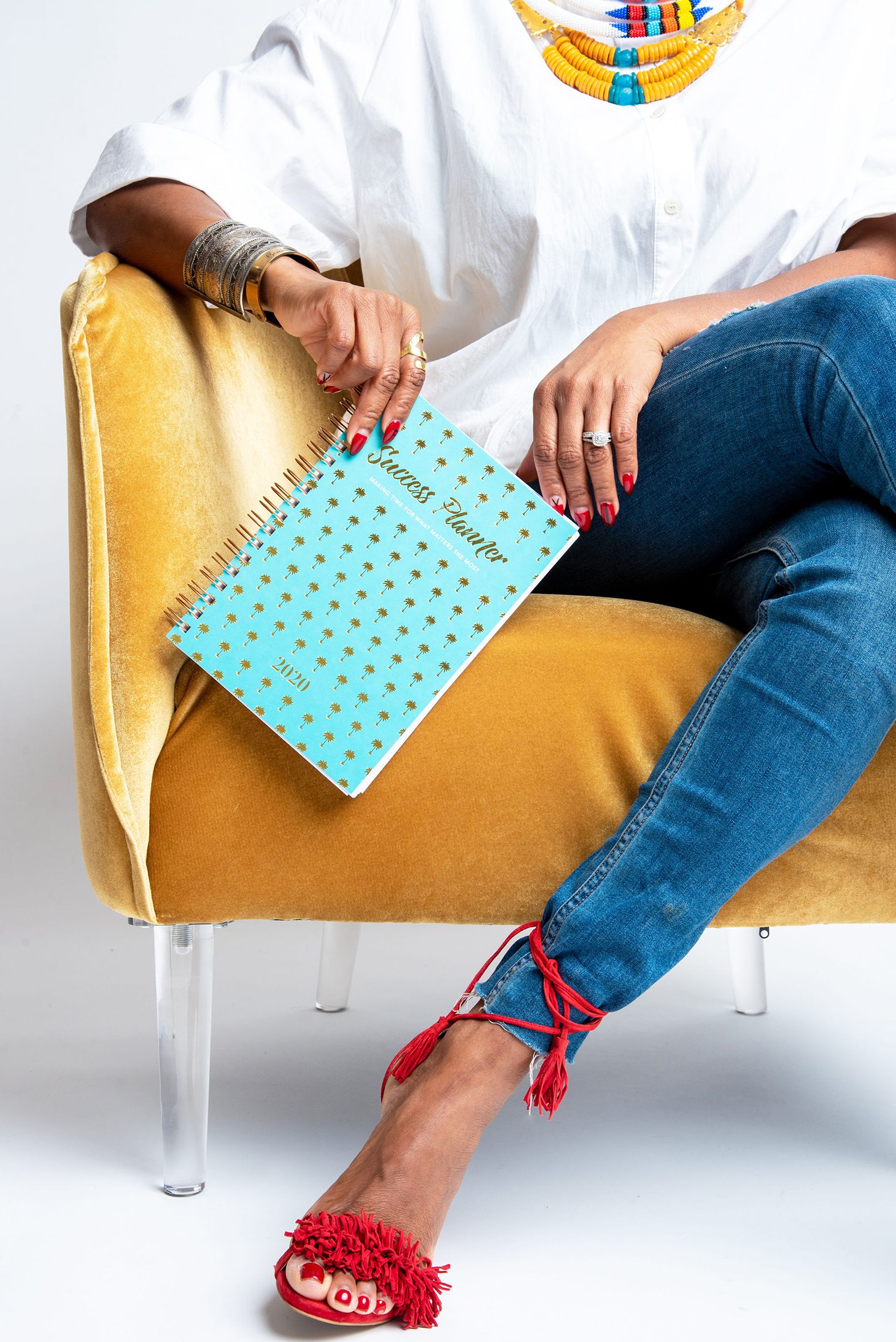 Here's why.
We tend to think about Black History Month through Black History's lens, the systems of oppression and supremacy that negatively impact Black lives and the ongoing 400 years long relay-like marathon for justice. We know that if we don't learn about Black History, we cannot learn from Black History. And the hope is that as we learn and (un) learn that those who hold the systemic, leadership and white skin privilege trade some of that unearned privilege and use their sphere of influence too.
This year I invite you to continue learning through action by normalizing the celebration of Black History 365 days of the year. Do follow By Blacks for their #BlackHistory365 campiagn – a great way to normalize Black presence. 
The Canadian History you learned about in schools was written from a Eurocentric lens, which excluded the history of Black people. People who have been contributing to Canada's History for the past 400 years. This is why this Black History Month, I invite you to lean on your critical thinking skills to (re)think about how you learn, (un) learn and celebrate Blackness here in Canada. As you move through this year, apply a Critical Thinking lens to the History you learned in schools, the history your children are learning and use this knowledge to (re) learn Canadian History, including the regular contributions and the stories and told by Black historians living and passed.
Critical thinkers use curiosity to challenge ideas and assumptions, leverage their emotional data's power, and convert this intelligence by problem-solving through action. Improving your Black History critical thinking skills will require practice and intentional action. This is why focusing on only one month isn't enough to create the momentum needed to create a just and fair society, where all Black lives matter and are also prioritized.
Here are three ways you can (re)Think about how you can learn about Black History as you also make room to celebrate Black History 365. Remember to use curiosity as your guide. Think,
Black Presence:
Ask yourself: where am I NOT seeing Black contributions, voices, brilliance and expertise? As you watch your shows, shop for groceries, purchase products, courses, well-being offerings online, ask yourself where in your life can I normalize Black presence? What are the current Black voices, events, issues, celebrations, conversations that I can learn from, invite to, recommend for, promote, amplify, collaborate with, share, donate to etc.
Black His, Hers and Theirs Story:
Ask yourself: What don't I know about Canadian Black History? Who I am learning with? What do I need to unlearn? or relearn? Whose voice am I prioritizing? Are all the Black folxs I am listening to cis-gendered? Who are the Trans, LGBTQ folxs am I learning from? How does the work of these floxs influence or impact my work? Am I giving credit to the right voices? Whose work do I quote, Retweet, who am I listening to (are you learning from a multitude of Black scholars, stories, music, books, creatives and folx, or reading the one-sided account from the lens of the white gaze? Learning from Black History through the lend of the oppressor?)
Black Futures:
What kind of future are you creating? How am I contributing towards the inclusion of normalizing Black presence, Black His, Hers and Theirs stories, as I participate in my purpose, interests, community, and the various systems of health, police, workplace etc. – What parts of my unearned systemic/cultural/white skin privilege am I willing to trade in order to create a future and a legacy I want my children and loved ones to be proud of? Who and what programmes am I sponsoring, championing and advocating for?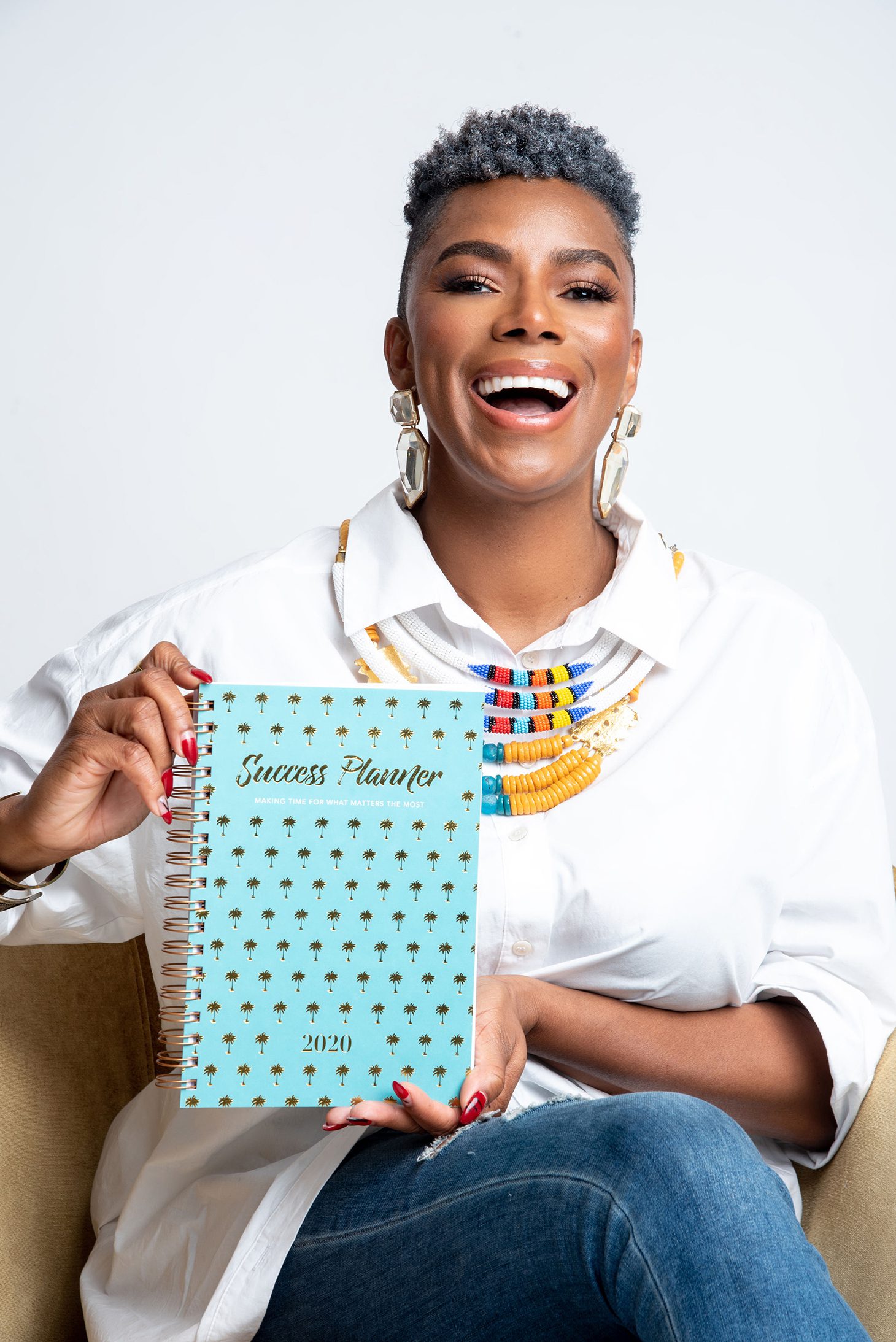 Let's put in all into practice – step into my Inclusive Simulation Lab:
Black Presence
Jillian Harris is trying to normalize Black presence – this is why I am here today to share my voice, brilliance and lifestyle with you as a Guest Contributor with a Black lens on Black History Month. Normalizing Black Presence means that Black History Month isn't and won't be the ONLY time you will see me or hear my voice on this blog.
Black His, Hers, Theirs Story:
I first met the trailblazing Dr. Jean Augustine when I first volunteered for the Black Business and Professional Association Harry Jerome Awards. She immigrated to Toronto from Grenada at the age of 23 and, through her hard work, became the President of the Congress of Black Women of Canada. Through her political work, she influenced Canada's official multiculturalism policy and became the first African- Canadian woman to be elected to Canada's House of Commons, which she served on from 1993- 2006. At the age of 83, Jean is still involved in the community and funds three annual scholarships. She did this whilst facing a history that taught those she encountered to discriminate against her and she also fought to ensure that we had a future we will be proud of through her contributions. Her ability to apply Critical Thinking skills led her to where she is today.
Black Futures:
This is where I invite you to take action today. The Honourable Jean Augustine is calling on our community to step up and CREATE A BETTER Canadian History by ensuring that her incredible work and legacy lives on. 25 years ago, February was officially acknowledged as Black History Month in Canada. Dr. Augustine led the charge to make this happen, bringing forth a motion that was supported unanimously in Parliament!
Now she is asking the community to come together and raise $25,000 in 25 days to support the Jean Augustine Chair in Education, Community and Diaspora at York University. There is a great corporate ally in this goal – Accenture Canada will MATCH dollar for dollar the community contributions up to $25 000 – that would mean $50,000 can be raised for the Chair in 25 days! Our media sponsor CBC will amplify our mission on their platforms and so can you by reposting.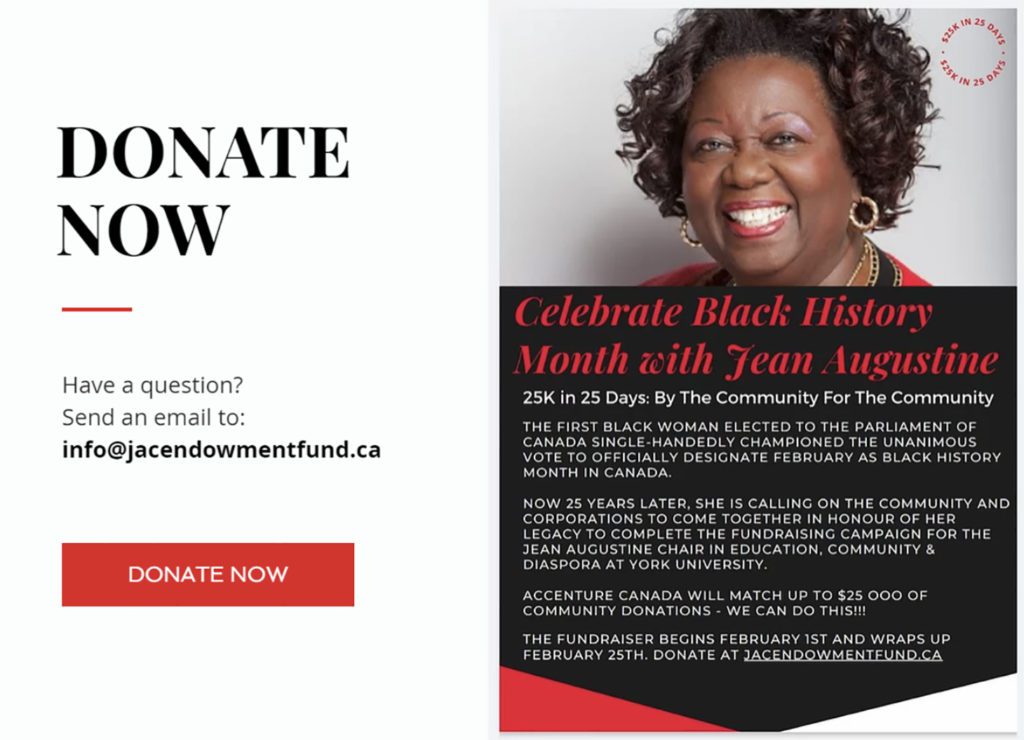 Practice until justice has been served. Use these Critical Thinking skills as a way to help mobilize not just for this month but for years to come. In closing, I leave you with the final words of Dr. Chika Stacy Oriuwa. This is from her poem (yes she's a poet too!) Woman, Black.
"Can you be both doctor and Black woman?
I quickly say back,
I know if nothing else
but to become doctor in a world that begs otherwise
to be woman when my narrative is challenged
and my capabilities called into quetion
I will stand at the intersection of my
identities and boldly proclaim
I am woman
I am Black
I am doctor
and I am here."
Black History is Canadian History.
Let me know what resonated the most for you.