A couple of weeks ago, Marilyn Denis reached out to me about taking part in a fun Summer segment on her show! Of course, I jumped at the chance and after some planning, the girls and I prepared the cutest alfresco tablescape! Ps. For those of you out there who didn't catch the live segment, you can watch it here!
An alfresco dining set-up during the Summer feels as though you've stepped out of Canada and walked straight into Europe. There's nothing better than eating and drinking outside with family and friends while enjoying that warm summer sunshine (and a glass of chilled rosé, of course!).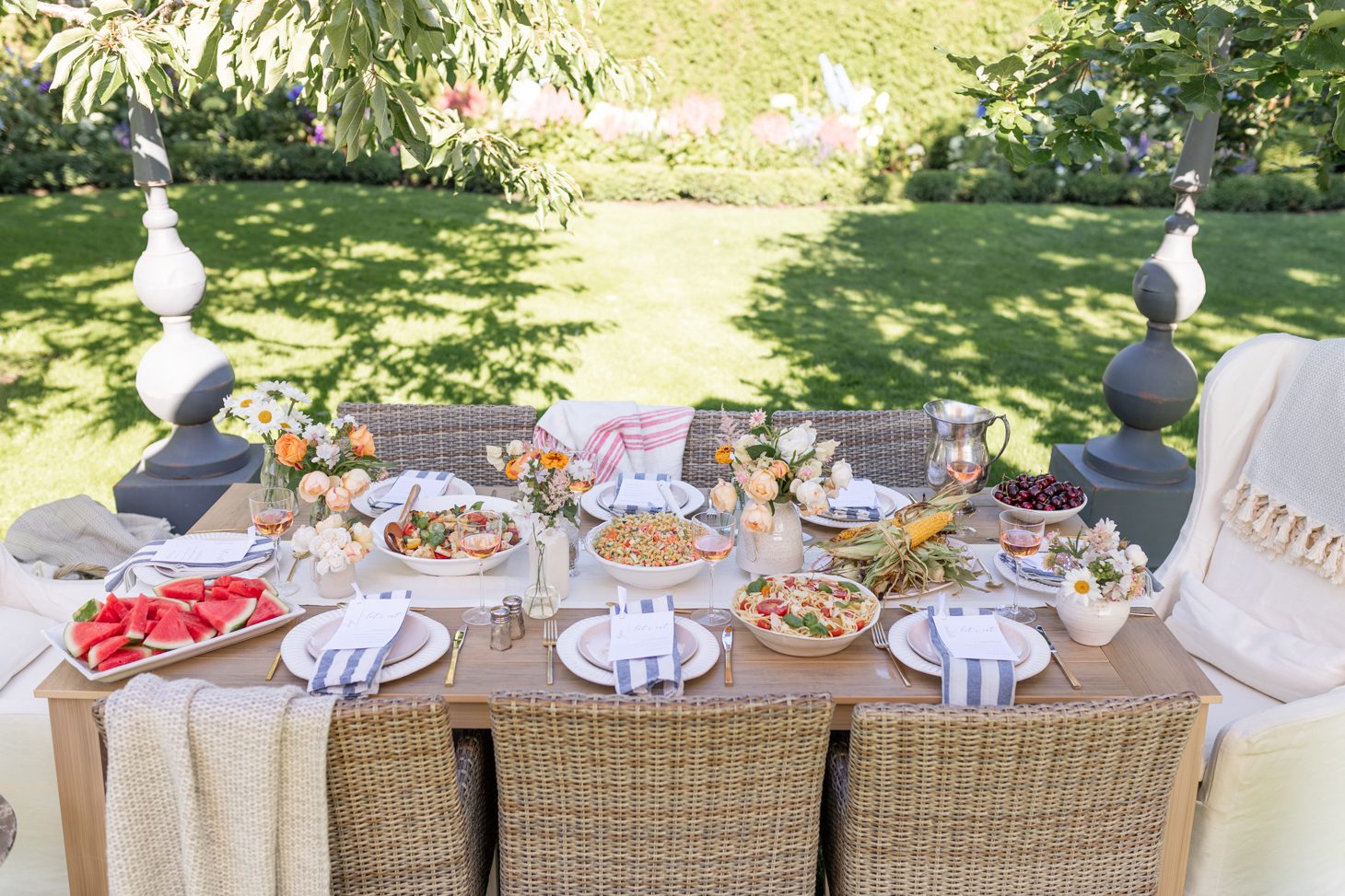 Creating the perfect tablescape may feel like a lot of pressure (trust me, I know it all too well!), but you can pull it off easily with items that you already have in and around your home. Today, I wanted to share a few tips and tricks on how to recreate this alfresco dining table and share just how easy it is to pull off! 
Table Set-Up
When I was first thinking about this alfresco set-up, I started racking my brain on all of the things that we needed to buy, but then I remembered that this should be something simple and stress-free. So, I started to gather some items from around the house to create the perfect garden party tablescape.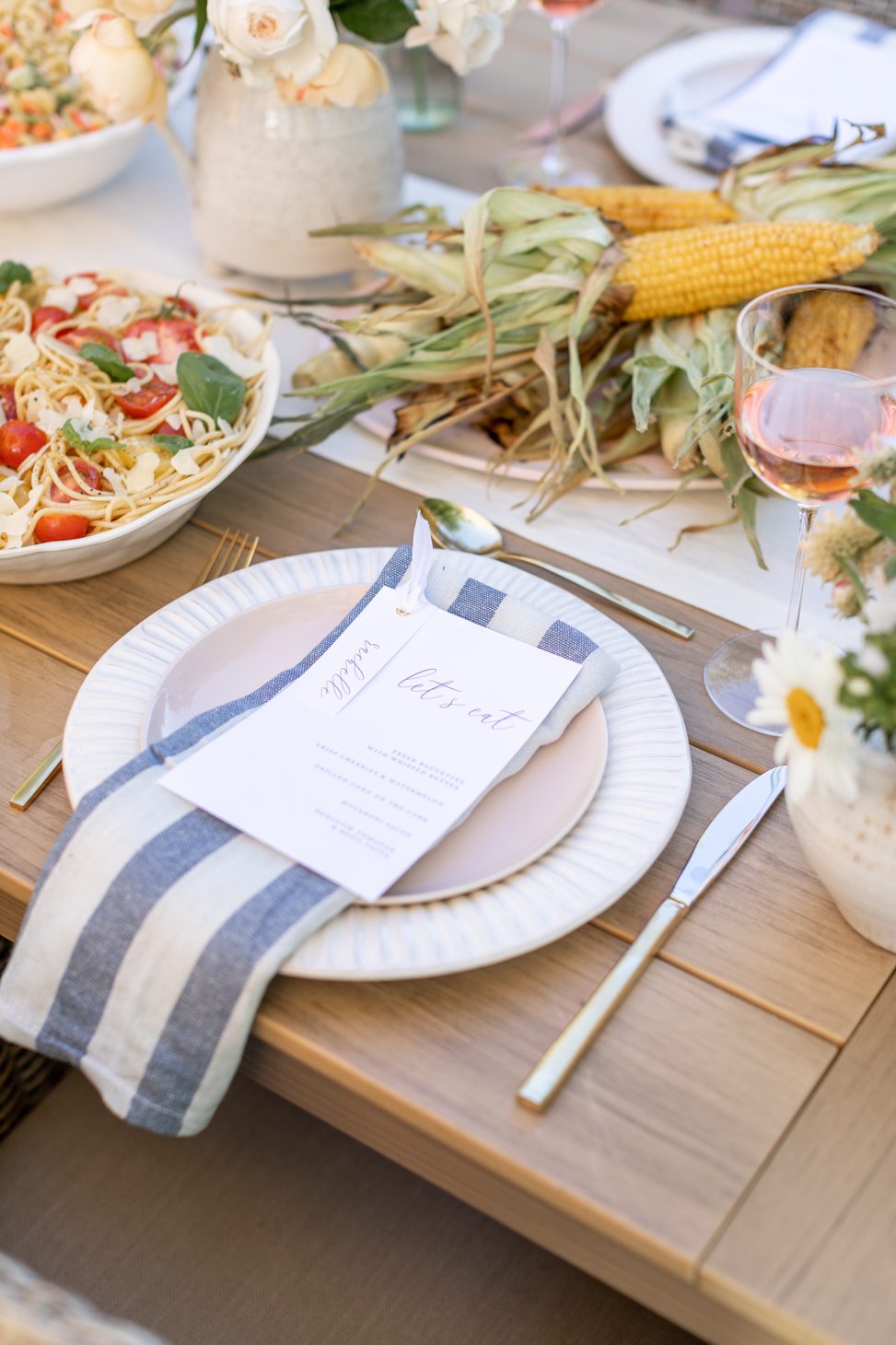 We started by moving my outdoor patio set up to the front yard and placed it in between two big trees. I also brought my two white wingback dining rooms chairs out and placed them at the head of the table to add some dimension. Then, we gathered all of our existing cutlery, dishes, and glasses from the house and started to place them at each setting.
Pro tip: When creating your tablescape, start by placing your plates and bowls down first, then add in your cutlery and glassware. Once you determine how much room this takes up, you can then add in all of the pretty little details (and plated food!) to fill in the open spaces.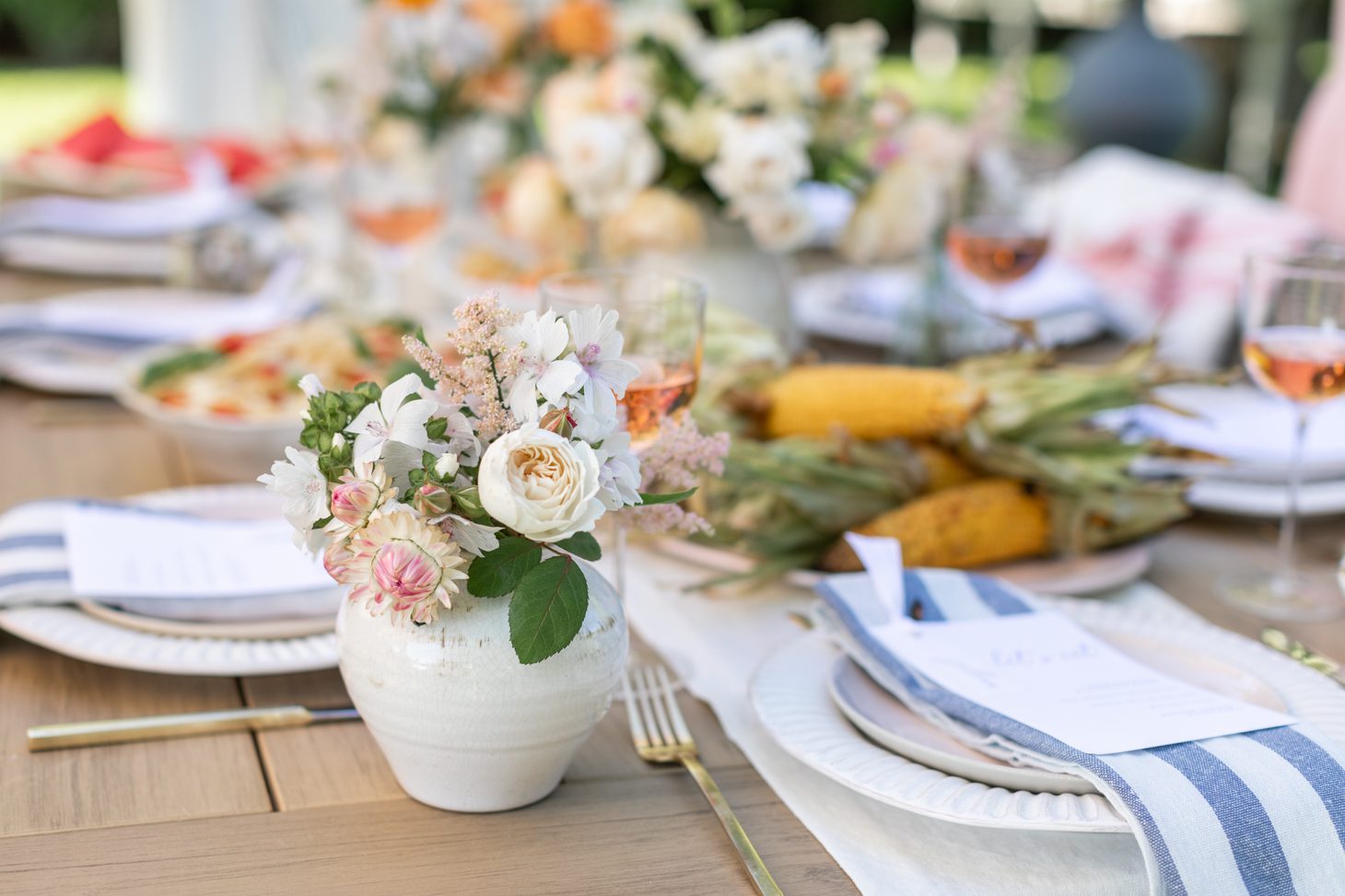 After that, with the rest of the room we had on the table I started to add a mixture of vases (big and small!) to create more visual interest with height and depth. We filled them with some fresh flowers from our garden, and I couldn't resist ordering some extra from Fleurich Creations. If you don't have a garden and would like to add some flowers to your table, this is an excellent opportunity to support a local florist.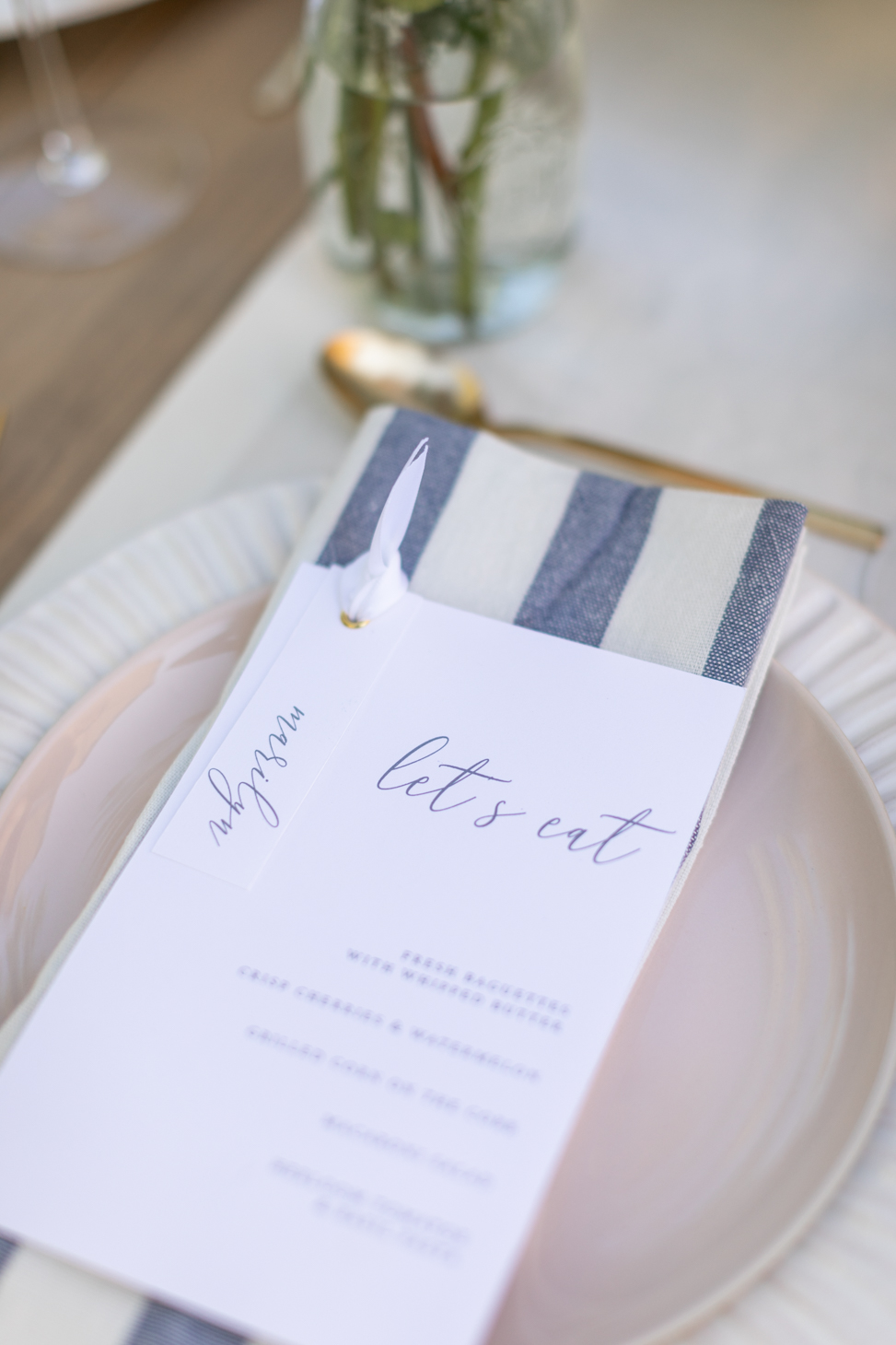 Menu
Now, let's move onto the good stuff! When I was thinking about a Summer menu, perfect to eat and enjoy outdoors; what came to mind was fresh fruit, salad, pasta, and corn on the cob! I ended up preparing our Picnic Pasta Salad (you can find it on page 128 in The Fraiche Food Full Hearts Cookbook), as well as the Heirloom Tomato Fennel Panzanella (you can find it on page 127!), a Tomato and Basil Pasta inspired by Monika Hibbs, grilled corn on the cob, fresh cherries, watermelon, and Sandhill Rosé, my Summer-time favourite!
Once I had the menu nailed down, Carrie (our in house Graphic Designer) whipped up a few menus and name tags for each setting. This isn't necessary but it adds the perfect personal touch that levels up your garden party and makes your guests feel like VIPs!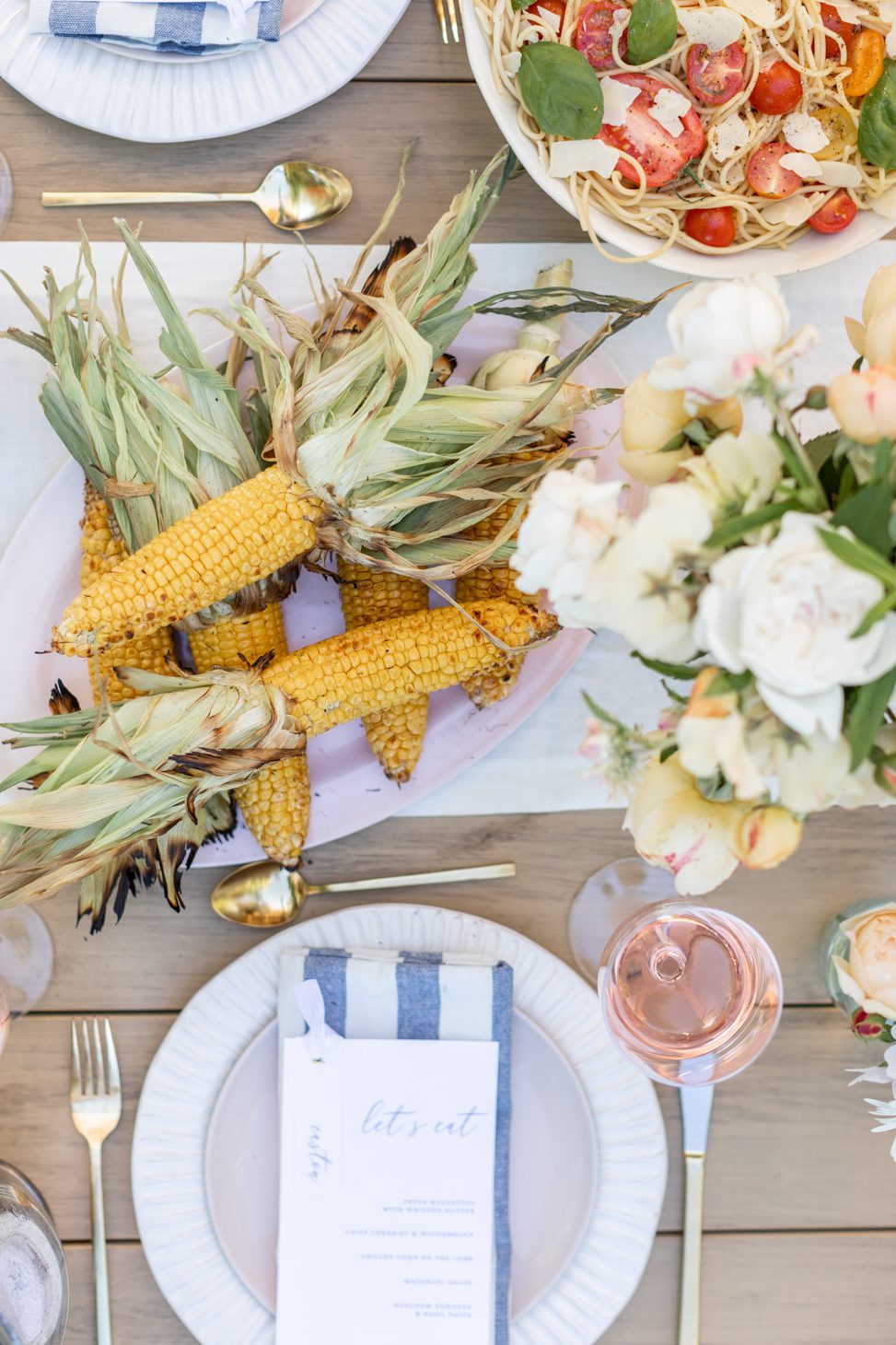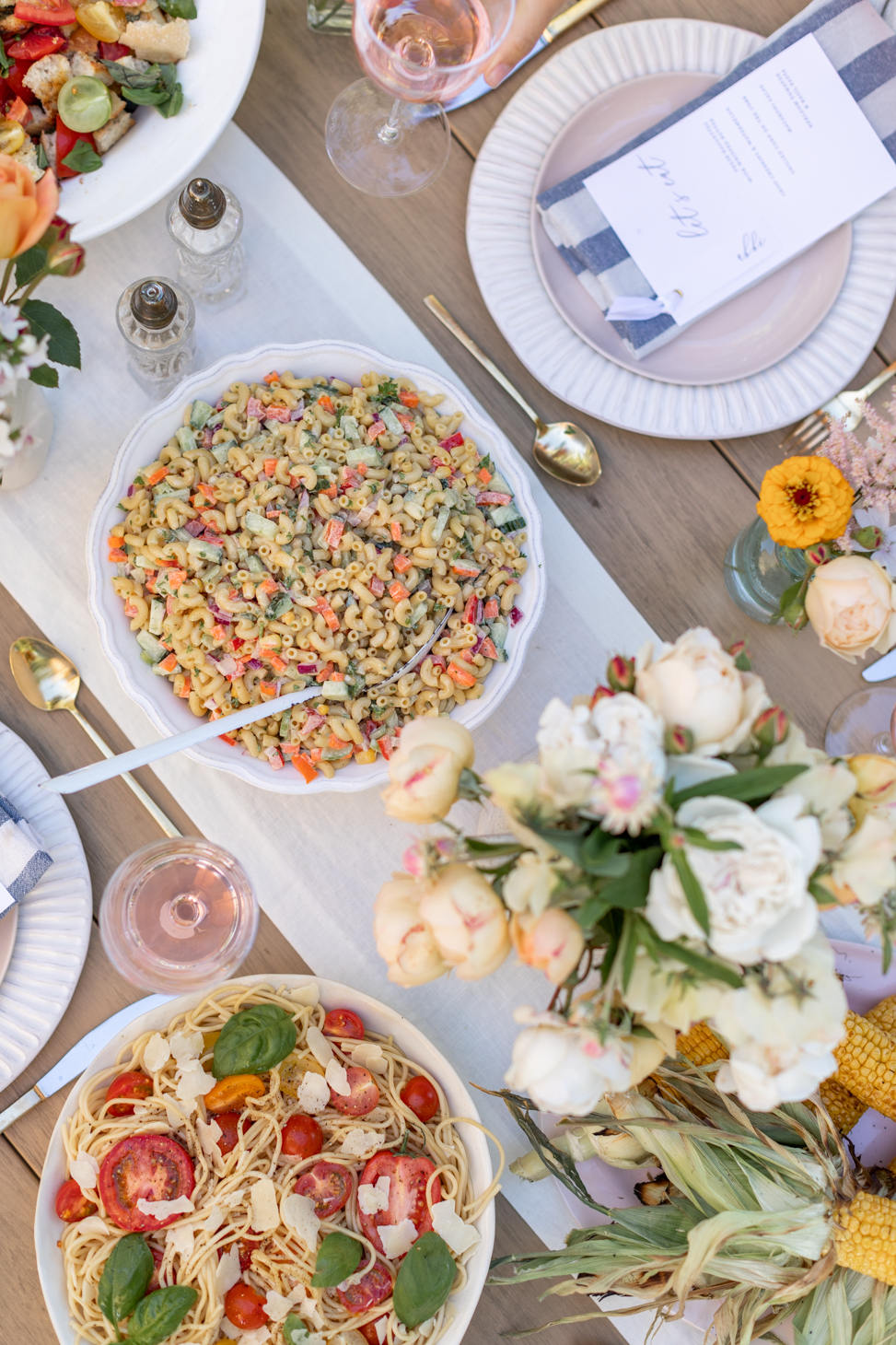 While we didn't have anyone over to enjoy this beautiful set-up other than a few girls on Team Jilly, I am SO looking forward to recreating this gorgeous and simple tablescape for family and friends this summer. The whole idea about this alfresco dining table is for it to be easy breezy, no planning or buying required. Just grab everything but the kitchen sink and don't forget the wine. Everyone's happy when there's wine, well, at least I am! LOL!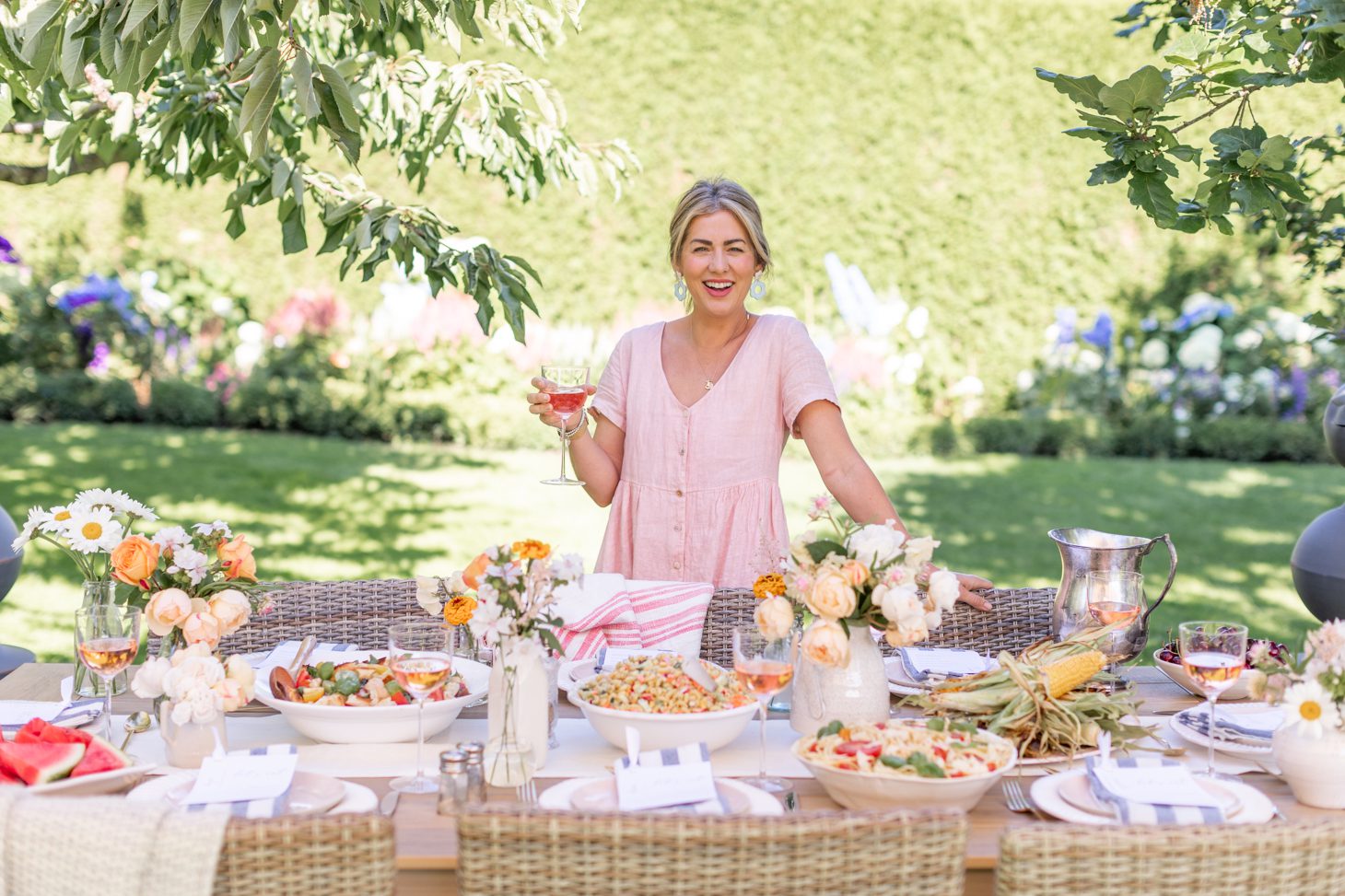 I hope you enjoyed this recap as much as I loved creating this little alfresco dining table! If you have guests over, I challenge you to just use what you have in and around your house! Oh, and don't forget, make sure to tune into Marilyn Dennis tomorrow for all of the little details!
xo
Jilly