Hi everyone! Tori from Fraiche Nutrition here taking over Jilly's blog with another delish recipe!! Growing up in a Ukrainian household, beets are essentially their own food group. The cool thing is that we really use ALL of the beet: in fact, we go out of our way to buy beets just for the leaves that everyone else throws away (a mortal sin in our family for the record!). Beet leaves are a nutrition powerhouse; packed with vitamins A, C and K, cooked beet greens are also a great vegetable source of calcium.
Now, Beet Rolls are traditionally made by rolling a mixture of rice, bacon, and dill in beet leaves and baking them in a casserole dish smothered in whipping cream. But who has time to sit and roll Beet Rolls these days? And let's not get started on the whipping cream and bacon…
Lazy Beet Rolls take all the heaving lifting out of this dish, making them totally doable any day of the week! Sautéing the beet greens lightly prior to assembling the mixture lets you cram in TONS more beet leaves than you otherwise could. It's still a rich dish, but a far cry from the original version and is totally vegan! Note, you will need to soak raw cashews, either in hot water for 30 minutes or overnight before making this dish.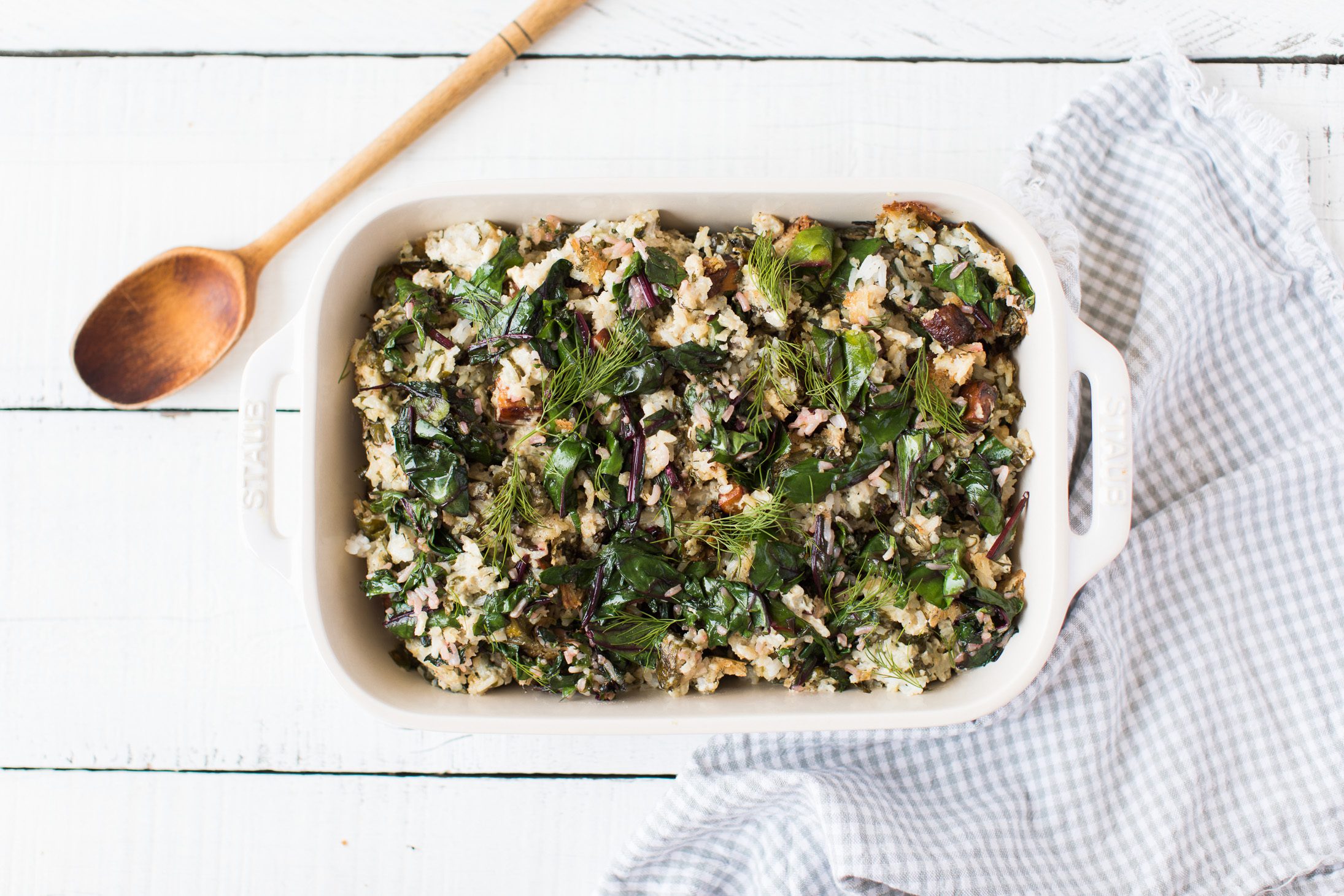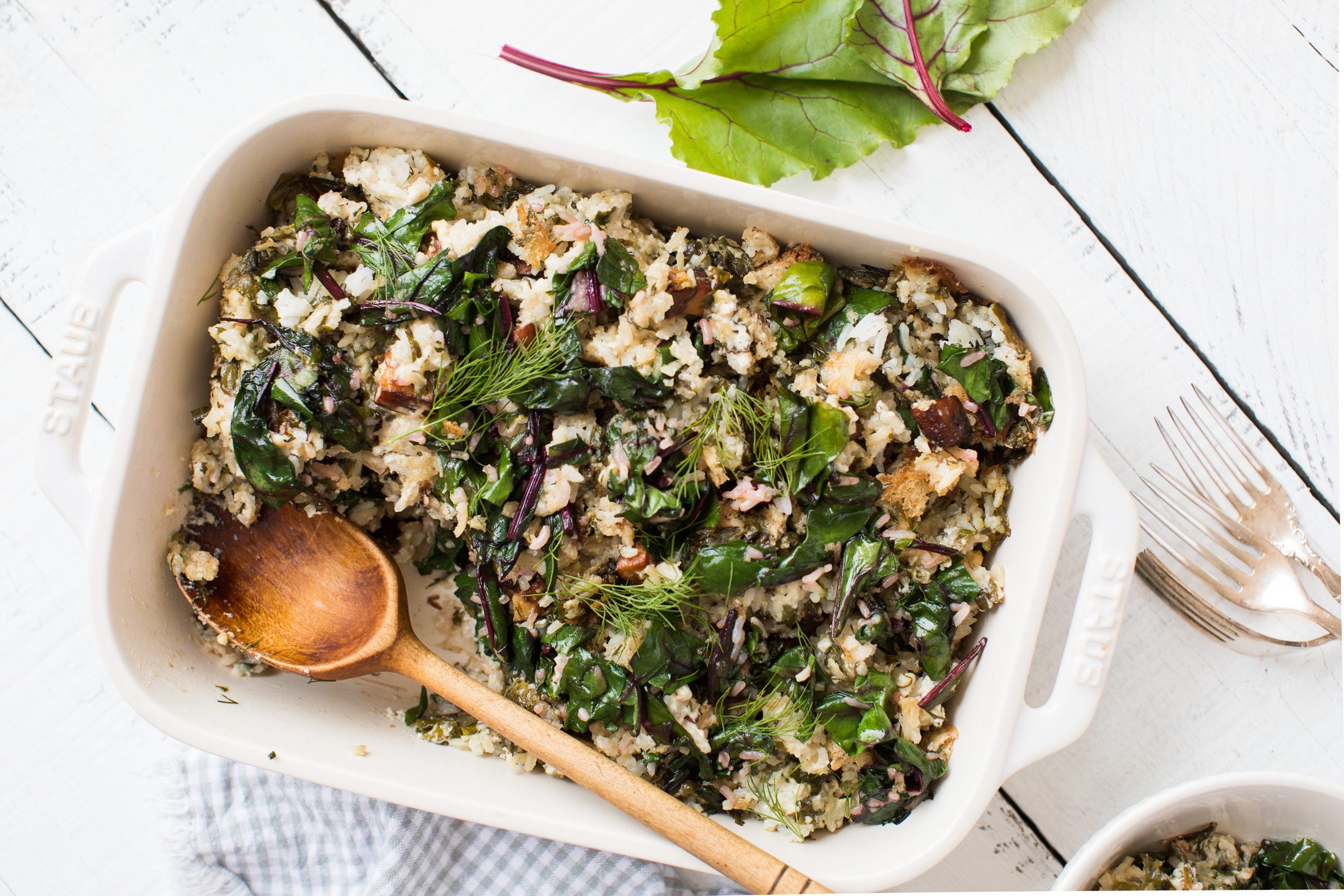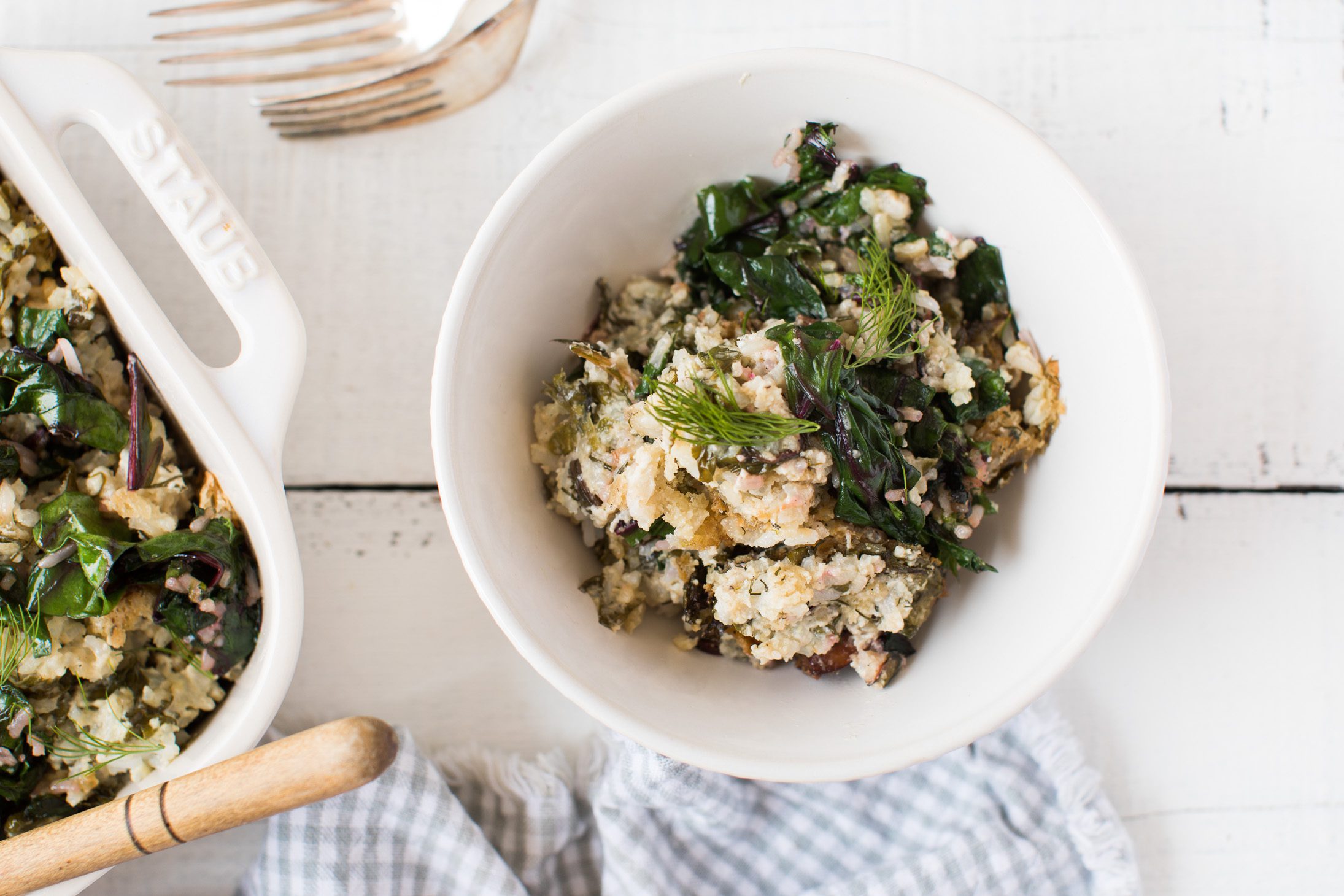 Serves 8-10 (side dish servings)
Ingredients
1/3 cup raw soaked cashews
1/3 cup water
2 cups uncooked white rice (I used Jasmine)
1 package (210 g) smoked tofu, drained
1 tablespoon maple syrup
1 tablespoon soy sauce
3 tablespoon extra virgin olive oil, divided
2 tablespoon vegan butter
1 small yellow onion, finely diced
10 cups lightly packed roughly chopped fresh beet greens
¾ cup fresh chopped dill
Salt and pepper to taste
*to soak the cashews, immerse them in water overnight or pour boiling water on them to cover
and let them sit for 30 minutes: drain before using.
Instructions
Preheat the oven to 350F and lightly grease a 9×13" baking dish.
Make the cashew cream by blending the soaked cashews with the water in a high powered blender on high until smooth, about 3 minutes. Cover and refrigerate until ready to use.
Cook the rice according to the package directions. Transfer the rice to a large mixing bowl, fluff with a fork and set aside to cool slightly.
Cut the tofu into small ½" pieces and place it in a small frying pan with the maple syrup, soy sauce and 1 ½ tablespoons of the olive oil. Cook on medium heat until the tofu is crispy, about 5 minutes, stirring constantly. Remove from the heat, transfer into a small dish and set aside.
Add the vegan butter to a small frying pan on medium-low heat and sauté the onion until it is soft and transparent about 3-5 minutes. Remove from the heat and set aside.
In a large frying pan, heat the remaining olive oil on medium heat and add the beet greens: you will likely need to do this in a couple of batches. Sauté the greens until they are just wilted but still bright green (1-2 minutes) and transfer them to the bowl with the rice. Repeat if needed until all of the greens are wilted; this step lets you fit more greens into the dish!
Add the fried tofu and dill to the large mixing bowl, toss with the rice and greens, and season to taste with salt and pepper. Transfer the mixture to the baking dish and smooth it to even the rice in the dish using the back of a large spoon or a spatula.
Drizzle the cashew cream over the rice mixture to evenly cover the dish. Bake until the edges turn a light golden brown, about 30-40 minutes and serve immediately.
https://jillianharris.com/lazy-vegan-beet-rolls/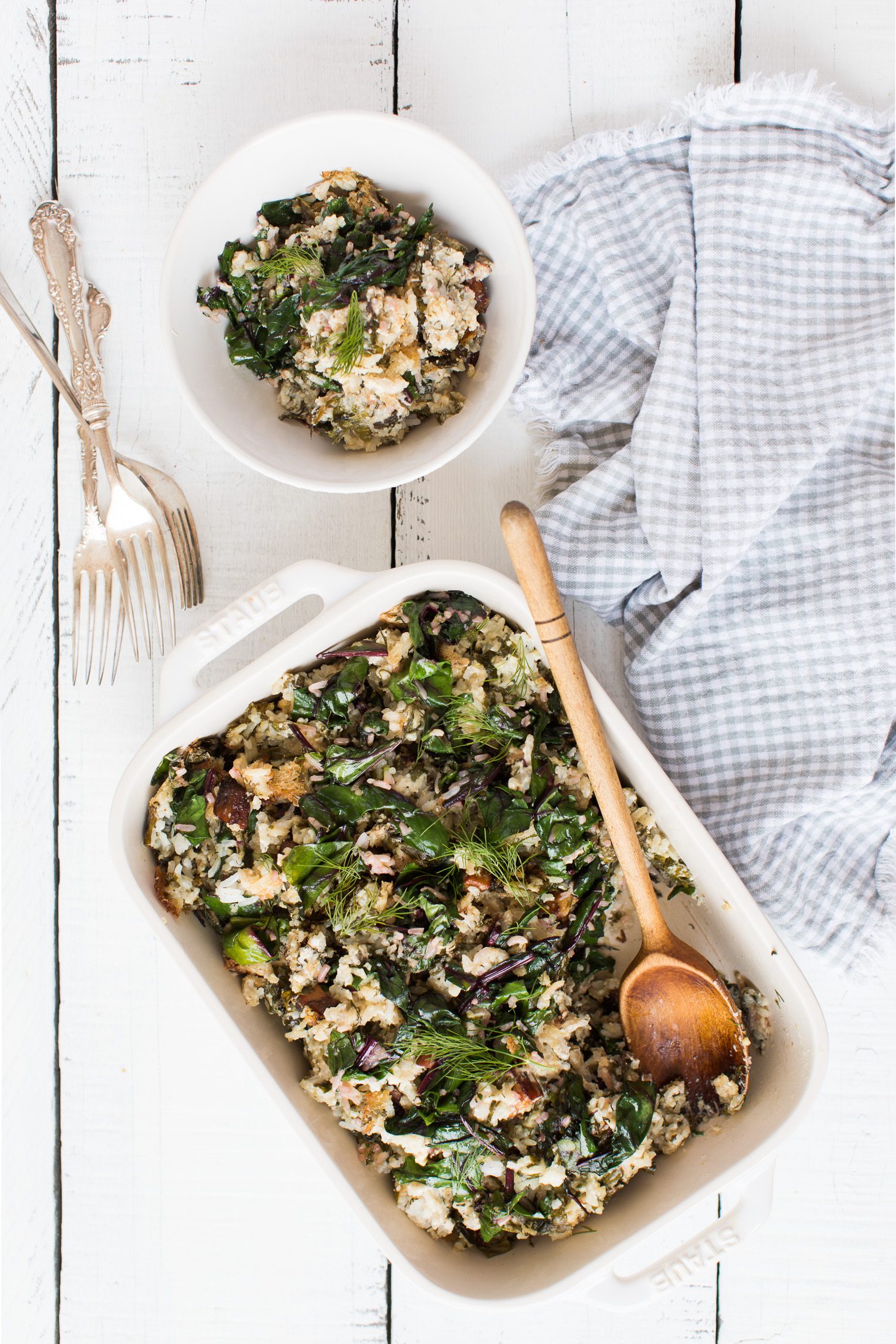 Enjoy!
xo