As many of you are well aware, our garden has EXPLODED this summer! We've been bombarded with delicious fresh greens and veggies such as kale, broccoli, zucchini … you name it! I was so excited to see our garden flourish so quickly but it didn't take long for me to start running out of ideas of what to do with all of this produce and I knew the kids wouldn't be into eating it raw … so this mama had to get a little creative!
Leo and Annie both LOVE pasta (they're following in their Mama's footsteps!) so much that they would eat it for every single meal of the day if I let them (and so would I, if I didn't have SOME sort of self-control!). So, I figured creating some sort of veggie-packed pasta sauce was going to be the BEST way for me to sneak all of these healthy greens onto their plates without them noticing!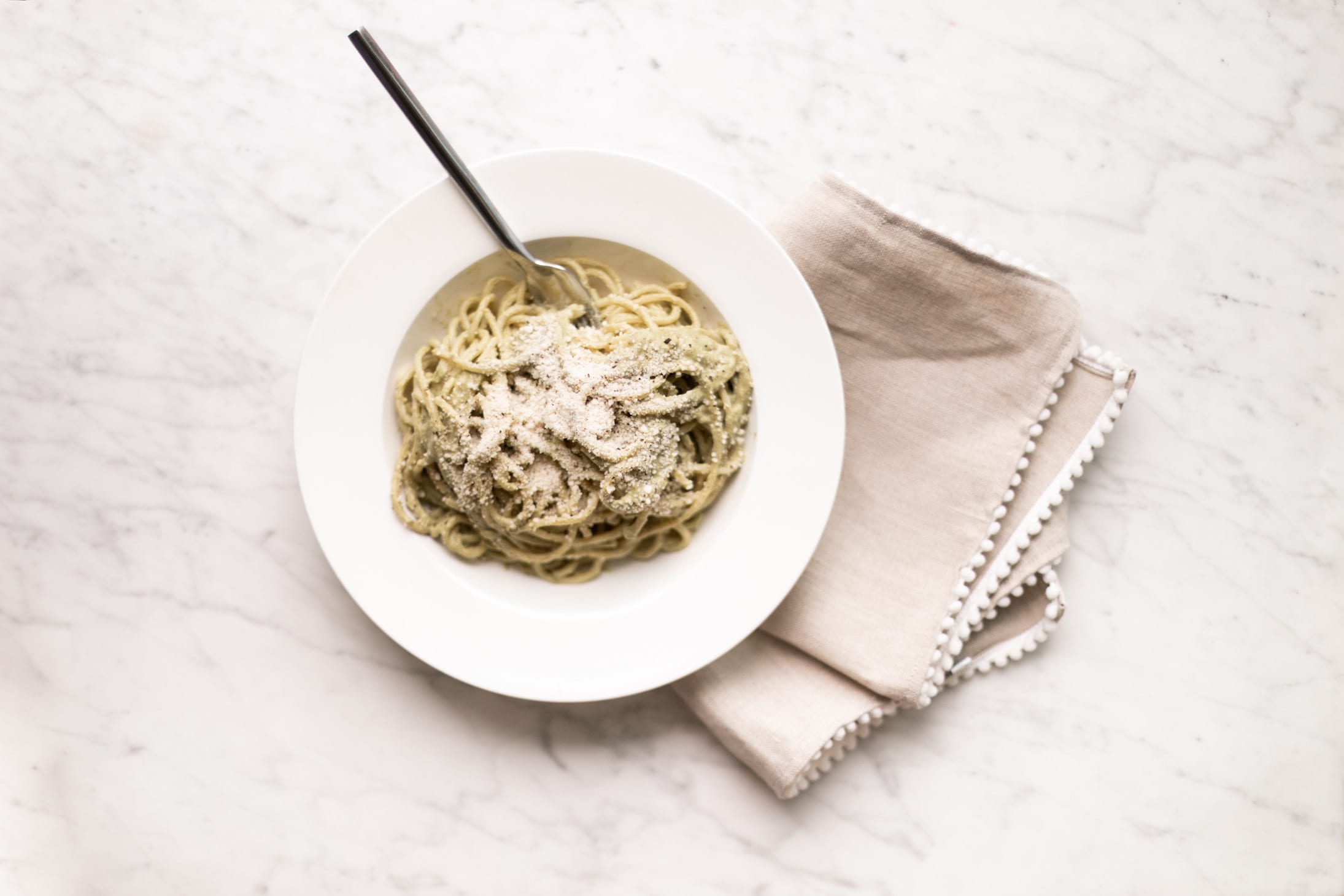 I took all of my kale, zucchini, broccoli and a couple of celery stalks from the fridge and roasted them in a pan with olive oil, onion, and garlic, and then transferred the roasted veg to my Vitamix and added soaked cashews, nutritional yeast, salt and pepper, veggie stock and a squeeze of lemon and I had myself a quick and easy veggie-packed pasta sauce!
The true test here though was layering it on a bed of noodles and serving it to both of the kids … I dished it out, let it cool, put it in front of them … and held my breath as they took their first bite …. and (drumroll, please!) … SUCCESS!!! They gobbled it up like it was alfredo. LOL!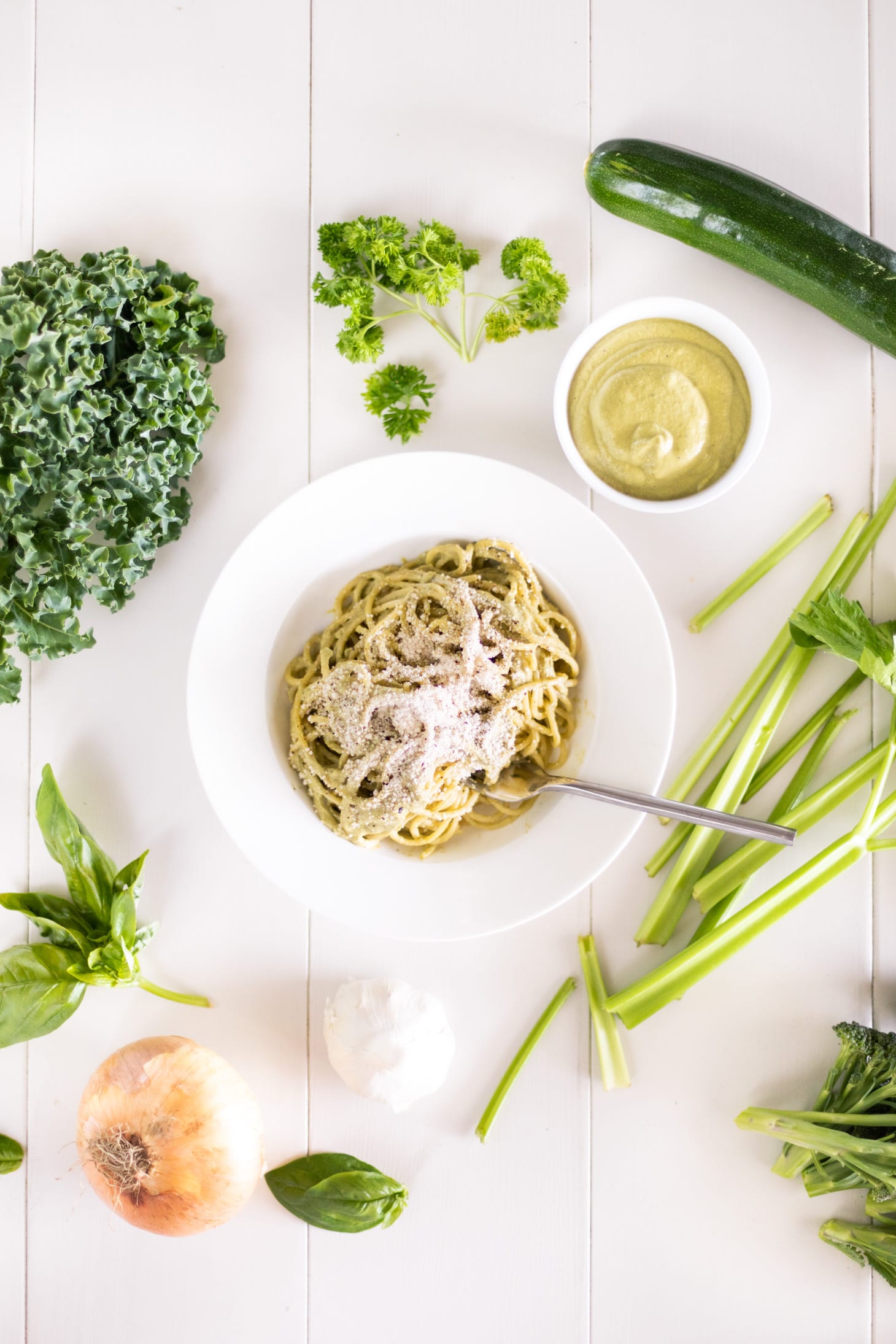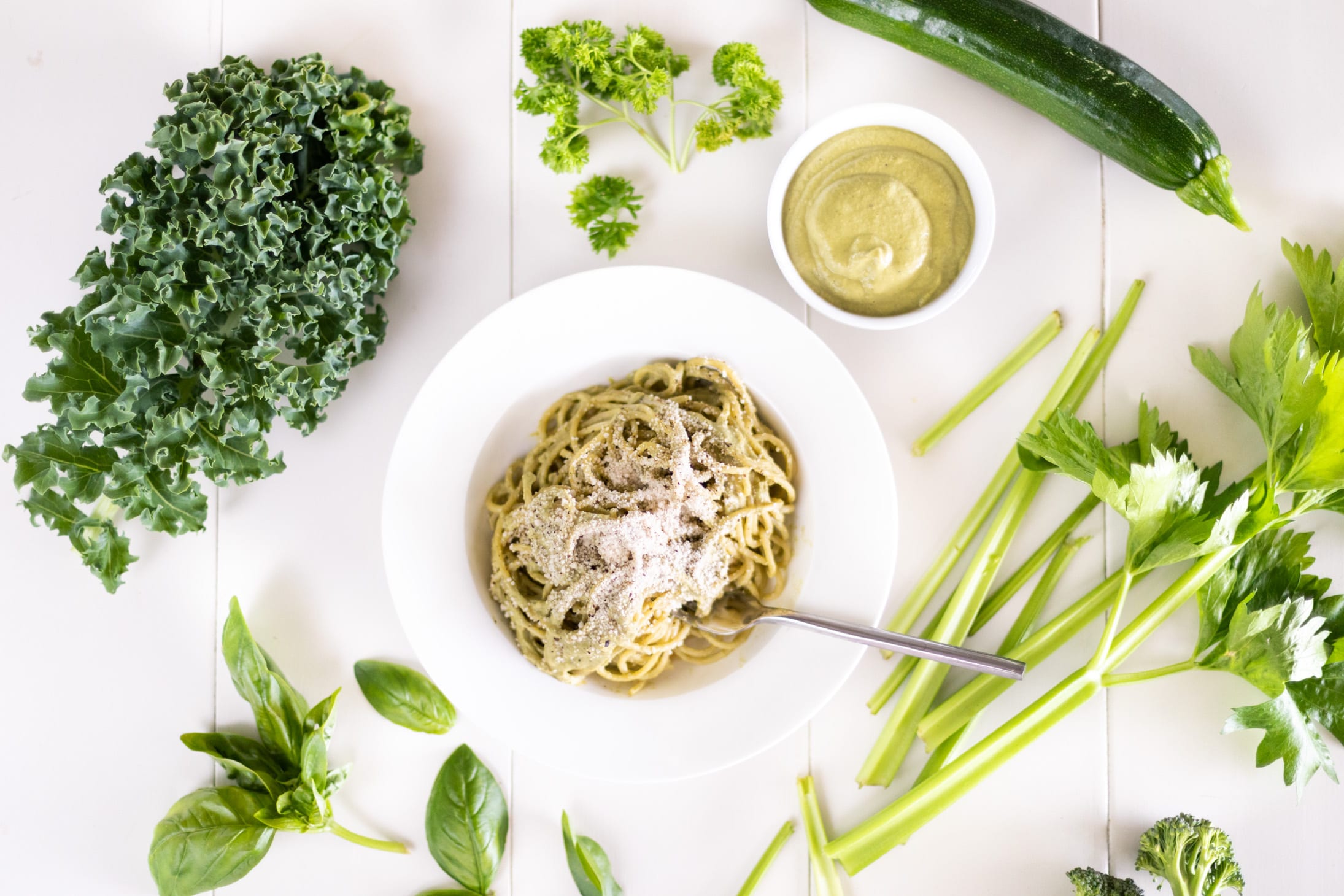 I'm sure many of you out there struggle with this exact same thing in your household, so today I'm sharing my sneaky veggie pasta sauce recipe with you in hopes you can sneak those extra veggies into your kiddo's meals as well!

Ingredients
1/2 of one white onion chopped
2 cloves garlic halved
1/2 head of broccoli cut into florets
1/2 zucchini cubed
2 cups loosely packed kale or spinach
1-2 stalks of celery diced
1 cup cashews
1 tbsp olive oil
2 cups veggie stock
Juice from 1/2 a lemon
1 cup nutritional yeast
Salt and pepper to taste
Instructions
Heat oven to 350 degrees.
Line a pan with parchment paper, add onion, garlic, broccoli, zucchini, and celery to the pan, spread evenly. Drizzle olive oil on top, season with salt and pepper and roast until veggies are soft.
While veggies are roasting boil the cashews in a pot on the stovetop on medium heat until soft.
Once cashews are soft, drain the water and add them to your blender. Add the roasted veggies to your blender when ready, along with veggie stock, kale or spinach, lemon juice, nutritional yeast and salt and pepper to taste. Blend until smooth.
Your pasta sauce is now ready to be served on top of your desired noodles!
https://jillianharris.com/sneaky-veggie-pasta-sauce/
xo
Jilly