Hi everyone! It's Tori here (Jillian's cousin!) from Fraiche Nutrition and I'm sharing a delish recipe with you today! Mother's Day is right around the corner and this pretty pink VEGAN cheesecake is the perfect treat for any mama you might know. It's sweet, delicious, and light enough that you don't need to feel guilty after eating it.
There is likely no job more rewarding, or challenging than being a mom! While you can show you appreciate your mom any day of the year, Mother's Day is the chance to spoil her rotten… and what better way than to whip up a special treat (that she doesn't have to make) to show her how much you love her?
This vegan cheesecake has zero compromises in the flavour department and is super creamy and rich tasting. Soaked cashews help make this vegan cheesecake silky smooth, and the addition of strawberries give it the prettiest hue and most delicious fresh flavour. Cashews contain plenty of healthy fats, fiber, and plant-based fiber and are high in minerals like zinc … giving you a perfect excuse to eat a second slice of this cheesecake, right!?
Ps. If you don't have time to soak the cashews overnight, you can soak them in boiling water for a half hour instead.
Ingredients
Coconut Crust

1 cup unsweetened shredded coconut
1 cup pecans
1 tablespoon maple syrup
2 tablespoons coconut oil

Strawberry Filling

2 cups raw cashews
1 cup fresh or frozen strawberries
½ cup coconut milk
½ cup maple syrup
¼ cup lemon juice
2 teaspoons vanilla
1 teaspoon lemon zest

Garnish

Coconut whip topping
Fresh strawberries
Instructions
Make the coconut crust. Line a 7" springform pan with parchment paper and preheat oven to 350 degrees.
Pulse the crust ingredients in a food processor until ingredients begin to come together and mixture can be pressed firmly together.
Transfer the crust mixture to prepared pan and press evenly into pan, using a glass with a flat bottom if needed to ensure an even and packed base. Place the crust in the pre-heated oven for 12-15 minutes or until the crust is golden brown. Once golden brown remove the crust from the oven and set aside to cool.
Make the strawberry filling. Soak the cashews in water to cover overnight (in the fridge) or in boiling water for 30 minutes. Drain and set aside.
In a high-powered blender, combine all the filling ingredients (including the drained soaked cashews) and blend until smooth, approximately 2 minutes.
Pour the strawberry filling into springform tart pan over the coconut crust. Freeze the cheesecake for 6-8 hours or overnight.
Remove from freezer 20 minutes before serving and top with coconut whipped cream and strawberries to garnish!
https://jillianharris.com/strawberry-coconut-vegan-cheesecake/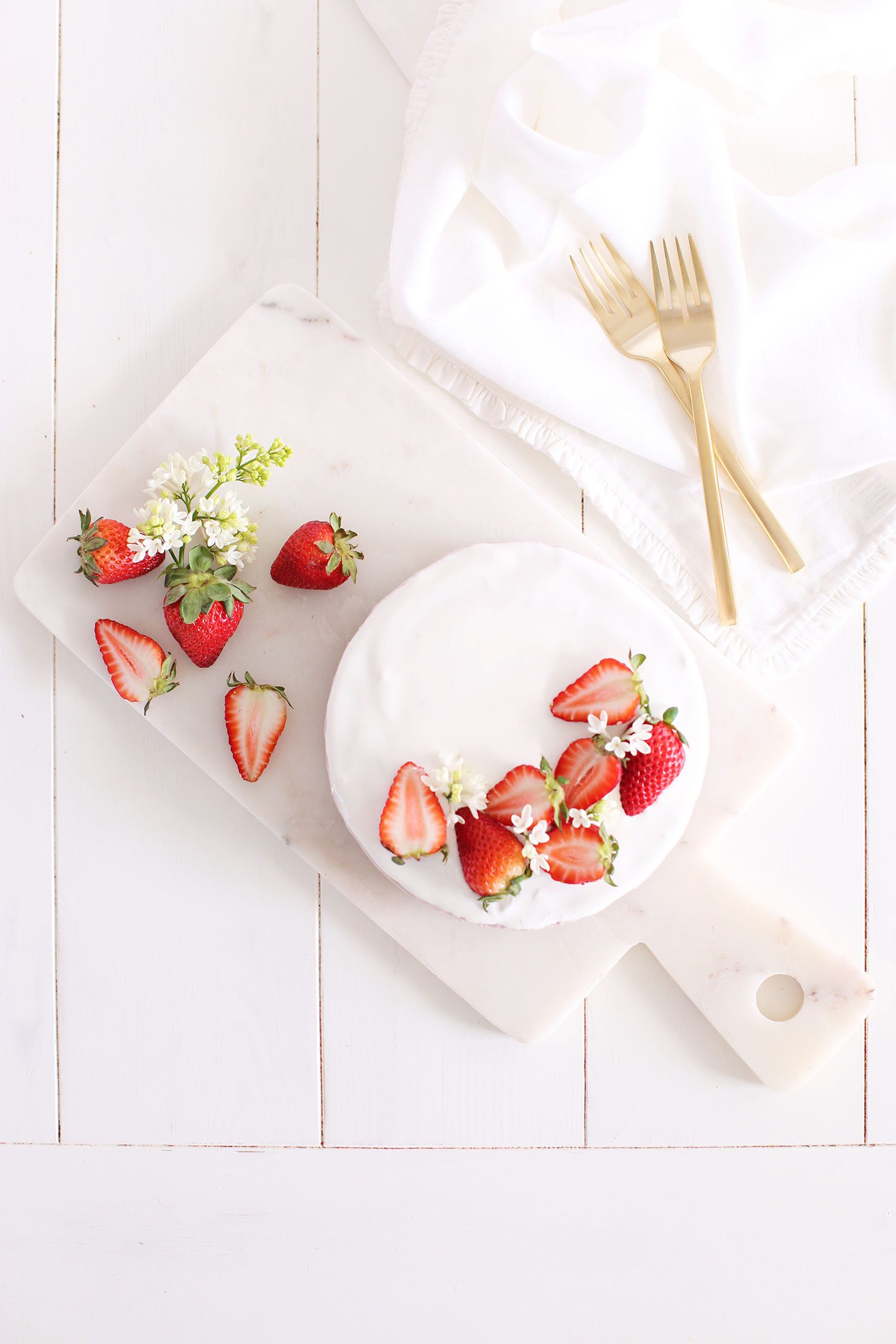 Make sure to let us know if you end up making this for Mother's Day! We would LOVE to hear what you think of it!!
xo