Hi everyone! It's Tori (Jilly's cousin!) here from Fraiche Living! Jilly and I thought there was no better time than SUPER BOWL weekend to share my delicious Beer Bread recipe with you! Not to mention, Team Jilly recently indulged in Beer Bread at the Fairmont in Vancouver a few months ago and their tastebuds have been craving it ever since!!
I've been making this Beer Bread recipe for years and I think it's got to be the easiest loaf of bread you'll ever make! It's a quick bread that takes less than an hour, and the real kicker is that it only uses one bowl (aka less dishes for you!). Does it really get any better than that?!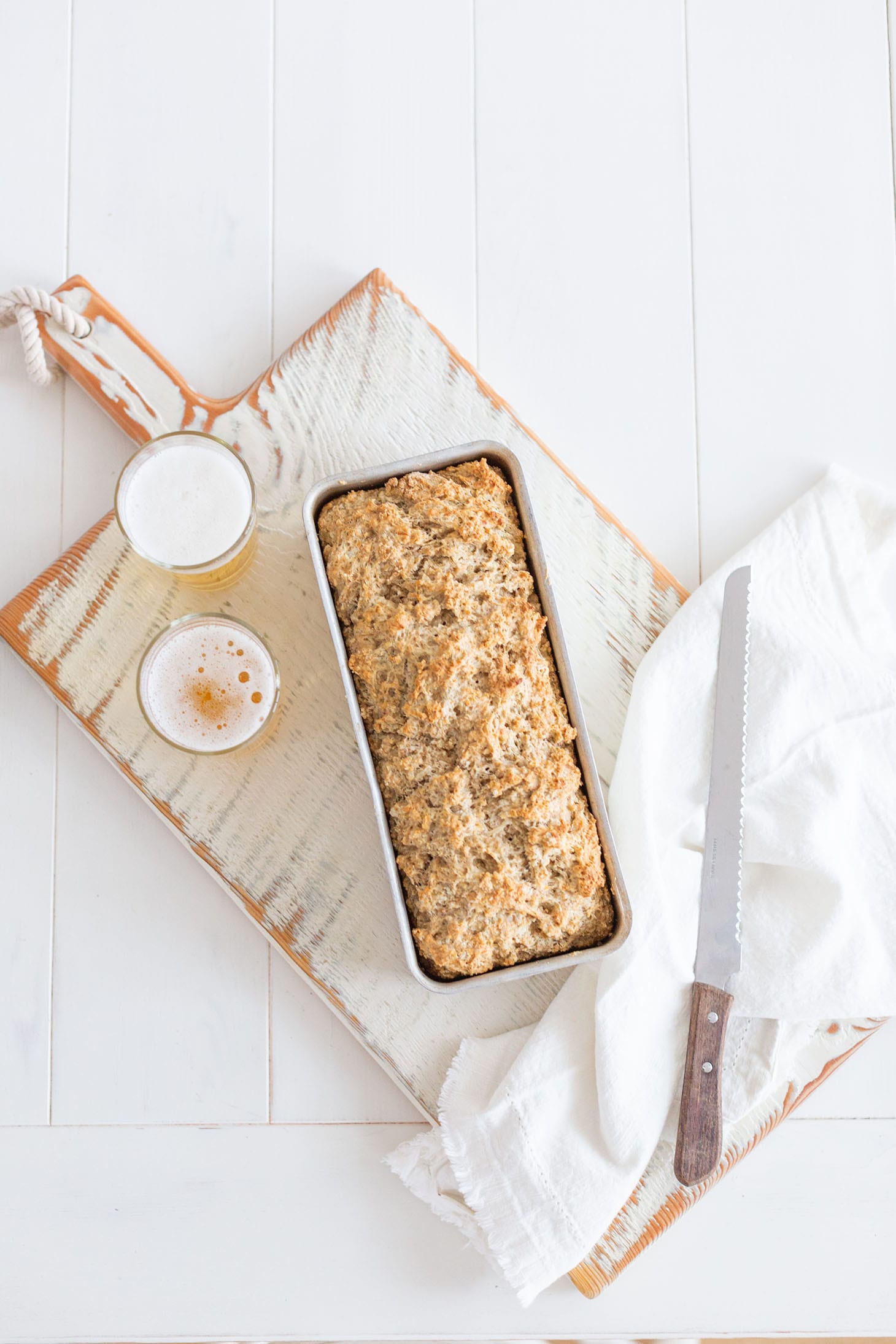 Beer bread makes such a great snack warmed up with a little bit of butter and a drizzle of honey. So satisfying! I adore making a fresh loaf of bread but it isn't always realistic. This is a quick bread, meaning it doesn't have any yeast and doesn't require any rising time, making it the perfect recipe for when you don't have a lot of time!
This bread is still a little bit of a treat, I can't say I bake with beer often, but it is so so delicious and something I make only a few times a year. Me being me I tried to make it just a tad bit healthier but substituting in some whole wheat flour. This is optional, you can use all-purpose flour if you prefer or any combination of the two as long as it equals a total of 4 cups!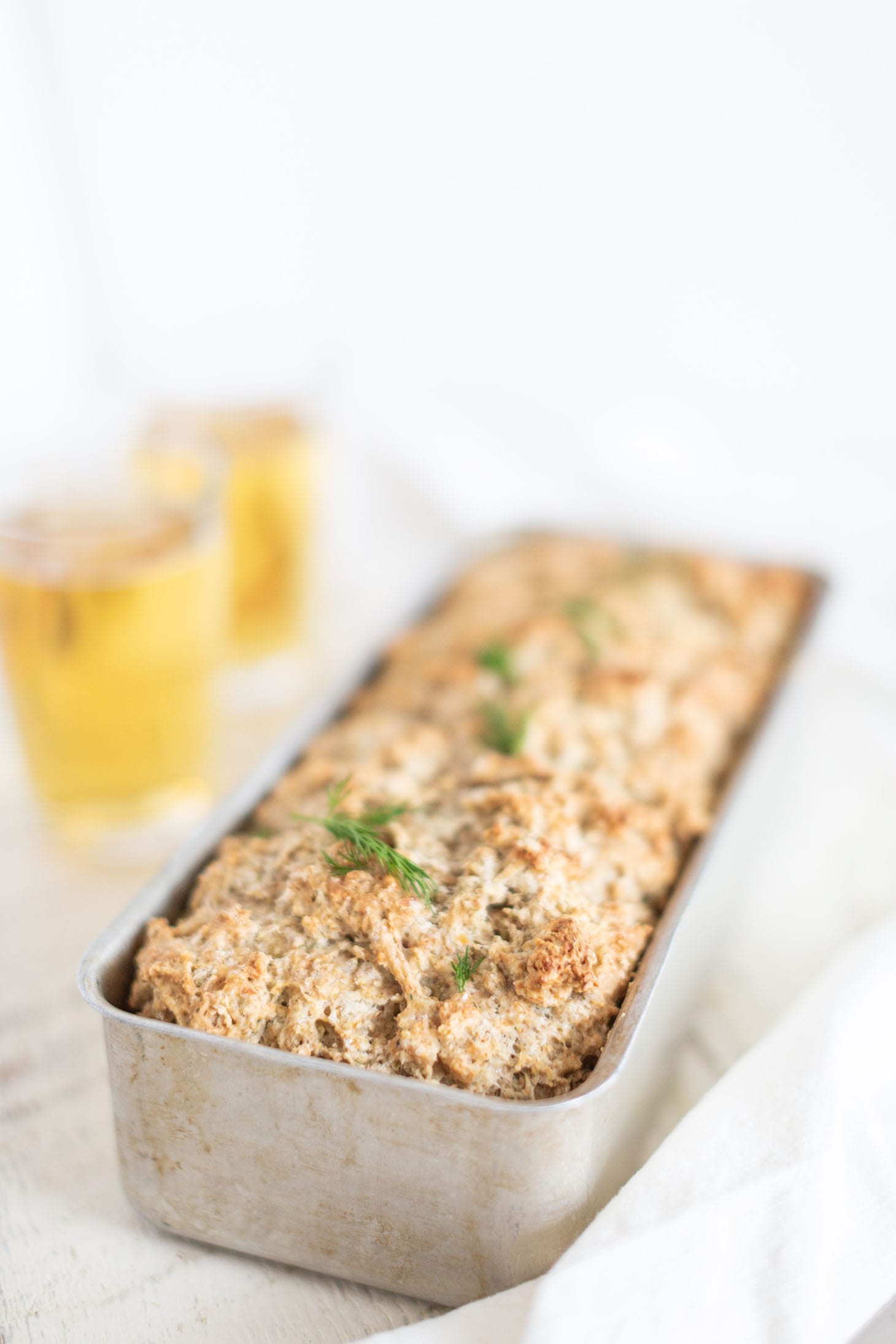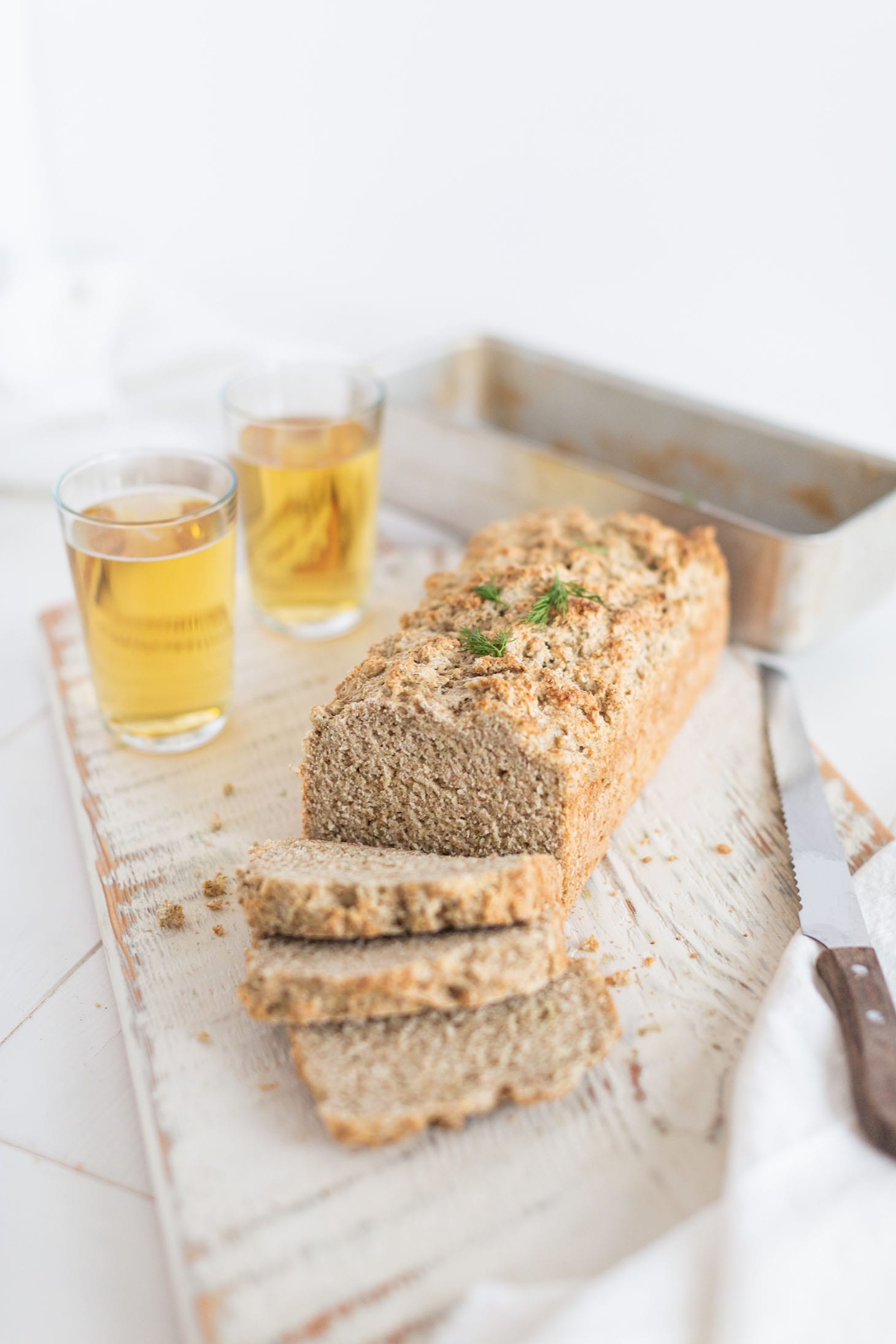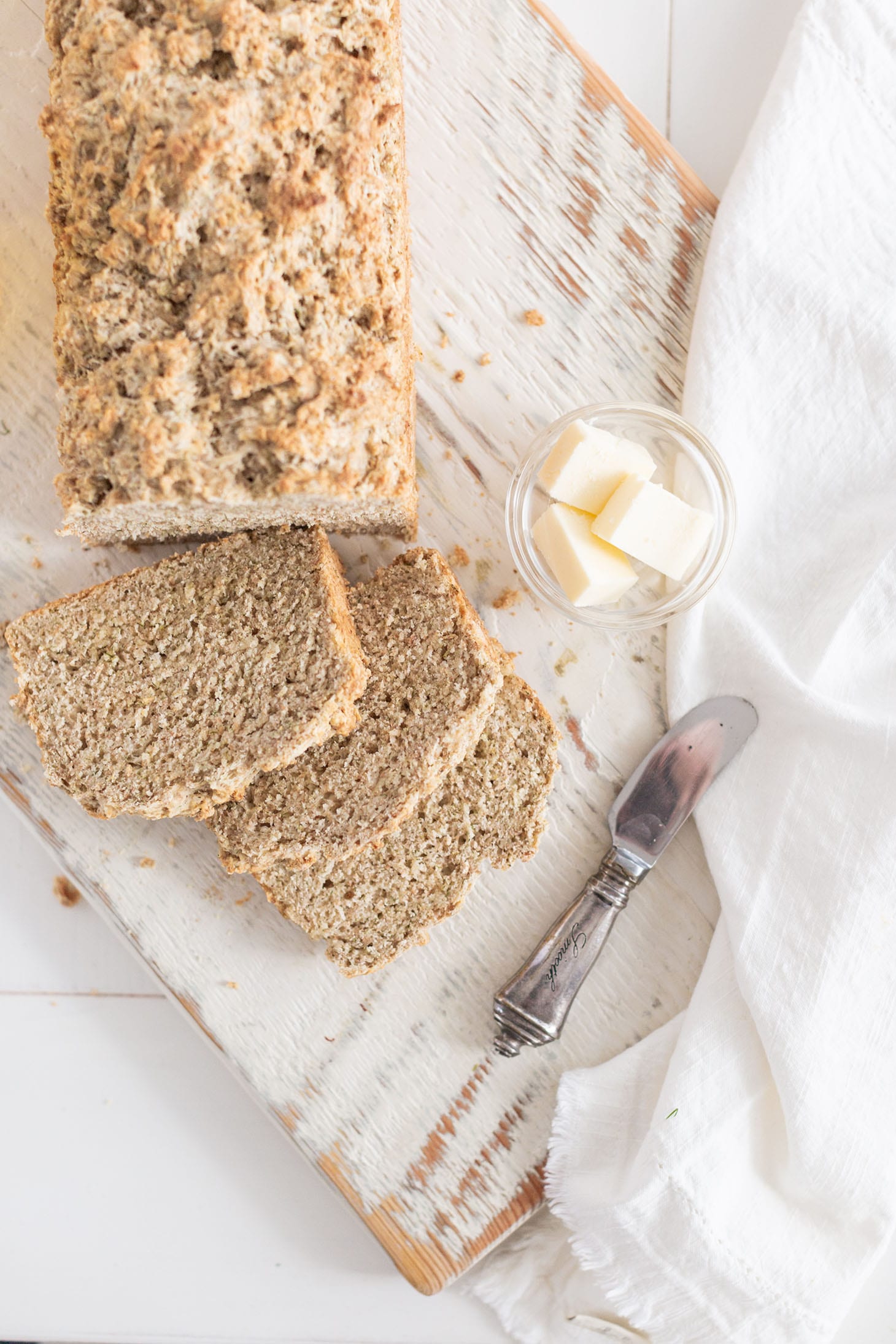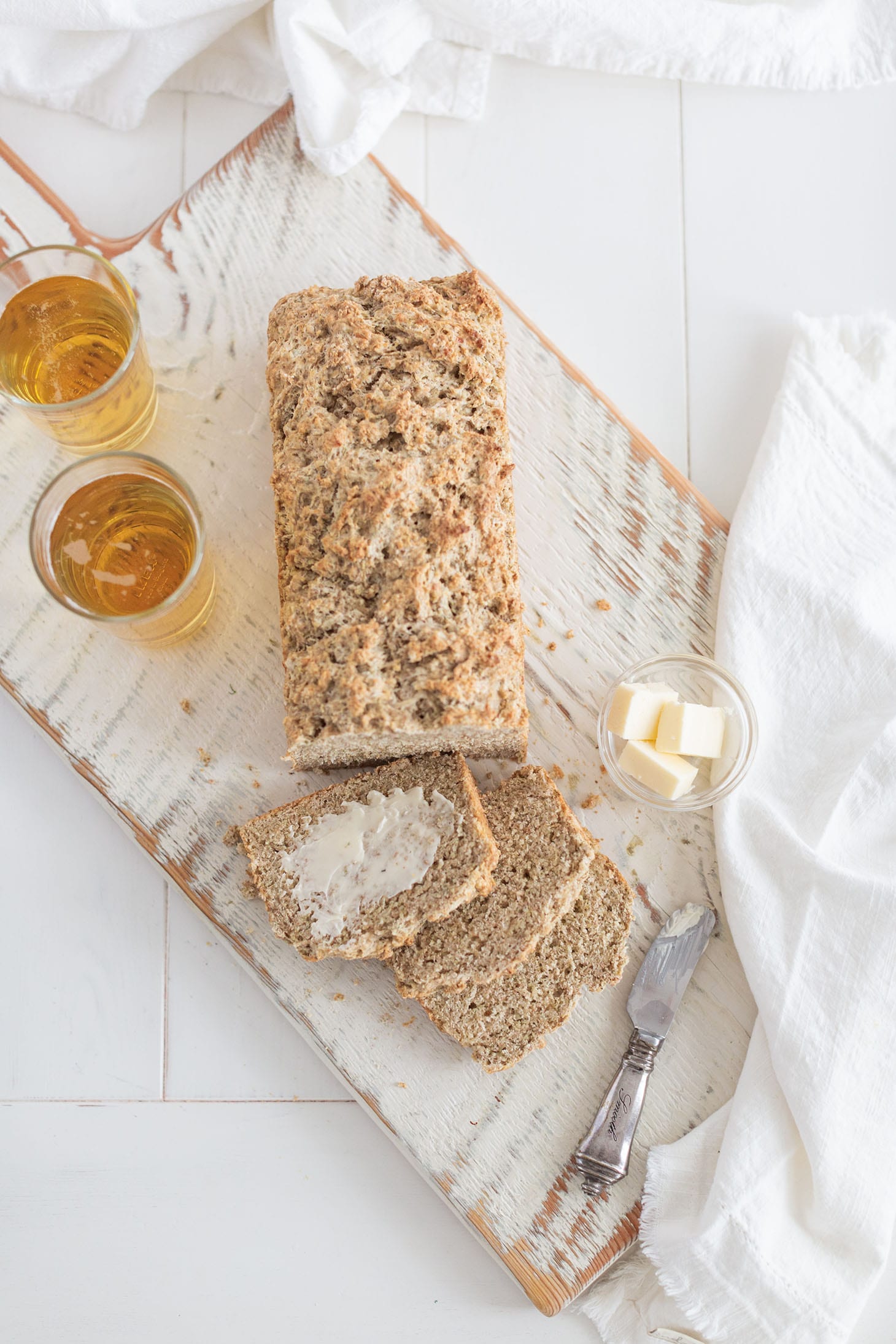 Ingredients
4 cups flour (sub half or all the flour with whole wheat if desired)
1/3 cup sugar
1 tablespoon baking powder
1 teaspoon baking soda
1 1/2 teaspoons salt
1 tablespoon dried dill
1 teaspoon garlic powder
1/2 cup grated parmesan or vegan parmesan
1/4 cup cold butter or vegan butter
2 eggs, whisked
1 cup buttermilk (or add 1 tablespoon white vinegar to an unsweetened plant milk and let sit for 5 minutes)
3/4 cup beer
Instructions
Preheat the oven to 350F and spray a large loaf pan with cooking spray.
Combine the flour, sugar, baking powder, baking soda, salt, dill and garlic powder in a large bowl - whisk together.
Add the butter and break apart with your fingers until the butter is the size of small peas and mixed throughout the flour. Stir in the parmesan.
In a separate small bowl, combine the eggs, buttermilk and beer and mix to combine. Pour the liquid into the dry ingredients and stir together until the dry ingredients are just combined with the wet ingredients (it will look thick and rough in texture).
Transfer the mixture in to the prepared loaf pan and bake for approximately 45 minutes, until it is golden brown and a toothpick inserted into the centre comes out clean.
Let the loaf cool on a wire rack slightly before slicing and serving! Best served warm from the oven (or you can toast it lightly the next day).
Notes
*you can play around with the ratio of flours, using any combination of all-purpose or whole wheat as long as the total amount of flour equals 4 cups.
https://jillianharris.com/super-bowl-beer-bread/
Serve your freshly baked loaf alongside this Hearty Lentil Soup, or this Potato Broccoli Soup and you'll have yourself a full house of happy football fans (well, depending on what team is winning … I guess!). LOL!
xo
Tori