Good morning everyone!! Today we have a delish treat to share with you thanks to Tori from Fraiche Nutrition!! I will let her share the recipe for the Vegan Almond Butter Bars with you below but first I wanted to let you in on a little pro tip when it comes to buying baking ingredients for recipes such as these!!
When it comes to oats, flour, shredded coconut, nuts, etc. I love to get my supply at Bulk Barn foods as you can buy as much (or as little) as you like (at a great price!!) and they have an amazing Reusable Container Program and Zero Waste Community!! You can find out how this works, here, or check out their flyer for some great deals! Alright, I'm going to hand this over to Tori now!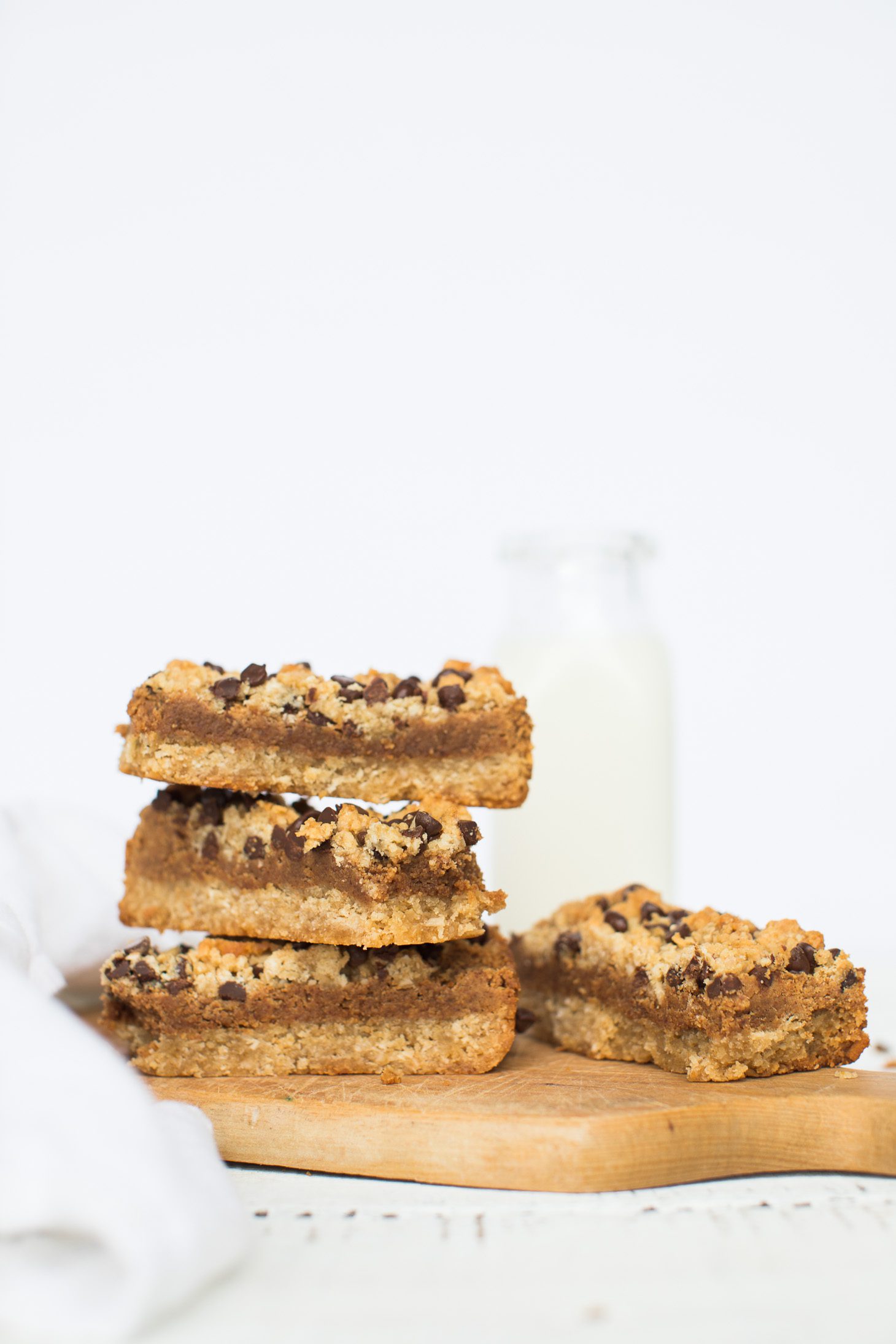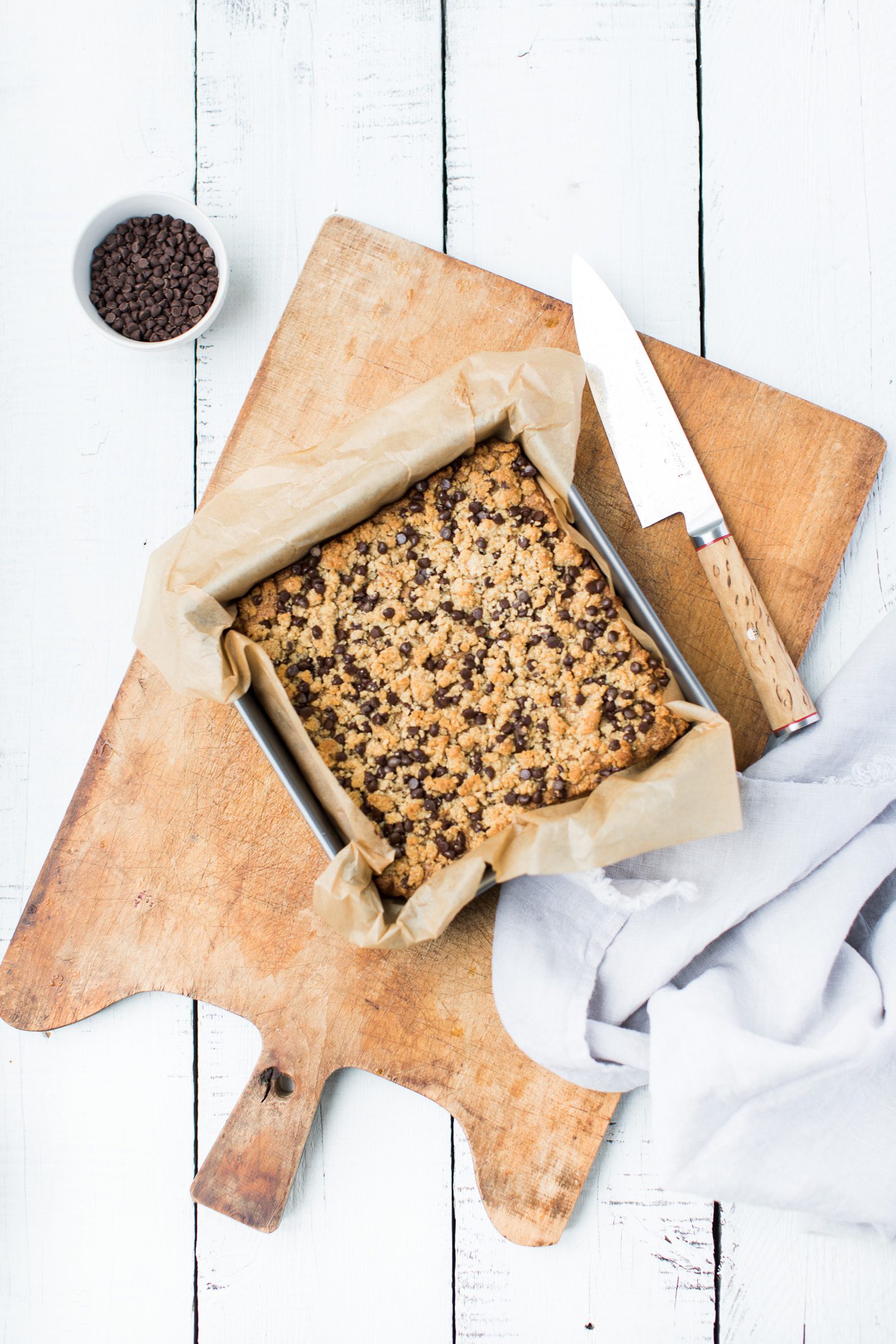 Hi everyone!! Tori here!! These not-too-sweet bars are whipped up in a food processor and make the perfect treat … they are also completely vegan! They freeze nicely, making them awesome for last minute guests or a healthier weekday treat to pop in your work lunch (just wrap them individually). Using mini chocolate chips gives the illusion that there are loaded with chocolate but it's a case of a little going a long way! We used vegan butter in this recipe but you could easily swap it for coconut oil.

Ingredients
1 cup old fashioned oats
1 cup all-purpose flour
1 cup flaked sweetened coconut
½ cup plus ¼ cup vegan butter
¼ cup brown rice syrup
1/3 cup brown sugar
1 teaspoon vanilla
¼ teaspoon sea salt
1 cup smooth almond butter
2 tablespoons maple syrup
¼ cup mini dark chocolate chips
Instructions
Preheat the oven to 350F and grease and line a 9×9" square baking pan with parchment paper, leaving extra hanging over the edges.
Combine the oats, flour, coconut, ½ cup vegan butter, brown rice syrup, brown sugar, vanilla and sea salt in a food processor. Process until the mixture sticks together.
Reserve ¾ cup of the base mixture and firmly and evenly pat the rest of the mixture into
the bottom of the prepared pan. Bake for 10 minutes and set aside.
In a medium bowl combine the almond butter, maple syrup, and ¼ cup vegan margarine
and beat with an electric mixer until smooth and creamy. Spread the almond butter mixture on top of the baked prepared crust, sprinkle the top with the remaining crumb mixture and sprinkle evenly with the chocolate chips.
Bake until the edges and top are a very light golden brown, 20-25 minutes and set aside to cool. To cut the bars simply lift the bars out of the pan using the parchment paper as leverage, place on a cutting board and cut into the desired shape and number of bars.
https://jillianharris.com/vegan-almond-butter-bars/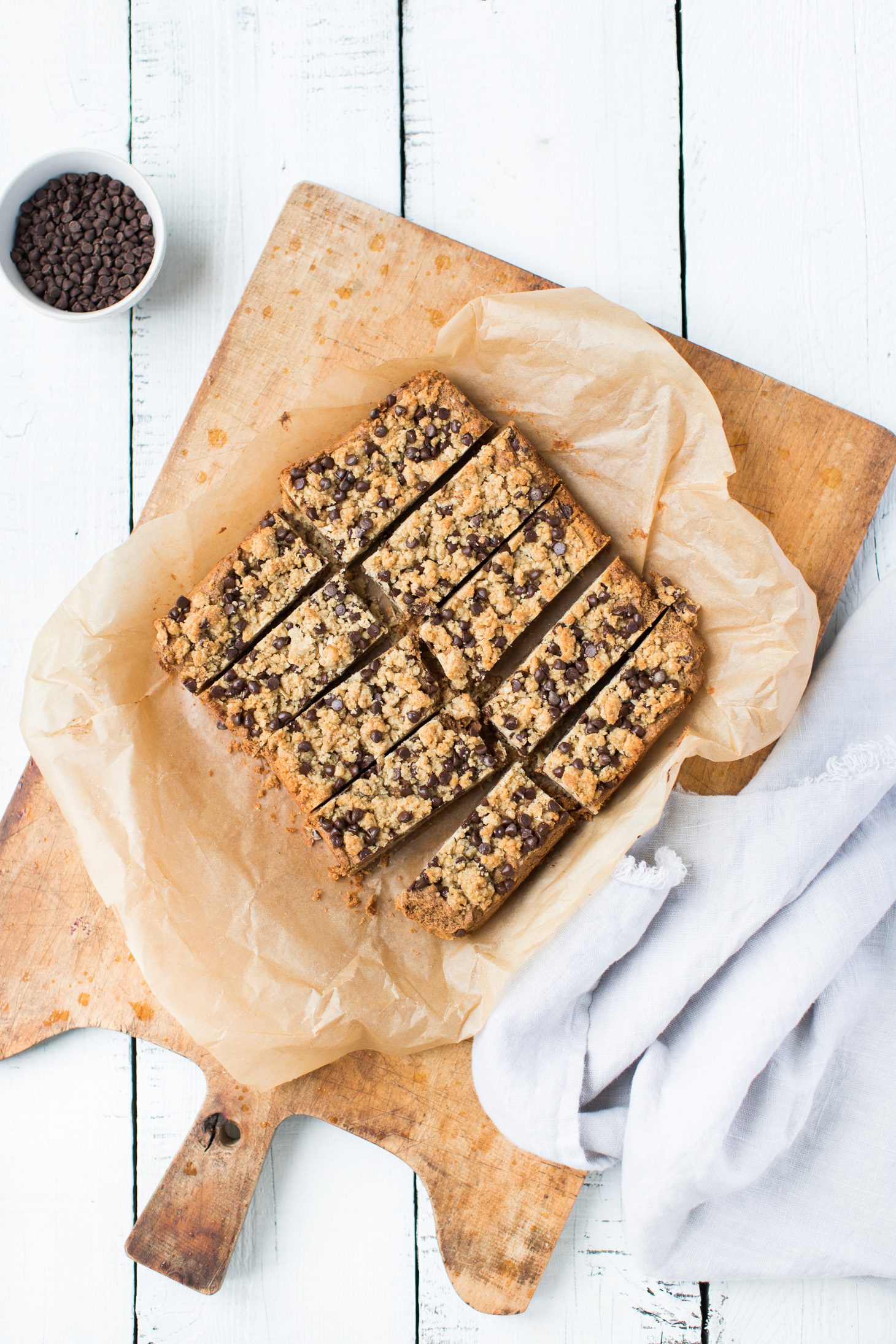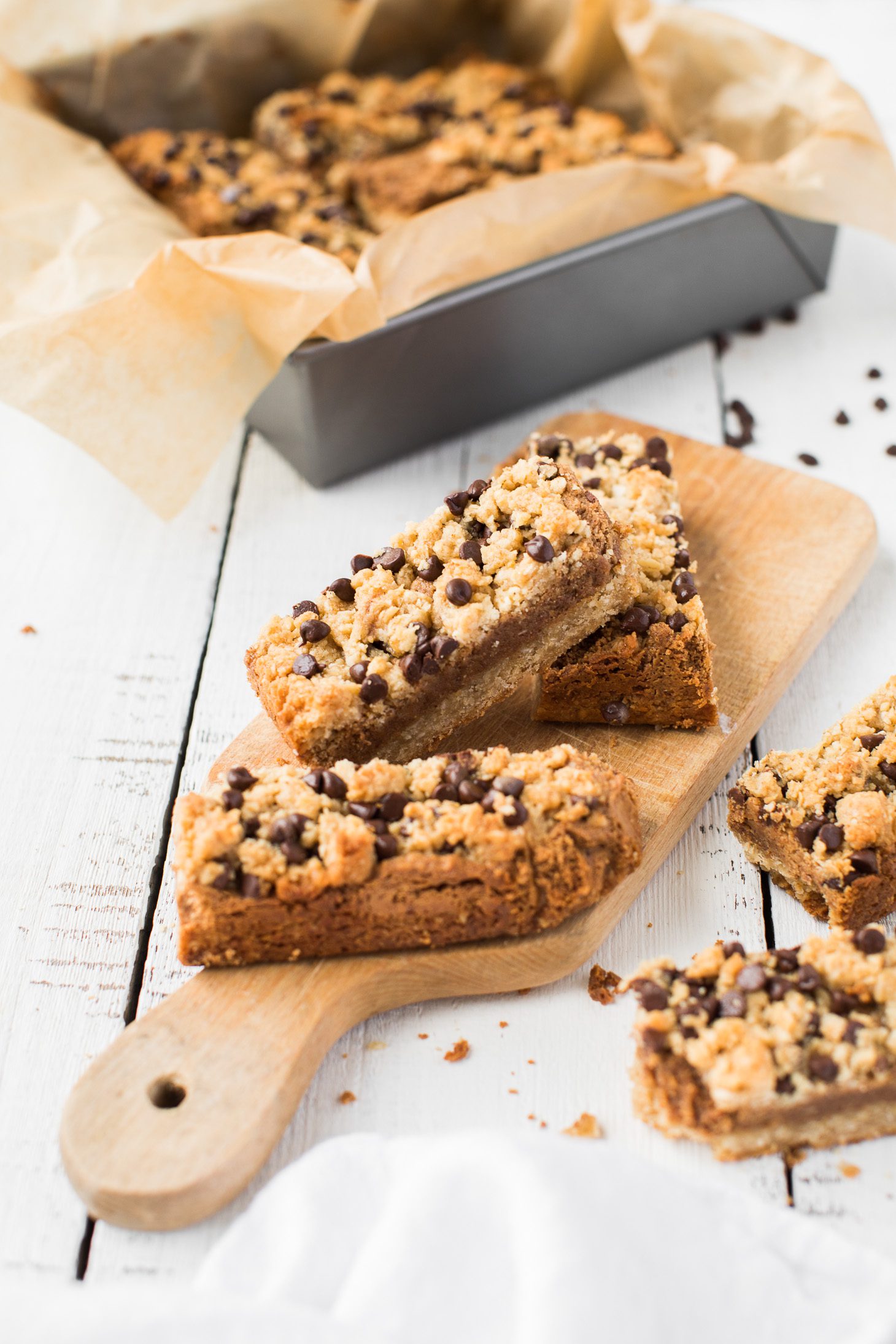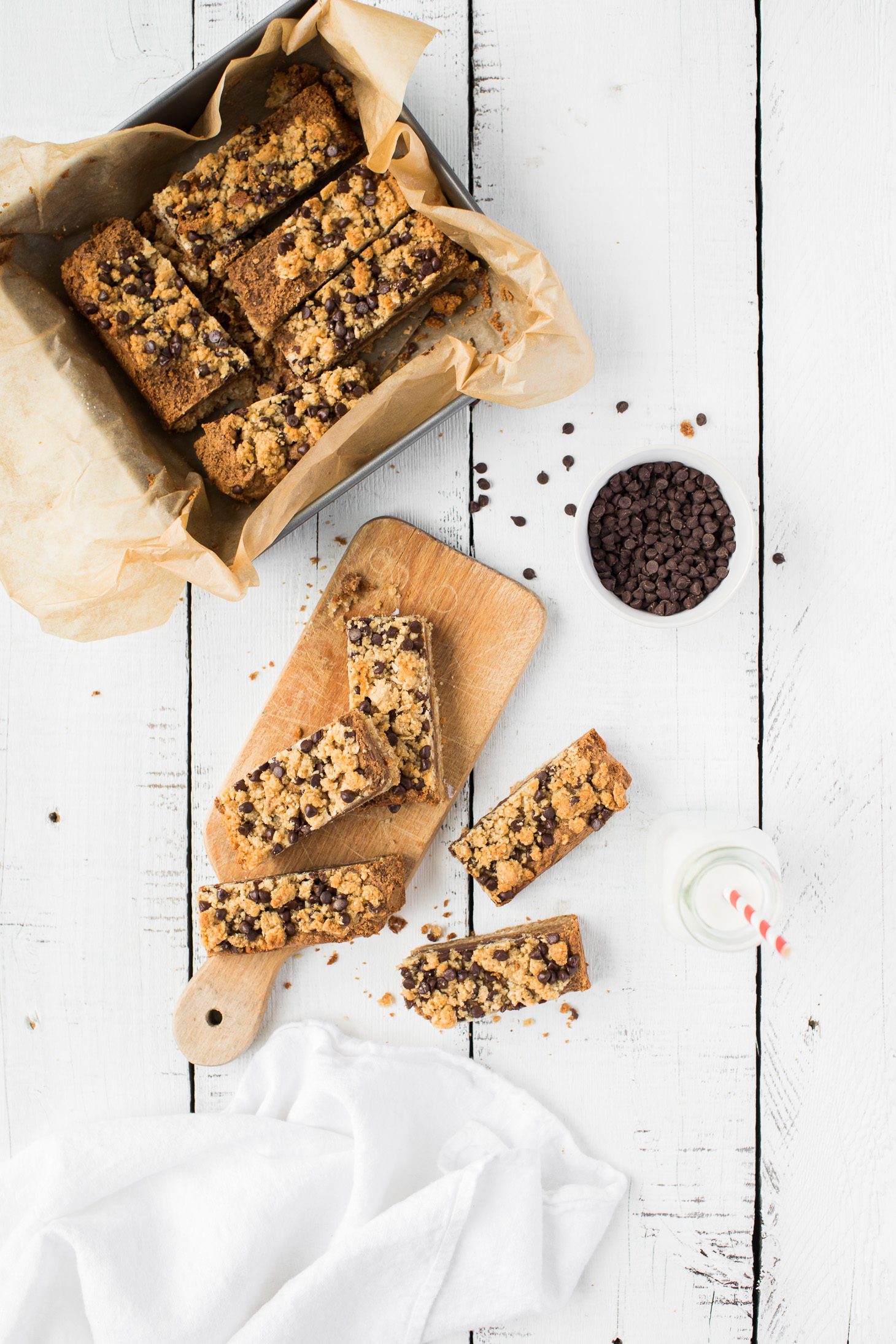 Enjoy!
xo