A quarantine activity I have been loving lately is browsing through TikTok videos. One of the latest trends on the app is making coffee whip! After watching maybe one too many of these videos I reached out to the girls and wanted to take a stab at recreating the infamous Whipped Coffee (aka Dalgona Coffee). We couldn't just settle for making the standard whip, instead, we decided to use it as a topping for the ever-popular Banana Coconut Latte from Giovane's at the Fairmont Pacific Rim!
Usually, we would test the recipe out as a team, but since we aren't able to get together as a team, Rachelle offered to whip (pardon the pun … LOL!) up the recipe from the comfort of her home! Today, she is going to share with you step-by-step instructions to perfecting the Banana Coconut Latte with Whipped Coffee!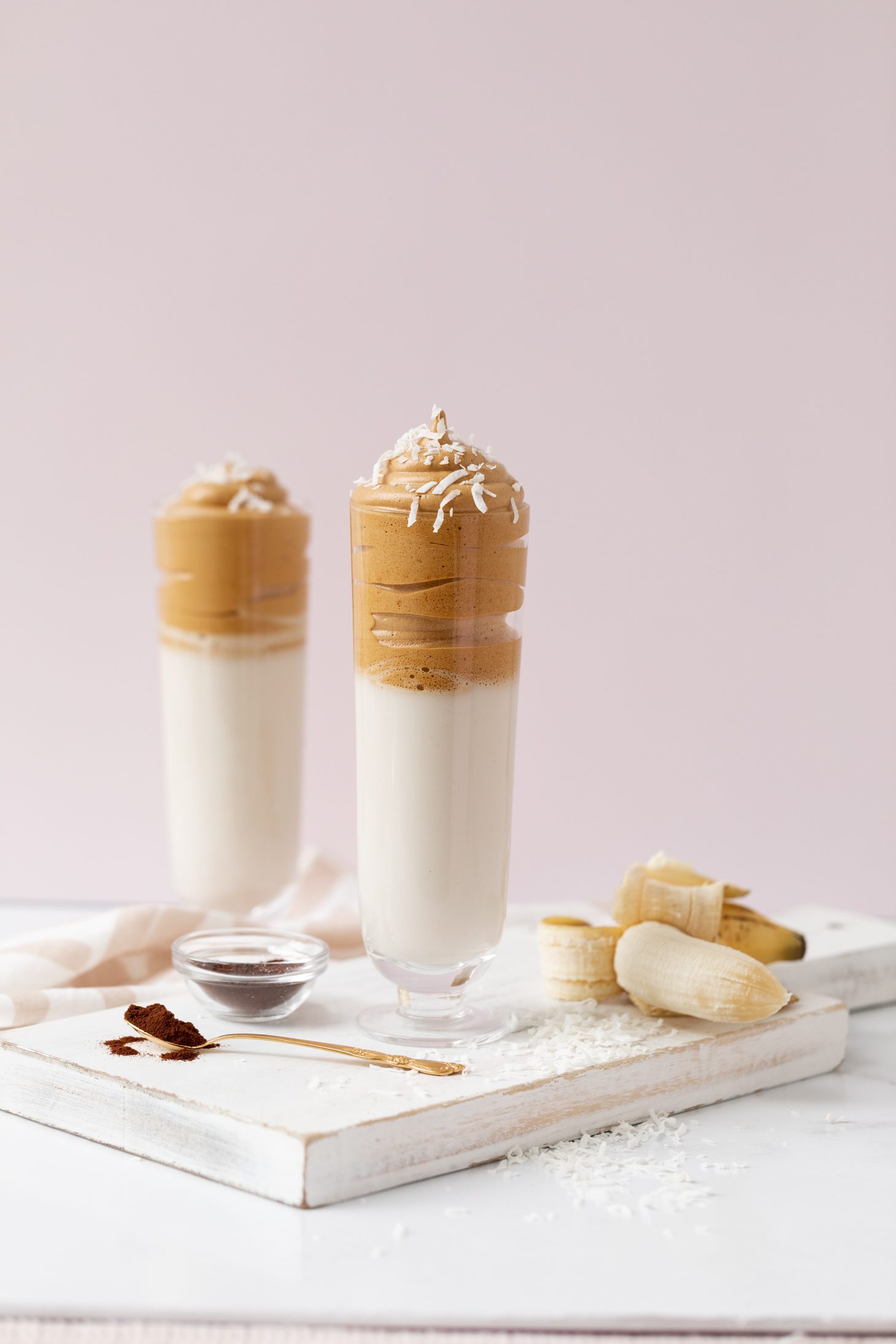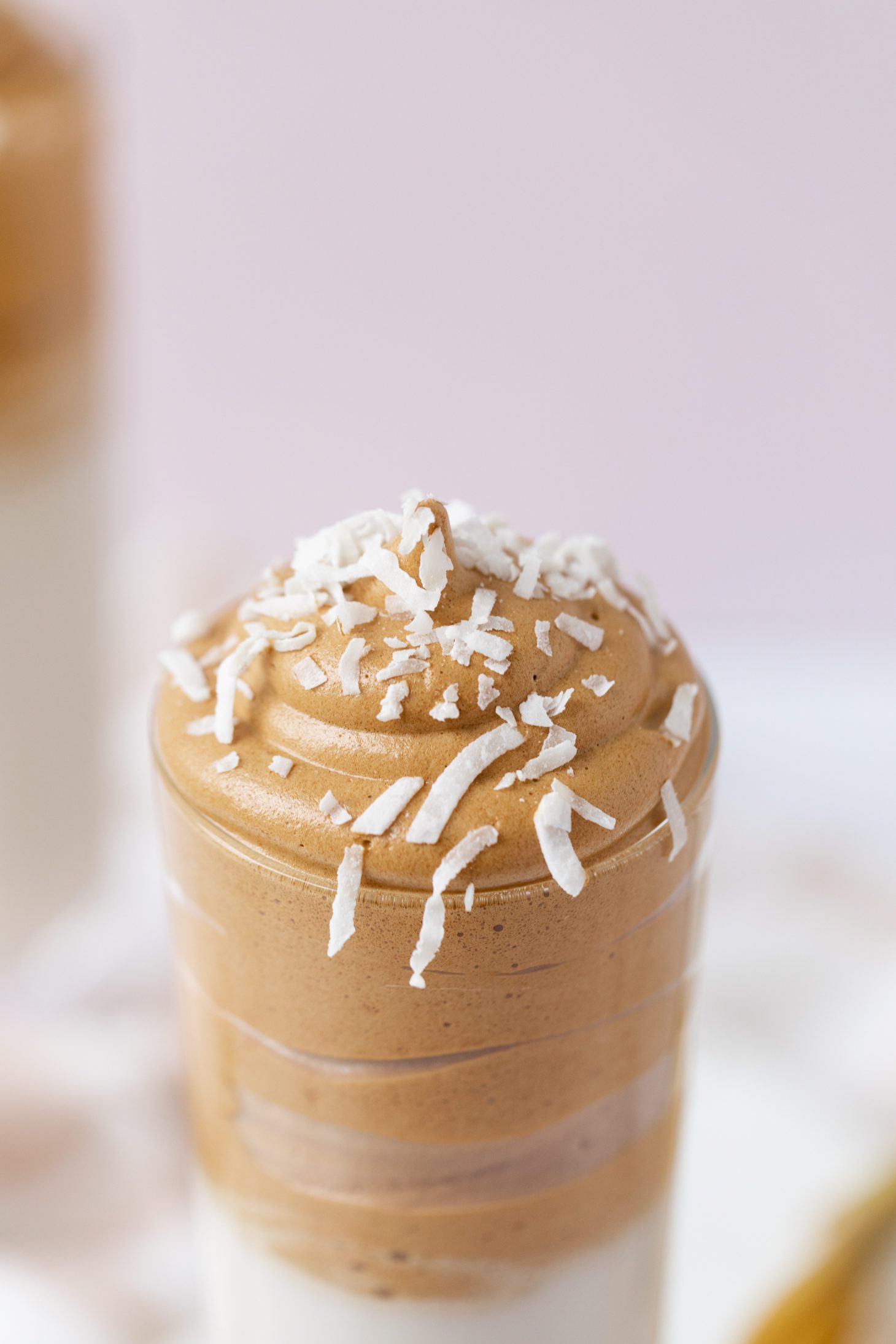 Hey guys! I was so excited when Jill asked me to test out this recipe. I will admit that I am NOT a coffee lover (I am a tea gal!!), but I was genuinely surprised at how much I enjoyed this drink! I didn't want it to go to waste after the photos were done and as I result, I was bouncing off the walls for hours!!
Below you can find my step-by-step instructions on how to perfect the Banana Coconut Latte with Whipped Coffee from the comfort of YOUR own home!
Photo tip: To show off your beautiful IG worthy creation, use a spatula and transfer the coffee whip into a piping bag to have more control topping the beverage!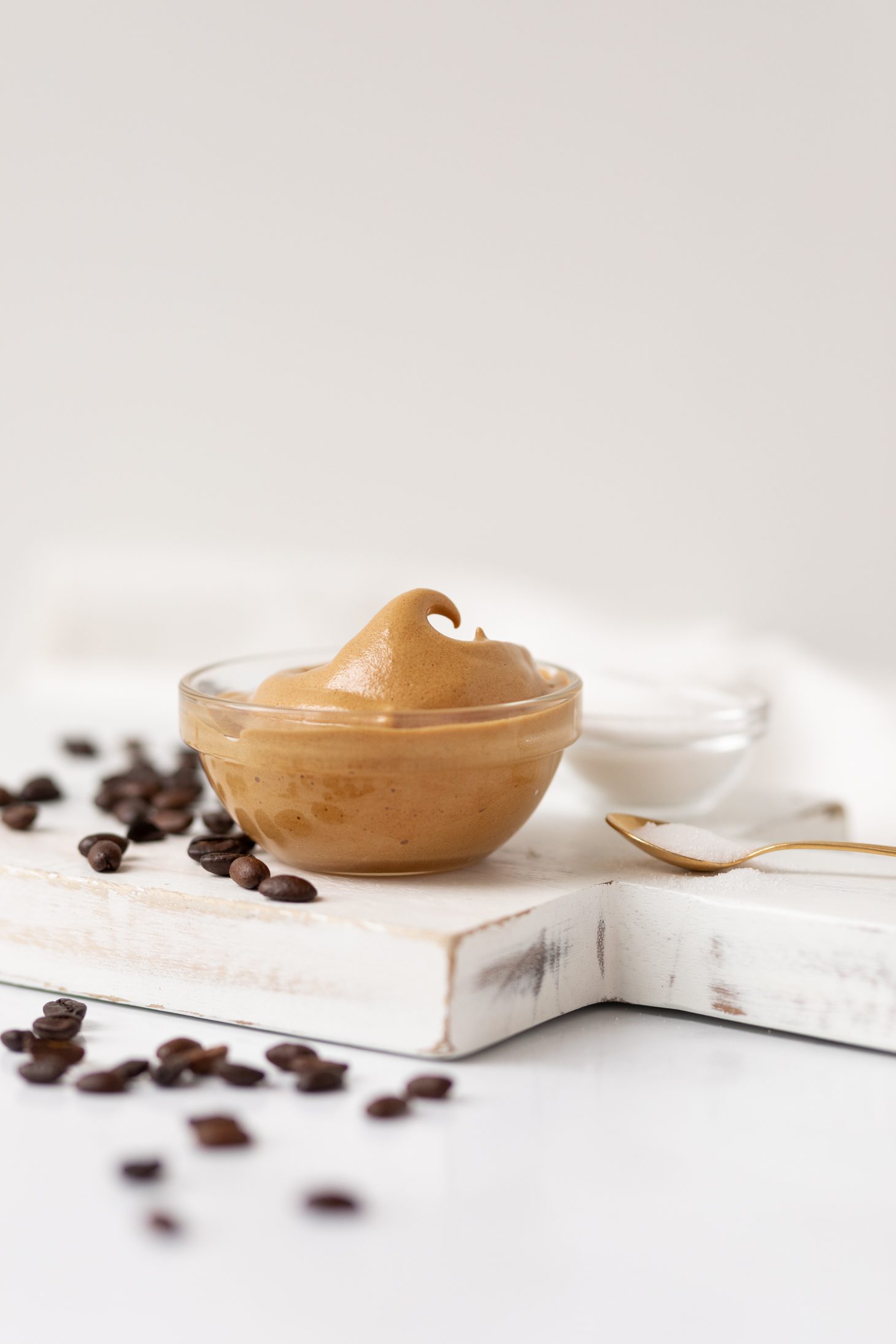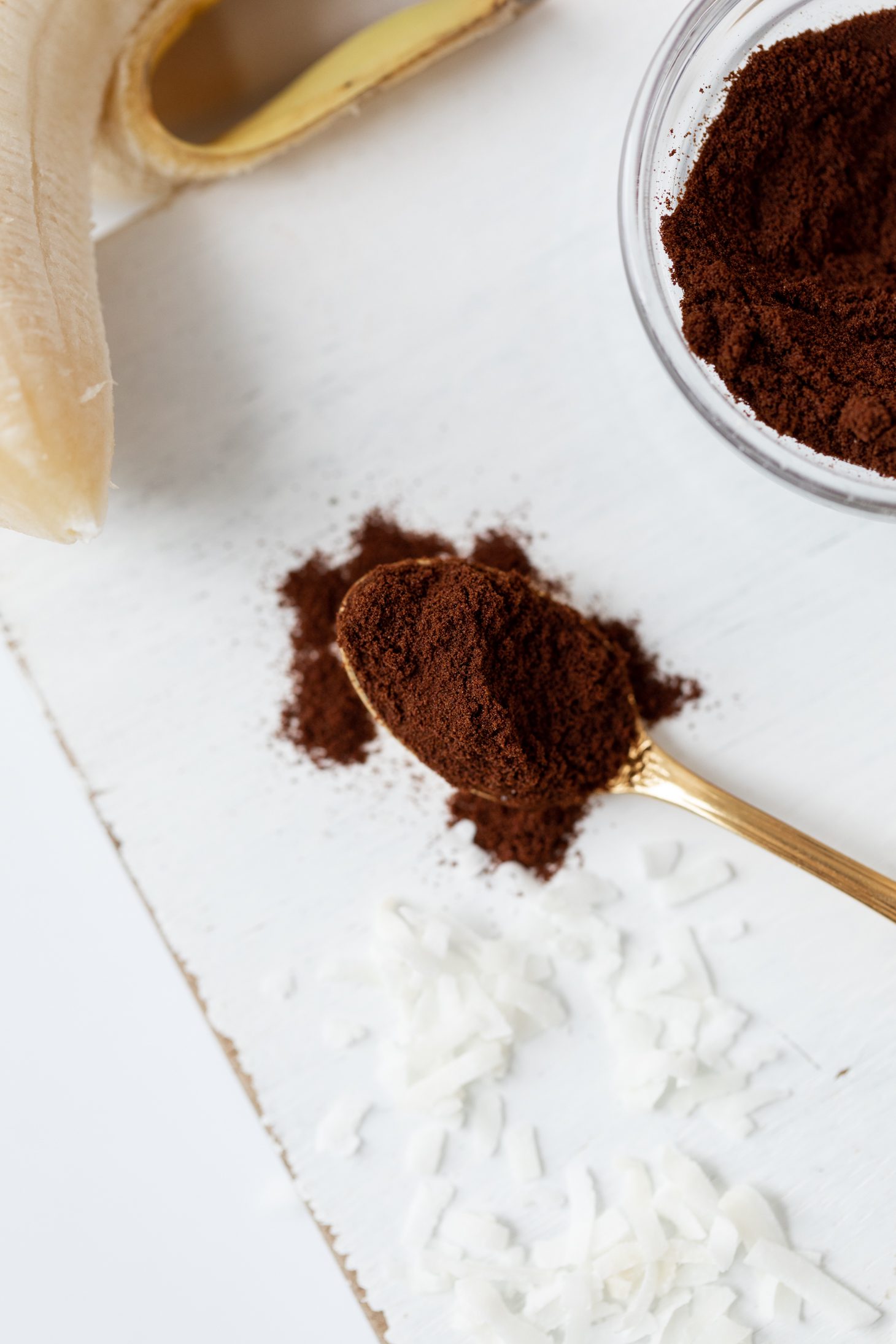 Ingredients
Banana Coconut Puree:

1 can full fat high-quality coconut milk (400ml)
1 medium ripe banana
2 1/2 tbsp white sugar
1 cup soy milk or non-dairy milk of choice

Whipped Coffee:

4 tbsp Instant Coffee mix - DO NOT use regular coffee grounds
4 tbsp of Boiling Water
4 tbsp of sugar
You can make any amount you like as long as you have equal parts!
Instructions
Make Banana Coconut Puree:

In a high-speed blender, add whole can of coconut milk, banana and sugar. Blend on high for 3 minutes or until completely smooth and creamy. Ensure the fat from the coconut milk hasn't separated from the rest of the mixture. Transfer to airtight jar or container and refrigerate until ready to use (prepare in advance up to 3 days).

For a Hot Latte:

Add 5 tablespoons of banana-coconut puree Add 1 Cup oat milk and whisk to combine. Heat over medium-low heat until warmed through, and then transfer to high speed blender and blend on high for 3-4 minutes until frothy. Pour into a tall mug, reserving the foam until the very end. Top with whipped coffee and enjoy!

For an Iced Coffee:

In a small bowl, add 5 tablespoons of banana-coconut puree and 1 Cup oat milk, whisk to combine. Pour into a tall glass, add 3-4 ice cubes and top with whipped coffee and enjoy!

For Whipped Coffee:

Mix all ingredients with a hand mixer or a stand mixer on high speed until light and fluffy - approx. 8 minutes. Place on top of Banana Coconut milk mixture!
https://jillianharris.com/banana-coconut-latte-with-whipped-coffee/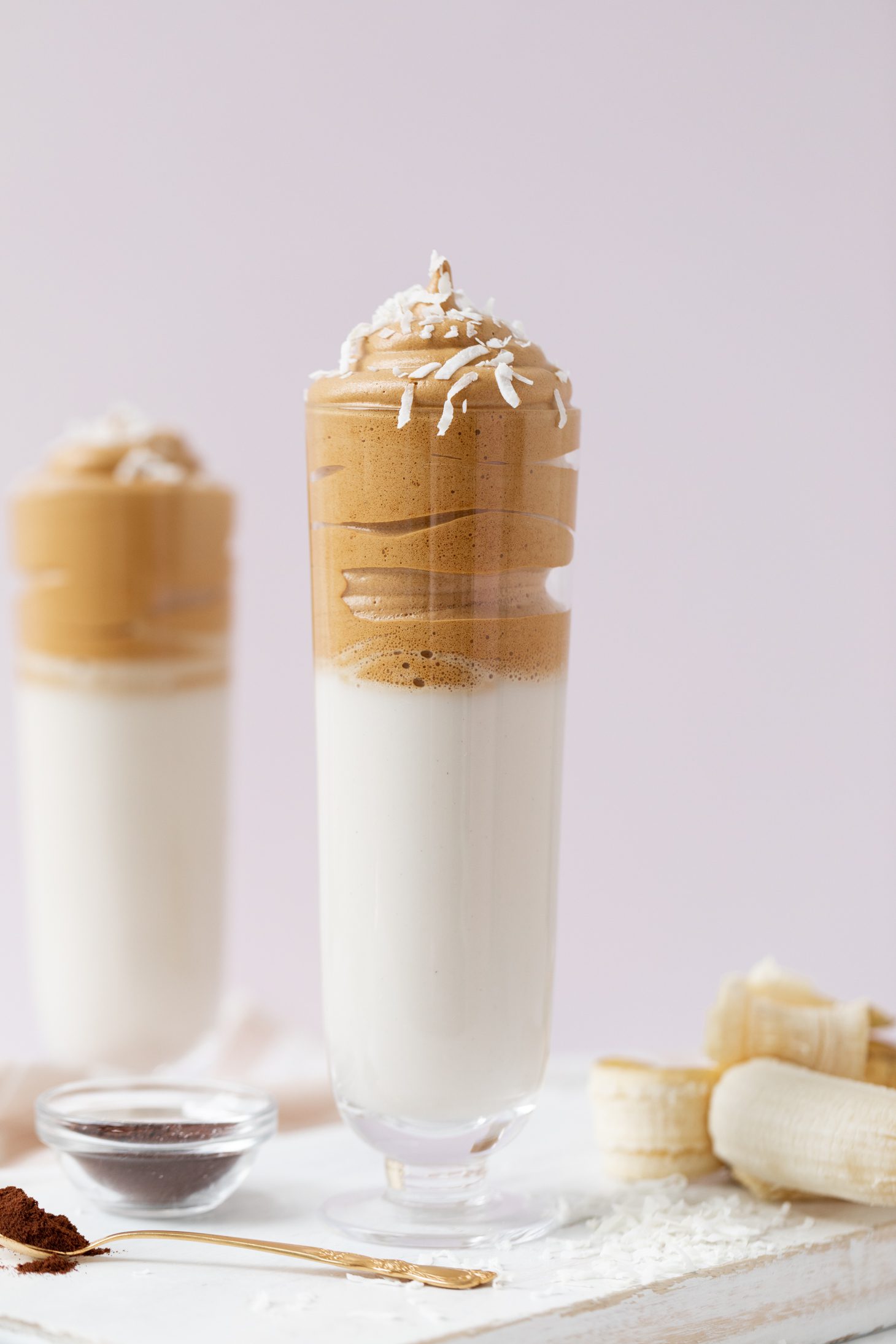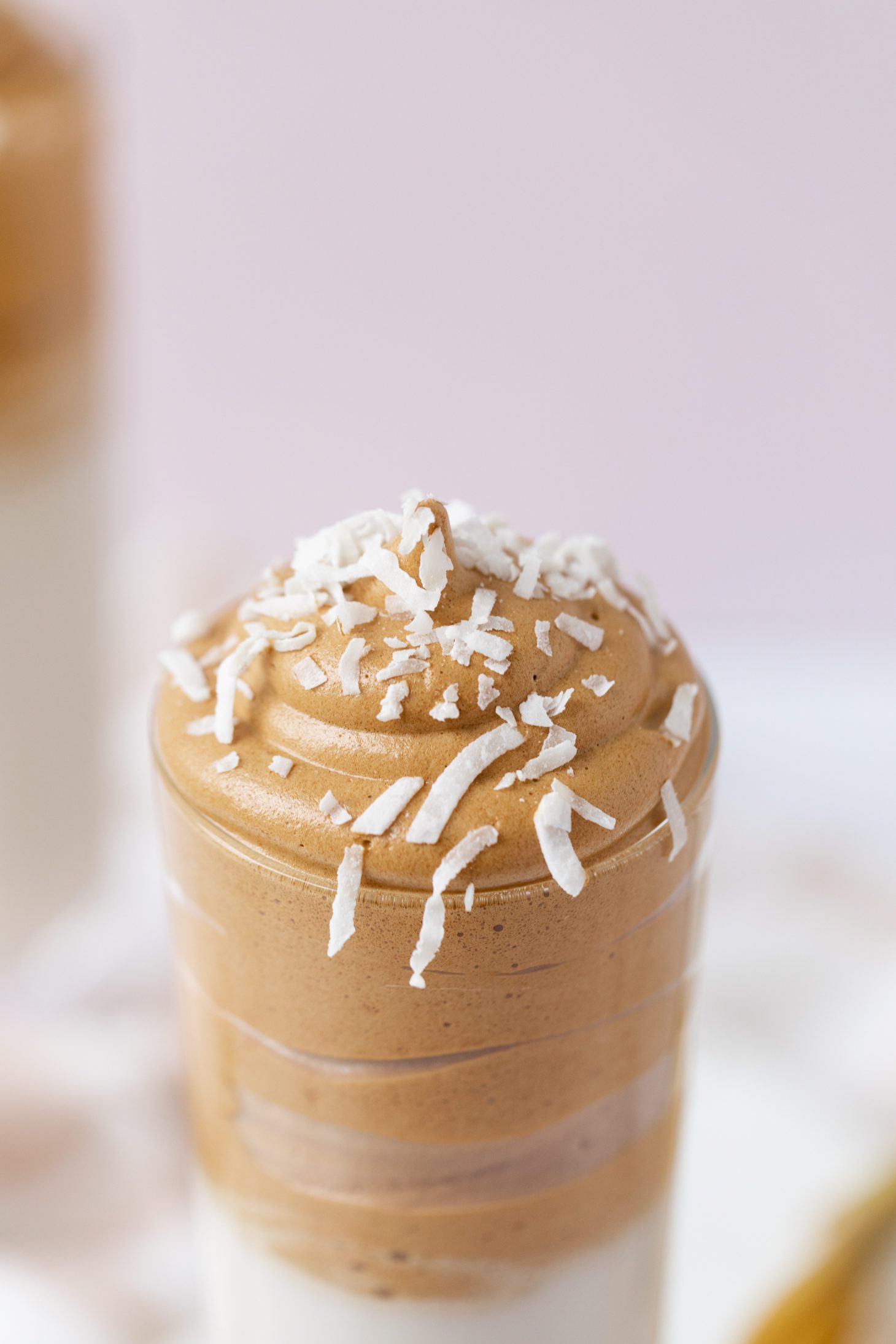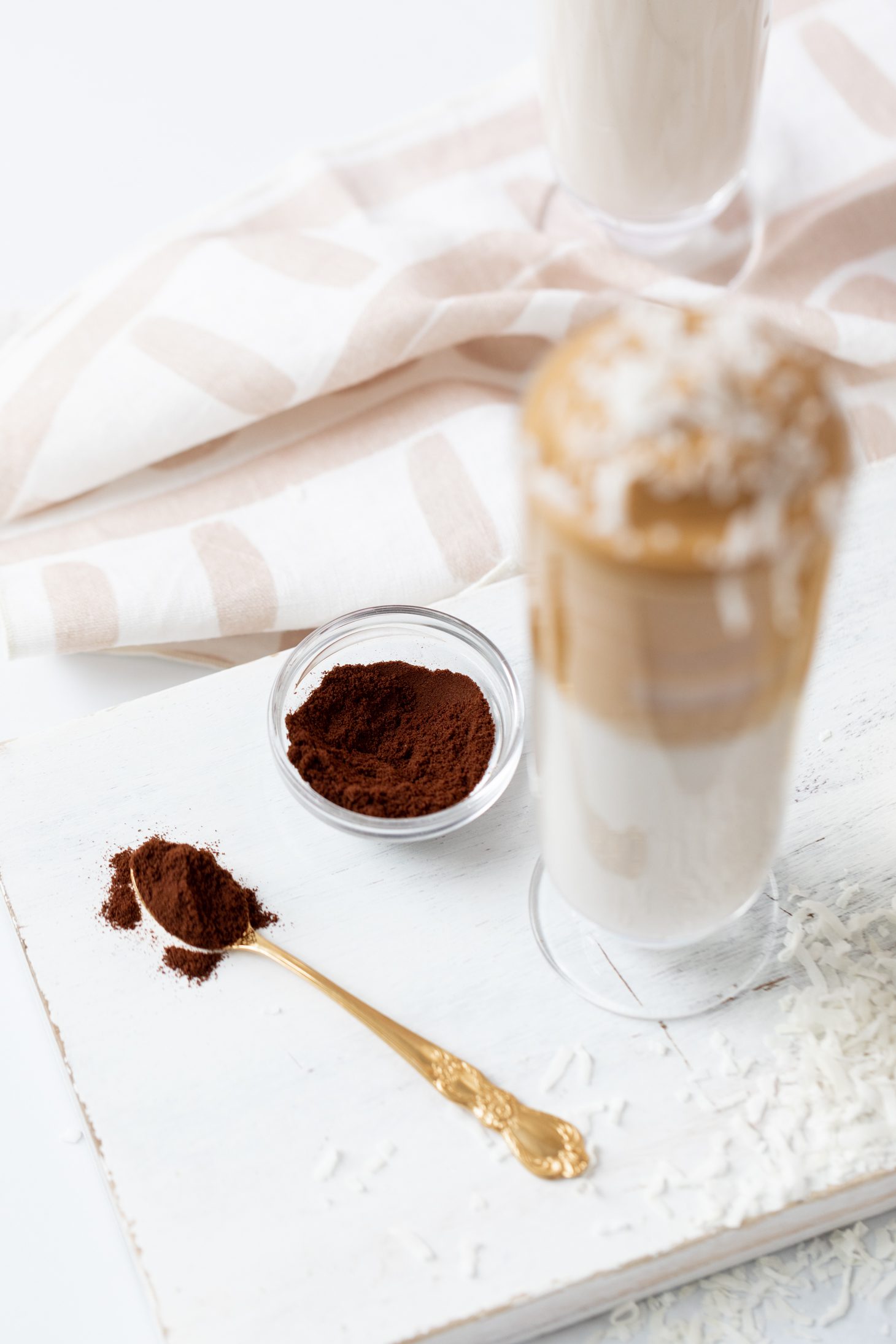 This recipe is super easy to whip up and would be a great topping for a bowl of ice cream or a refreshing drink to prepare for your girlfriends!! Let me know in the comments below if you tested it out.
xo
Rachelle