Good morning everyone and welcome to my 2017 GIFT GUIDES!! I've already shared my gift guide for the ladies and on Saturday Justin is giving his gift ideas for the MEN in your life!!! So, that means, today is all about the little KIDDOS!!!
I'm so excited about Christmas this year with Leo, now that he is a bit older it will be fun to see how he reacts on Christmas morning … to the lights, the Christmas treats and unwrapping his own gifts!! It's going to be so much fun and will only get more exciting for him (and us!) year after year!!
Today I'm so excited to share some cute gift ideas for the little ones in your life! These are things that are some of my favourites of Leo's and items that I've been thinking about getting him this year! Let's go on and take a look!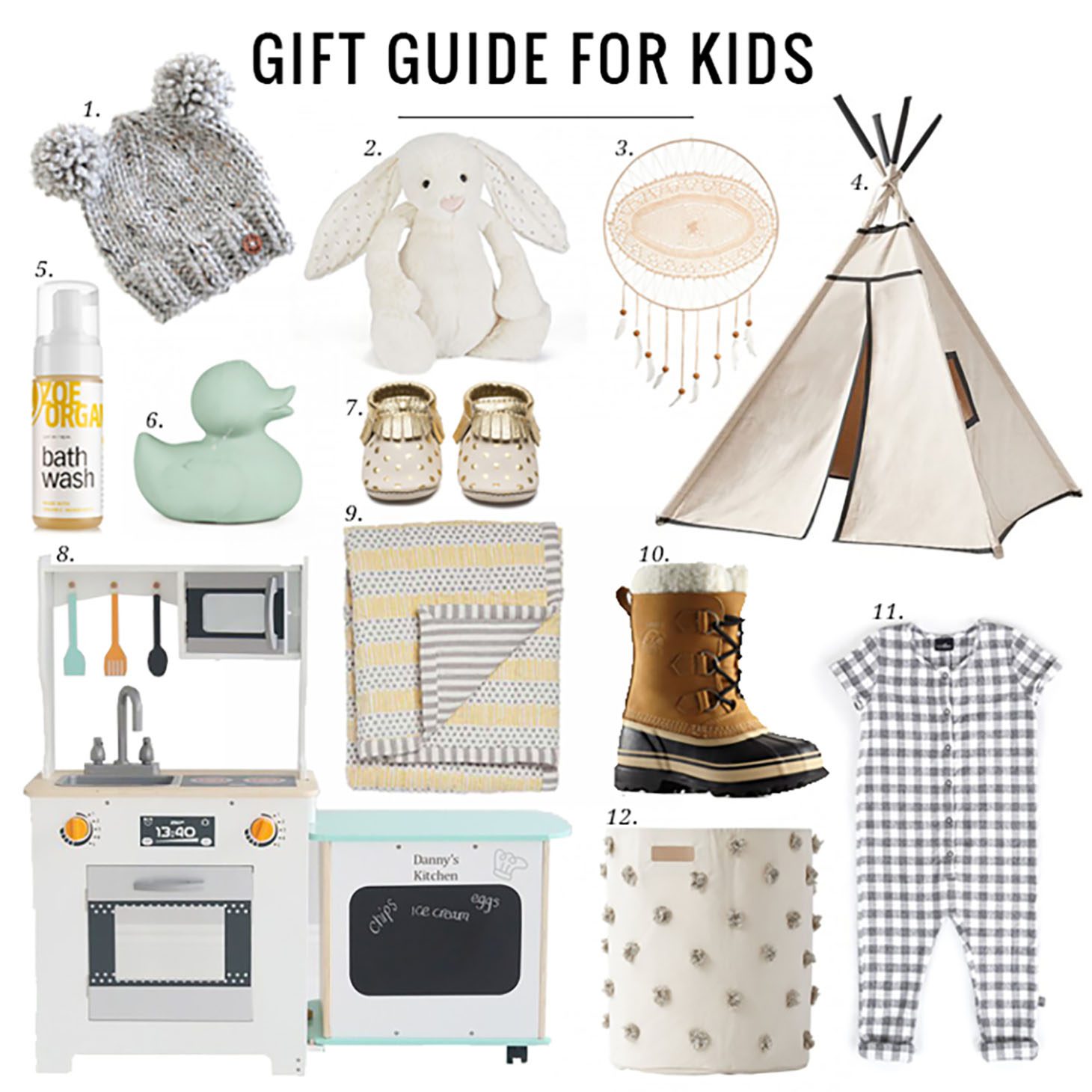 1. Touque | 2. Bunny | 3. Dream Catcher | 4. Tent | 5. Bath Wash | 6. Rubber Ducky | 7. Moccasins | 8. Play Kitchen | 9. Blanket | 10. Boots | 11. Romper | 12. Hamper

We are in LOVE with touques in this household and my favourite touque of Leo's has to be the double pom touque from Lil Fox Shoppe, they are just downright adorable!

The little ones always love stuffed animals so they are the perfect gift for MANY years to come!! This little bunny is one of Leo's faves! You can also find some really great gift ideas at Redfish Kids, from clothing to toys, they have it all!

I remember loving dream catchers as a child, it was so reassuring knowing there was something in your room to catch all of those bad dreams and let only the good ones through!! And they make for ADORABLE decor in your kid's bedroom!!

These little play tents are perfect for your little one's playroom!! Deer Child made one for Leo AND Nacho and also supplied the cutest tent for the Mamas for Mamas space, she has a ton of the cutest little canvas tents on her site, check it out!

Because what fun is a bath without some good 'ol bubbles and a rubber ducky?!

See above. LOL!!! The rubber ducky in the middle below is one I bought for Leo in the summer and he loves it because it's a HUGE rubber ducky, perfect for distracting him in the tub while I was his hair!

These moccasins are staples in every kiddos closet! They're also a great gift for baby showers and birthdays!!

I just recently bought this little play kitchen for Leo!! I'm hoping he will find a love for cooking … and make this mama some grub when he's old enough!! LOLL!!!

You can never have too many blankets!

I'm OBSESSED with baby boots, I just got these Sorels for Leo for our travels in Austria and he has a couple of baby Hunter boots for the wet months! They're cute AND functional!

Rompers are life. LOL! But seriously, they are the easiest piece of clothing to dress your baby (and yourself in!) … the cute checkered one in the roundup above is from VonBon! They have the cutest clothing!!

These are so handy for storage in Leo's room! I fill them with toys and books and it can also double as a laundry basket!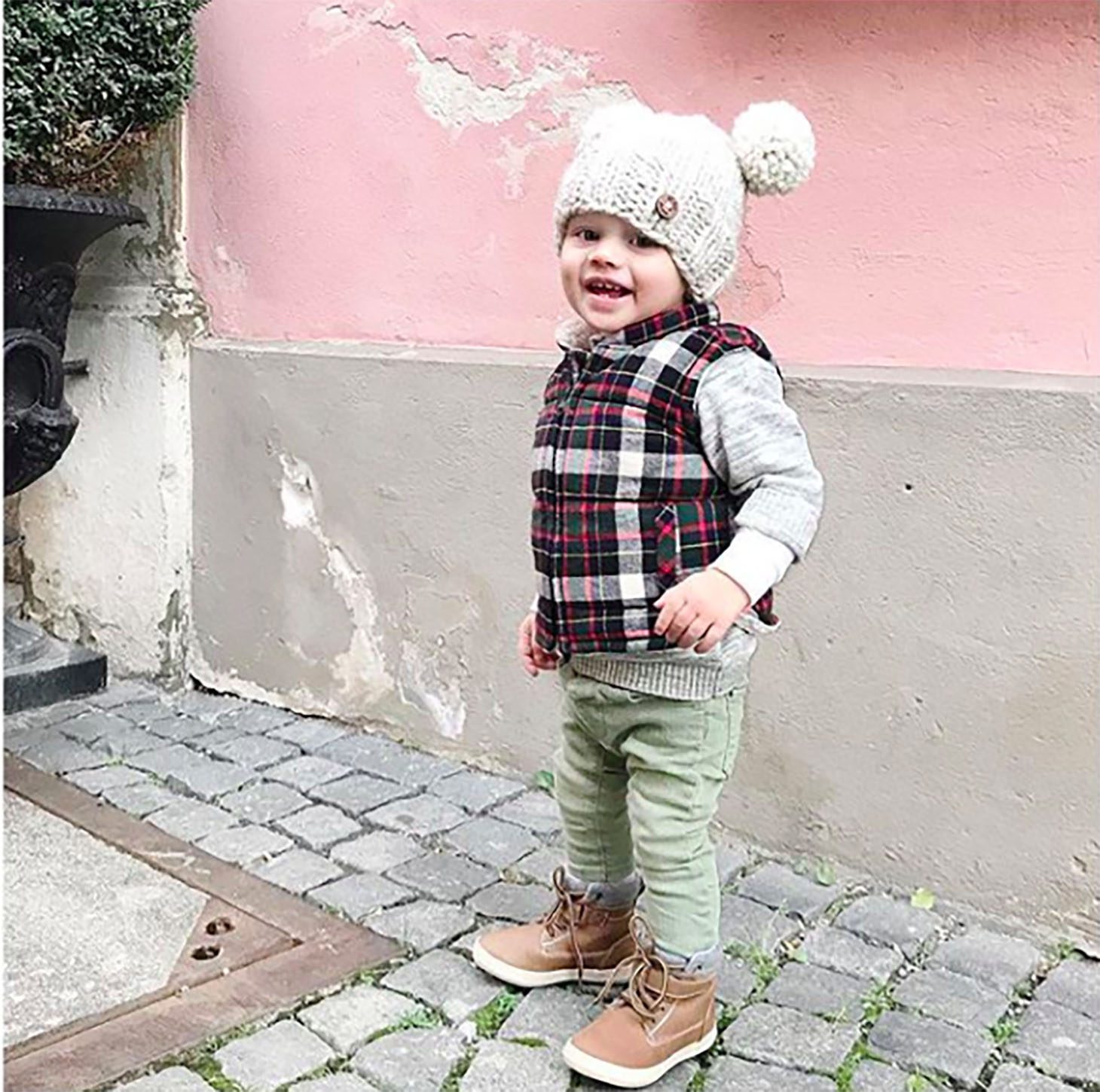 There you have it! I hope this helps to give you some ideas for your little ones this Christmas!
xo
Jilly