I love the laid back vibe of St. Patrick's day … it's one of those holidays where there isn't much pressure to do something wild and crazy but everyone is always down to drink some green beer and have a good time! The best part about St. Patrick's day is the fact that you really don't have to go ALL out to host an AWESOME party, in fact, it's so simple to throw a rockin' St. Paddy's day party!!
Below I'm sharing my top FIVE tips and tricks when it comes to throwing a party even the Irish would appreciate! I mean … as long as you have enough beer and treats … you should be good right?! LOL! ☘️?
Ps. Make sure to check out all of my faves for St. Paddy's day, here!!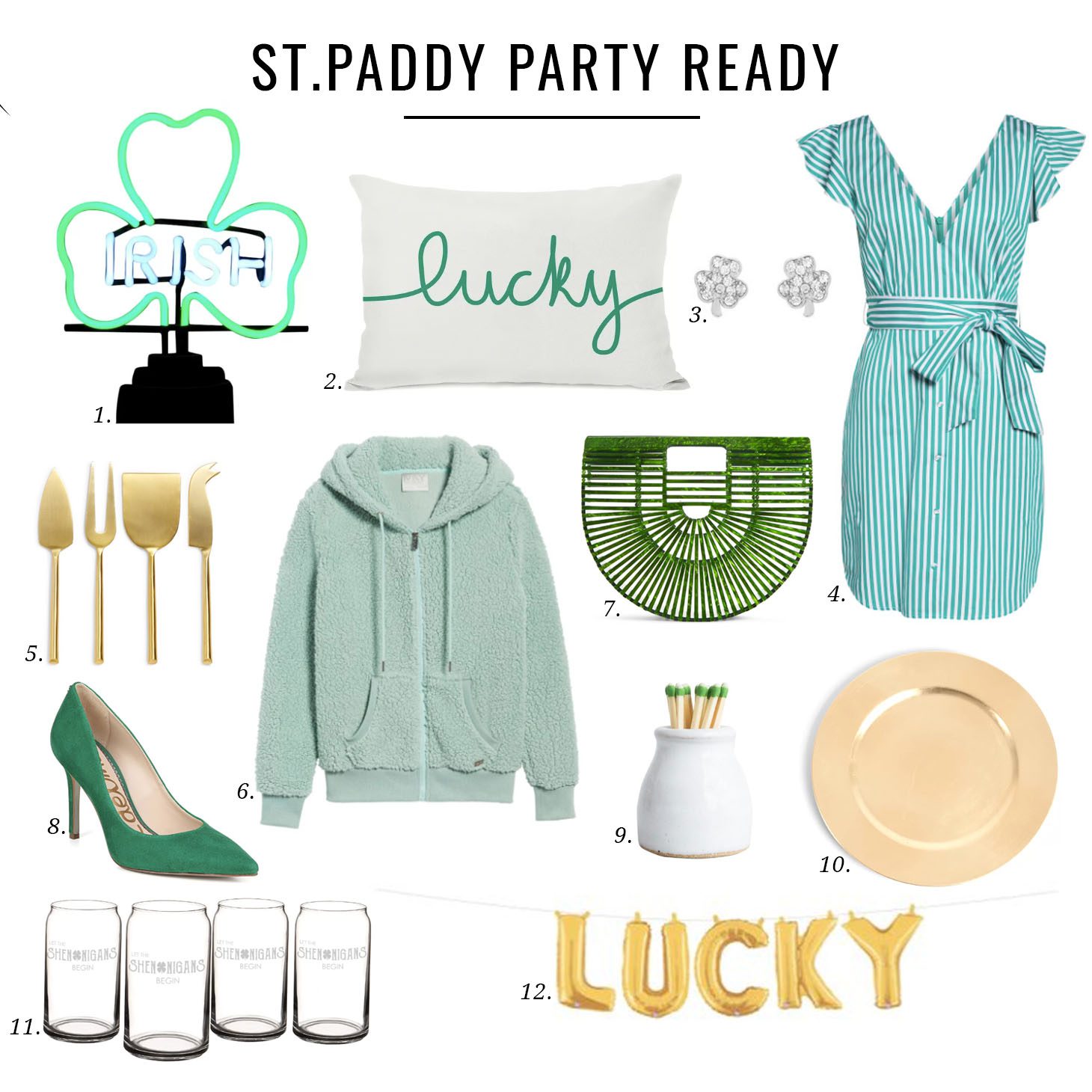 1. Shamrock Neon Light | 2. Lumbar Pillow | 3. Earrings | 4. Dress | 5. Cheese Knives | 6. Teddy Jacket | 7. Clutch | 8. Heels | 9. Milk Bottle Match Striker | 10. Charger | 11. Beer Glasses | 12. Balloon

1. Wear Green
This is OBVIOUS. I know. But when it comes to wearing green, I think most of us just think to toss on a plain old green tee and call it a day. I like to spice things up a little and wear something more unexpected like a green dress … or a GREEN teddy coat! Ramp things up even more by wearing your favourite green heels and finishing off the look with a green clutch! I mean, nobody likes getting pinched ? …

2. Add Pops of Green & Gold to Your Decor
We all know that green is the main colour of St. Patricks day but it's also fun to tie in a pop of gold (I mean, why wait until you hit the end of the rainbow?!). Gold is also incredibly easy to incorporate into your existing decor! Try adding gold utensils or charger plates to your tablescape for a pop of St. Paddy's pride!

3. Use Lucky Charms for Your Desserts
Lucky Charms are an incredibly EASY way to make your St. Paddy treats look next level!! You can add Lucky Charms to Rice Krispie squares, in cookies, and on top of cakes, and doughnuts … the possibilities are endless! Plus … if you REALLY want to step up your treat game … get a cake made!! Check out this awesome cake below that was made by one of our friends, Laura!!
Ps. Try out these Vegan Shamrock Coconut Key Lime Tartlets!! They're perfectly tart and naturally flavoured by using Matcha powder!!
Ingredients
For the crust!
2 cups vegan graham cracker crumbs
6 tbsp vegan butter, melted
For the filling!
1 1/2 cup raw cashews, soaked overnight or for 10 minutes in boiling water
1/2 cup coconut oil, melted
1/2 cup maple syrup
Zest of 3 key limes (or 2 regular limes if unavailable)
Juice of 5 key limes (or 3 regular limes if unavailable)
1/2 tsp matcha powder (optional – gives the tart a soft green colour)
For the tarts!
8 small tartlet pans, greased (or one 9" tart pan)
Large flake coconut, toasted, for serving
Coconut whip cream
Key limes, for garnish
Instructions
Make the crusts. Preheat the oven to 350 degrees, and grease the tartlet pans.
In a small bowl, combine graham cracker crumbs with melted vegan butter.
Add 2-3 tablespoons of crust into tartlet pan.
Starting from the center, use your fingers to press down and up the sides of the pan.
Continue until crust is evenly distributed in your pan.
Bake tartlets for 8 minutes. Set aside to cool.
Make the filling. In a large blender, combine all filling ingredients and blend on high for 2 minutes or until fully combined.
Taste and adjust flavours as needed (add more lime, salt, sweetener or matcha for colour).
Assemble the tarts. Once the crusts have cooled, add 3-4 tbsp filling into each tartlet.
Top with coconut whip cream, toasted coconut and lime wedges for garnish.
Serve immediately, or cover and store in the fridge for up to two days. BEST SERVED FRESH!
https://jillianharris.com/how-to-plan-the-perfect-st-paddys-day-party/
4. Get Balloon Happy
All you really need for St. Paddy's day decorations are balloons!! That's it!! You don't have to go all out with all of the shamrock stuff – unless you want to!! I always like having green balloons and foiled balloons for simple (and classy!) decorations!

5. Don't Forget the Guinness!
What is a St. Patrick's day party without Guniess?? You can toss a bunch of cans in a bucket OR you can get really creative and make Guinness Jello shots … or even add Guinness to your treats … like these Irish cupcakes!!
Shop My St. Paddy's Day Faves Below!

Happy St. Patricks Day!!
xo
Jilly