I think it's safe to say that almost everybody (well, at least everybody that I know! LOL) grew up eating meatloaf and ketchup! It's one of those nostalgic meals that brings me back to the good 'ol days of my childhood!
Ever since we moved toward a heavier plant-based focused way of eating, I've found that meatloaf is one of those old-school meals that I tend to crave still. I've tried to recreate a "meatless" meatloaf time and time again and I wasn't able to come up with a good replacement recipe! I found my previous attempts either to be too dry or flavourless.
Well, fast forward to after I gave birth to Annie, we had just got home and Mackenzie brought over a meal and it was the most amazing Mushroom "Meatloaf" with a balsamic glaze! This was by far one of the most delicious "meatloaf" replicas I've had to date!!
This meatless meatloaf (can you say that 10 times fast?! lol!) is made with a TON of mushrooms which are a fantastic substitution for ground beef as they mimic the colour, texture, and consistency of beef! They add a rich savoury flavour that brings this dish to the next level! I can promise you, this is one dish you won't miss the meat in!!
This Mushroom Meatloaf is best served with mashed potatoes and gravy for the ultimate "meat & potatoes" feast. Plus, this dish also pairs perfectly with Sandhill's full-bodied Cabernet Merlot!! Sandhill's Cabernet Merlot boasts a touch of oak, cedar, and ripe black fruit flavours which pick up on the sage and mushroom flavours in the mushroom loaf beautifully!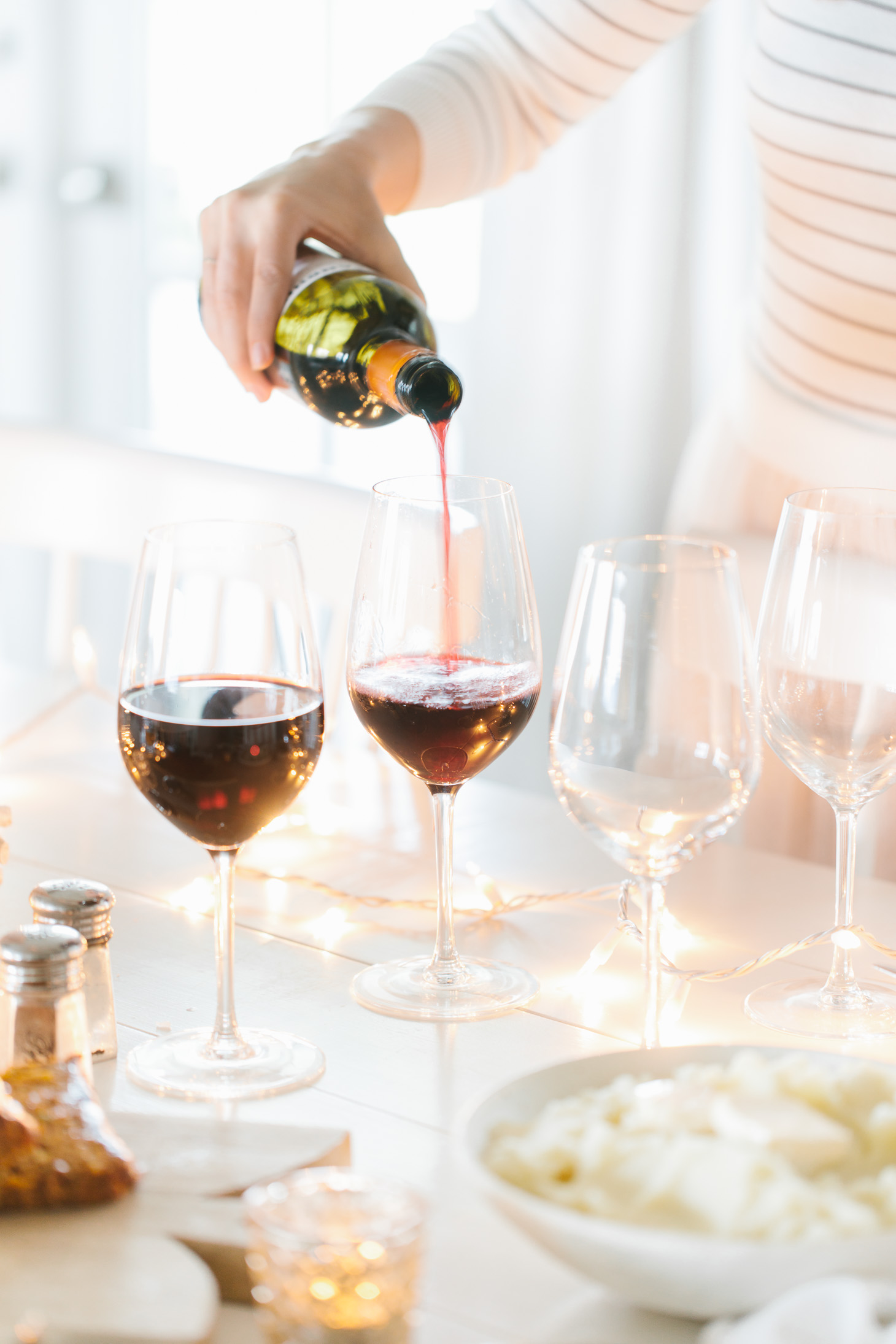 Ingredients
For the Loaf

1 tbsp ground flaxseed
3 tbsp water
3 tbsp olive oil
1 tbsp vegan butter
1 large white onion, finely diced
4 large cloves garlic, minced or grated on microplane
3 1/2 cups finely chopped brown mushrooms (using a food processor will speed this up!!)
1 15oz can brown lentils, or 1 1/2 cups cooked brown lentils, drained and rinsed
1 cup finely diced celery
1 1/2 cup shredded carrots
1/2 tsp sea salt
1/2 tsp ground black pepper
1 tbsp tamari
1 tbsp vegan Worcestershire
4 tbsp tomato paste
2 tsp vegetable beef bouillon (optional but recommended — if you can't source this, add 1 more tbsp Worcestershire and 1/2 tbsp tamari)
2 tsp fresh or dried thyme
2 tsp fresh or dried sage
2 tsp fresh or dried oregano
1/2 all purpose flour (or gluten free flour of choice)
3/4 cup nutritional yeast
1 1/2 cup panko bread crumbs

For the Glaze

3/4 cup ketchup
1/2 cup balsamic vinegar
Instructions
In a small bowl, whisk together ground flax and water and set aside for a few minutes to thicken. In a large frying pan, heat olive oil and vegan butter to medium heat. Add onion and saute for 5 minutes or until translucent. Add mushrooms, carrots, celery and garlic and cook until vegetables are softened, about 7-8 minutes. Add salt, pepper, tamari, Worcestershire, tomato paste, bouillon paste, thyme, sage, and oregano. Stir to combine and let flavours simmer for about 3-4 minutes. Remove from heat.
Preheat oven to 350 degrees and grease 8x5 inch loaf pan and set aside.
In a large mixing bowl, add drained and rinsed lentils. Using a potato masher, mash lentils. You want some lentils in tact, and some mashed. Add flax egg, mushroom mixture, flour, nutritional yeast and bread crumbs, and stir to combine. Taste the mixture (the beauty of a vegan loaf is being able to taste test at every step!), and adjust seasonings as needed. At this point you can add more salt, pepper, tamari, worcestershire or nutritional yeast. Transfer loaf mixture to loaf pan and smooth out the top using a spatula.
In a small bowl, combine ketchup and balsamic vinegar and whisk to combine. Spoon glaze over loaf mixture and spread evenly.
Bake loaf for 1 hour. Serve hot alongside mashed potatoes, gravy and vegetable of choice.
ENJOY!
https://jillianharris.com/mushroom-meatloaf-with-balsamic-glaze/
This recipe is the ultimate comfort food and tastes even better on a beautiful snowy night … when you're tucked in your home with a bottle of Sandhill wine! LOL!
Enjoy!
xo
Jilly
Thank you Sandhill for sponsoring this post. All comments and opinions are my own.