If you're looking for an eerie treat to serve up at your Halloween party this year, we have you covered. This blood curdling black forest cake is just as creepy as it is delicious! Loaded with canned cherries (and a splash of cherry liqueur!), indulgent chocolate, and topped with spooky marshmallow cobwebs!
This twisted black forest cake will certainly steal the show and your guest's appetites (in a good way!). I've included the full recipe for you below. Don't forget to use some of your leftover cherry syrup to leave some gruesome "bloody" handprints on your counter to take your Halloween decorating to the next level.

Ps. Stay tuned because tomorrow I'm also releasing a Black Widow Cocktail!!
Ingredients
For the Cake:

2 2/3 cup almond milk
3 tablespoons apple cider vinegar
2 cups sugar
3/4 cup grapeseed oil
1 1/2 tbsp vanilla
4 cups all-purpose flour
1 cup cocoa powder
3 teaspoons baking soda
2 teaspoons salt
For the Filling:
1  1/2  cups canned cherries (either homemade or storebought!)
1/4 cup cherry liqueur

For the Icing:

3/4 cup vegan butter
2/3 cup cocoa powder
2 cups icing sugar
1/2 teaspoon vanilla
2-3 tbsp almond milk
Pinch of sea salt

For the marshmallow cobwebs (optional):

1 1/2 cups marshmallows
Instructions
Make the cake. Preheat the oven to 350 degrees. Grease three 9 inch cake pans and set aside.
In a large bowl, whisk together almond milk and vinegar. Add the sugar, oil and vanilla and whisk for 1 minute to combine.
In a large bowl, sift together flour, cocoa powder, baking soda and salt until combined. Add the wet mixture to the dry mixture and stir until just combined. Don't overmix!
Distribute cake batter evenly into all three pans and smooth out the top.
Bake for 30 minutes or until a toothpick comes out clean. Place the pans on a cooling rack for 15 mins, and then carefully transfer out of the pan onto the cooling rack and let cool completely.
Making the bloody filling. In a small bowl whisk together all filling ingredients until combined. Set aside.
Make the icing. In the bowl of an electric mixer combine all icing ingredients. Turn speed to low and gradually increase to a higher speed. Whip frosting on high until smooth and creamy. Set aside.
Assemble your cake. Place one layer of cake on a cake stand. Using a serrated knife, skim the top of the cake and scrape off the top 1/8 inch or so of cake off so that your first layer is level. Add half the cherry filling and place the second layer on top. Repeat with the second layer. Add your final cake layer on top and scrape off top layer. Using an icing spatula or regular spatula, add your icing onto the cake and spread evenly across entire surface.
Add your cobwebs. Add marshmallows to a bowl and microwave for 30-45 seconds or until melted. Let cool for 2 minutes so it's safe to handle. Using your hands (this will be VERY messy!), spread marshmallows all over cake creating cobwebs (there are video tutorials online if this is confusing!). Let cool. Add fake spiders or other props for a creepy effect! Best served fresh. Will keep for 3 days in the fridge.
https://jillianharris.com/blood-curling-black-forest-cake/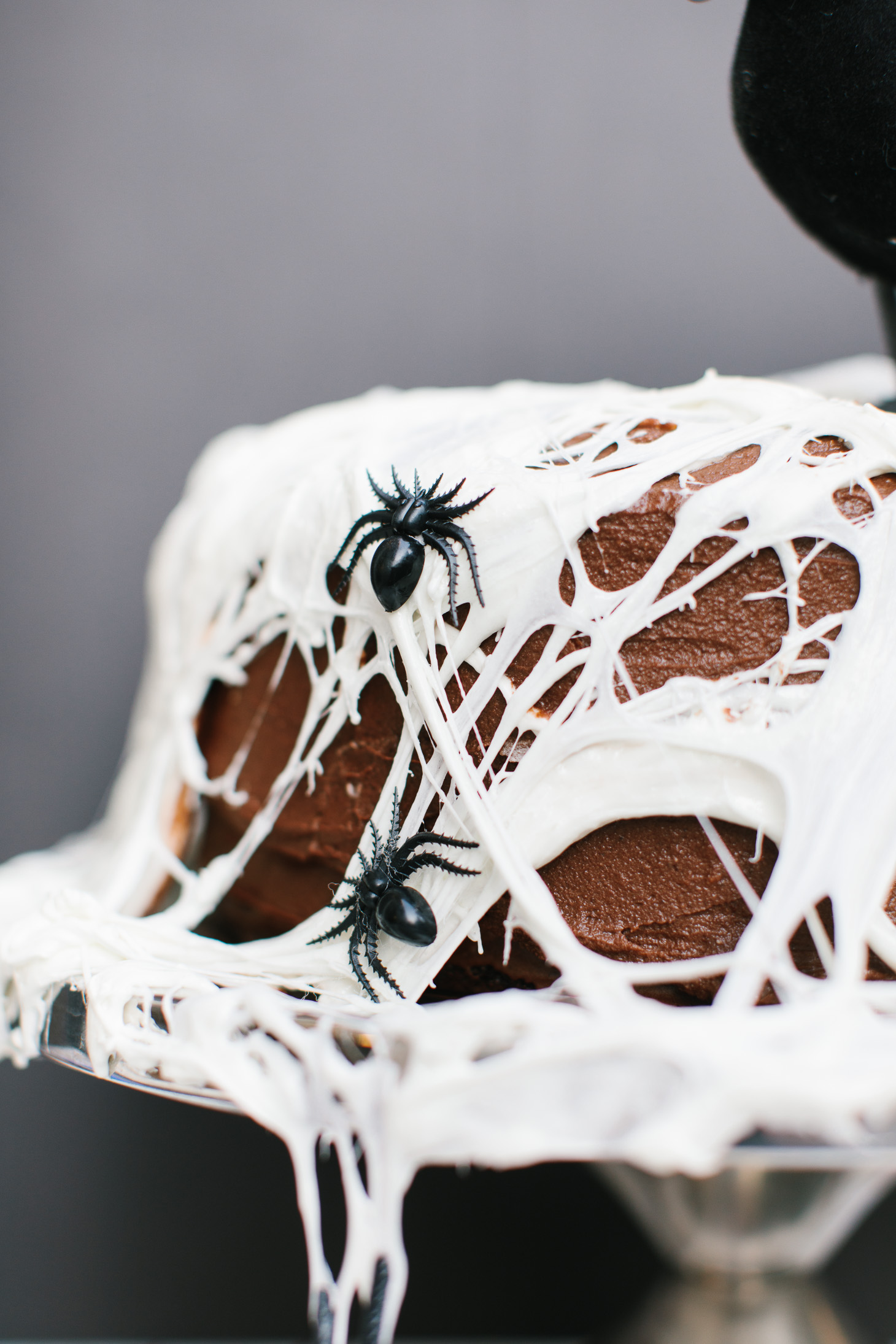 I hope you enjoy, ghosts and ghouls. If you end up making this tasty treat … make SURE to share photos with me over on my social channels!
xo
Jilly