Our cherry trees have officially started producing fruit! In fact, they're LOADED with delicious brilliant bright red Okanagan cherries! Leo and I have been making a daily habit of popping outside and plucking as many off of the trees as we can before the birds steal all of them on us! We have picked so many that both our fridge and freezer are packed to the brim but we're certainly not complaining about that! ??
The most exciting part about our cherry explosion is the fact that I get to play around with different cherry recipes (there's lots of wiggle room for trial and error over here!) and share them with you! Well, today I'm kicking off cherry season with this delicious Okanagan Cherry Cheesecake Ice Cream Sandwich recipe! Last year my cousin, Tori, from Fraiche Nutrition shared her recipe for Tropical Nice Cream Sandwiches on my blog (you can find that recipe, here!). So, this year I figured I would add to our online vault of ice cream sandwich recipes but this time with the perfect sunny Okanagan twist!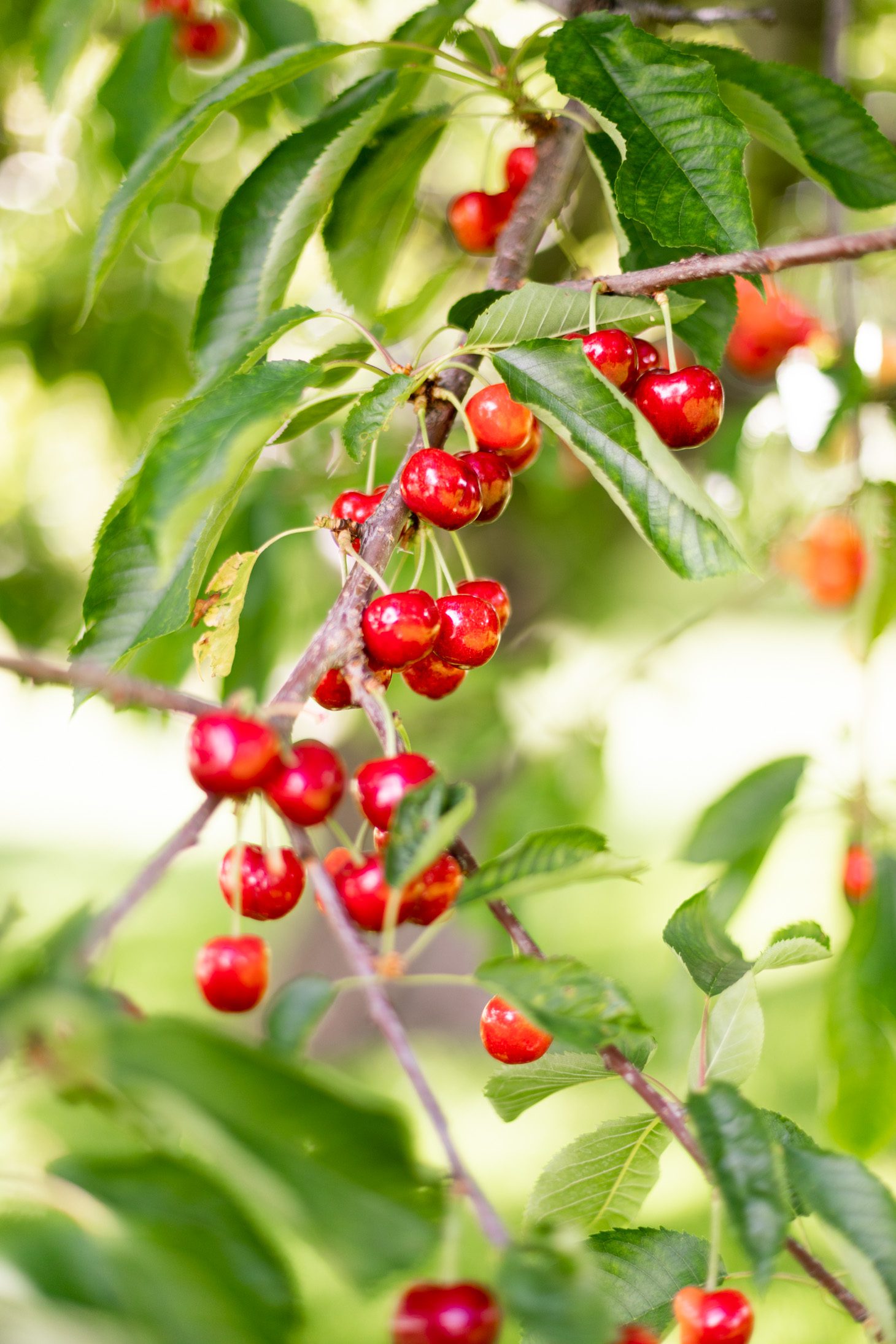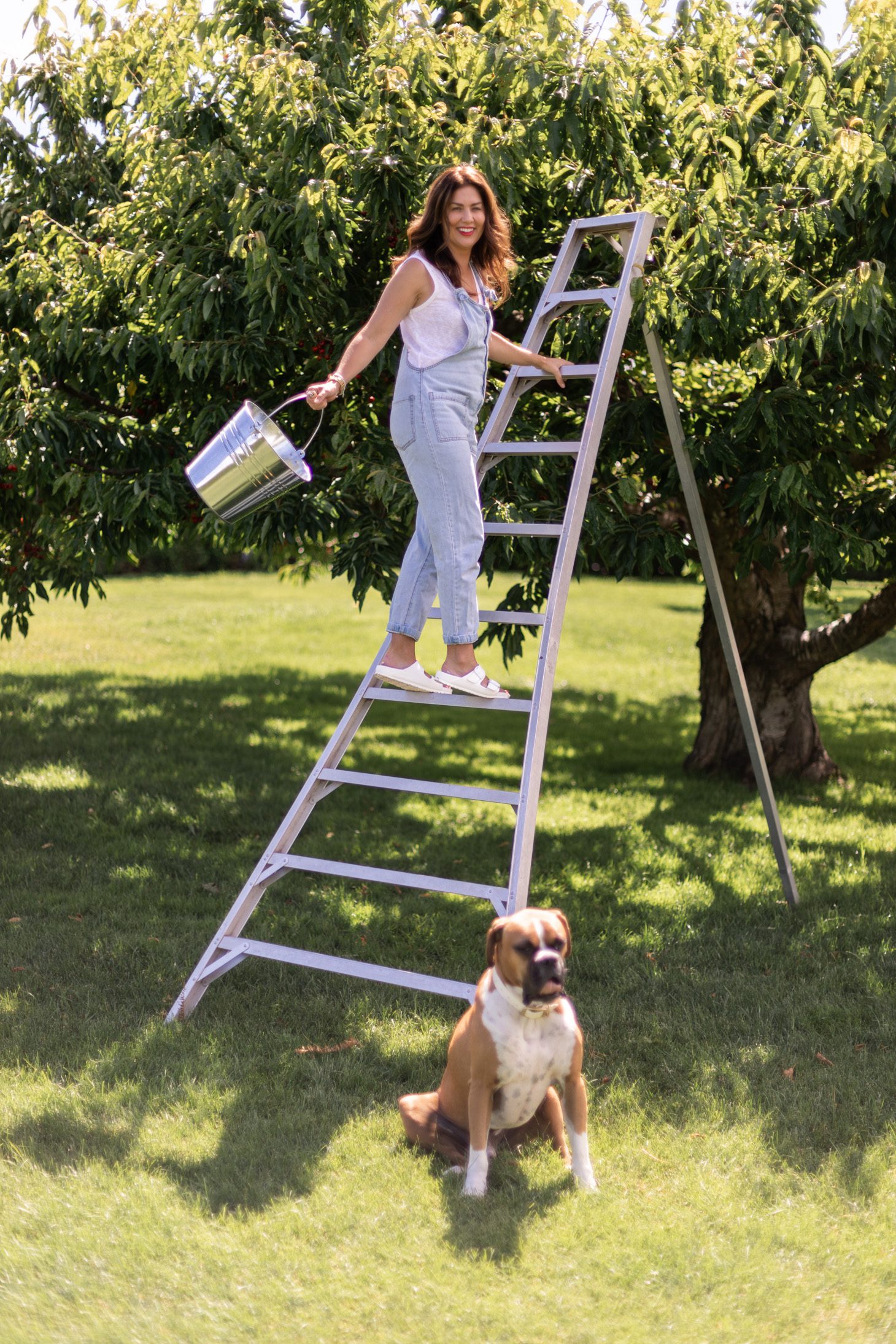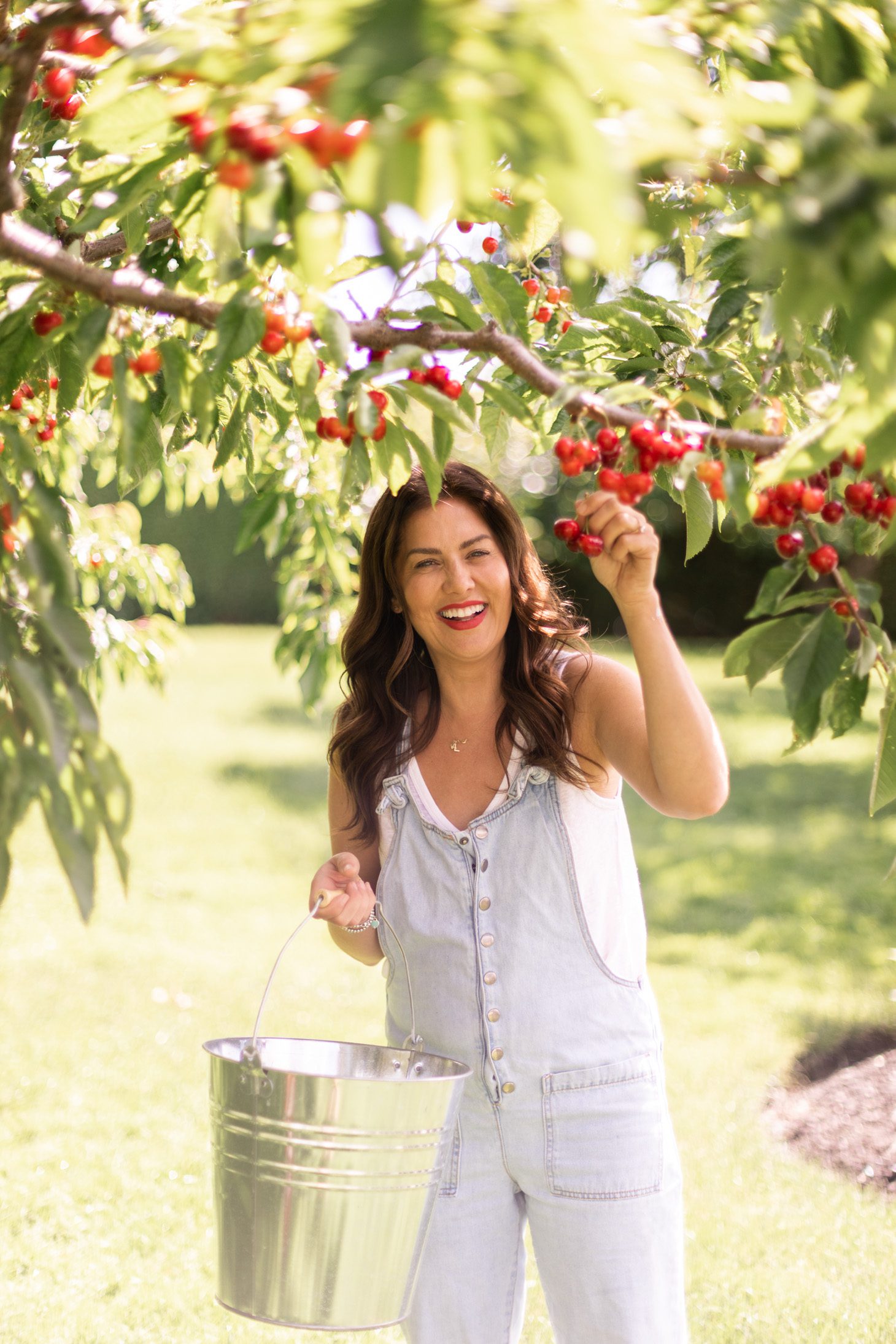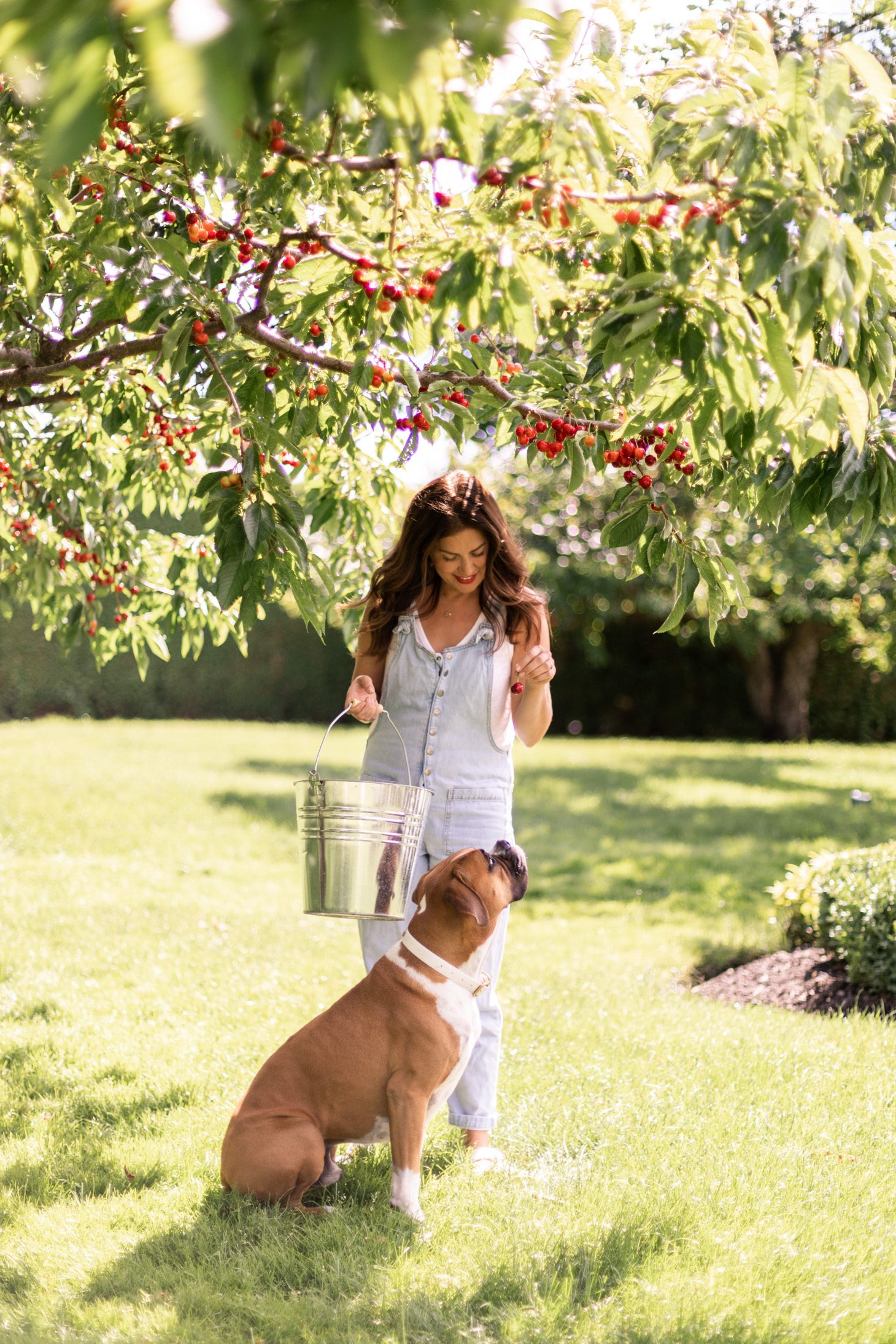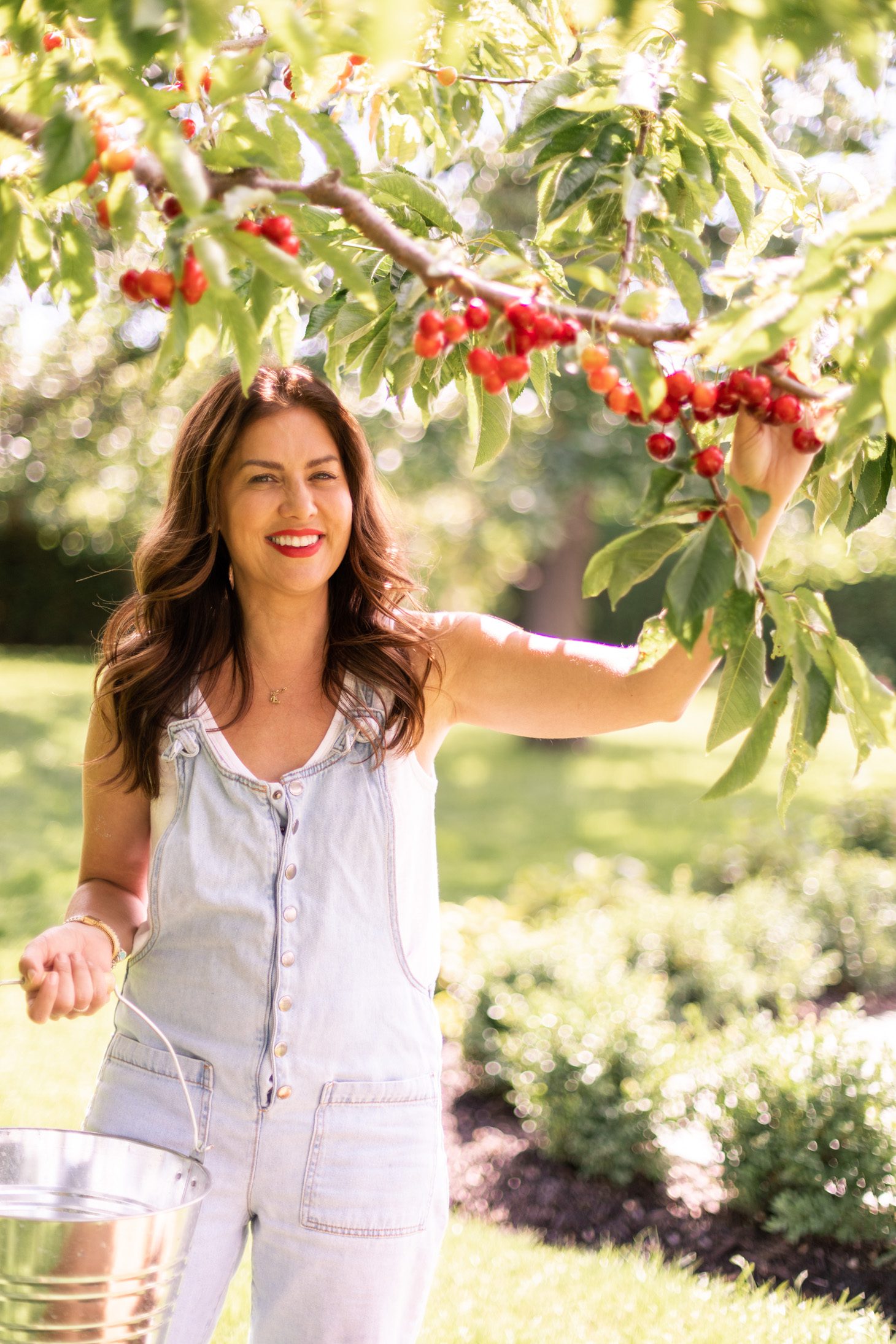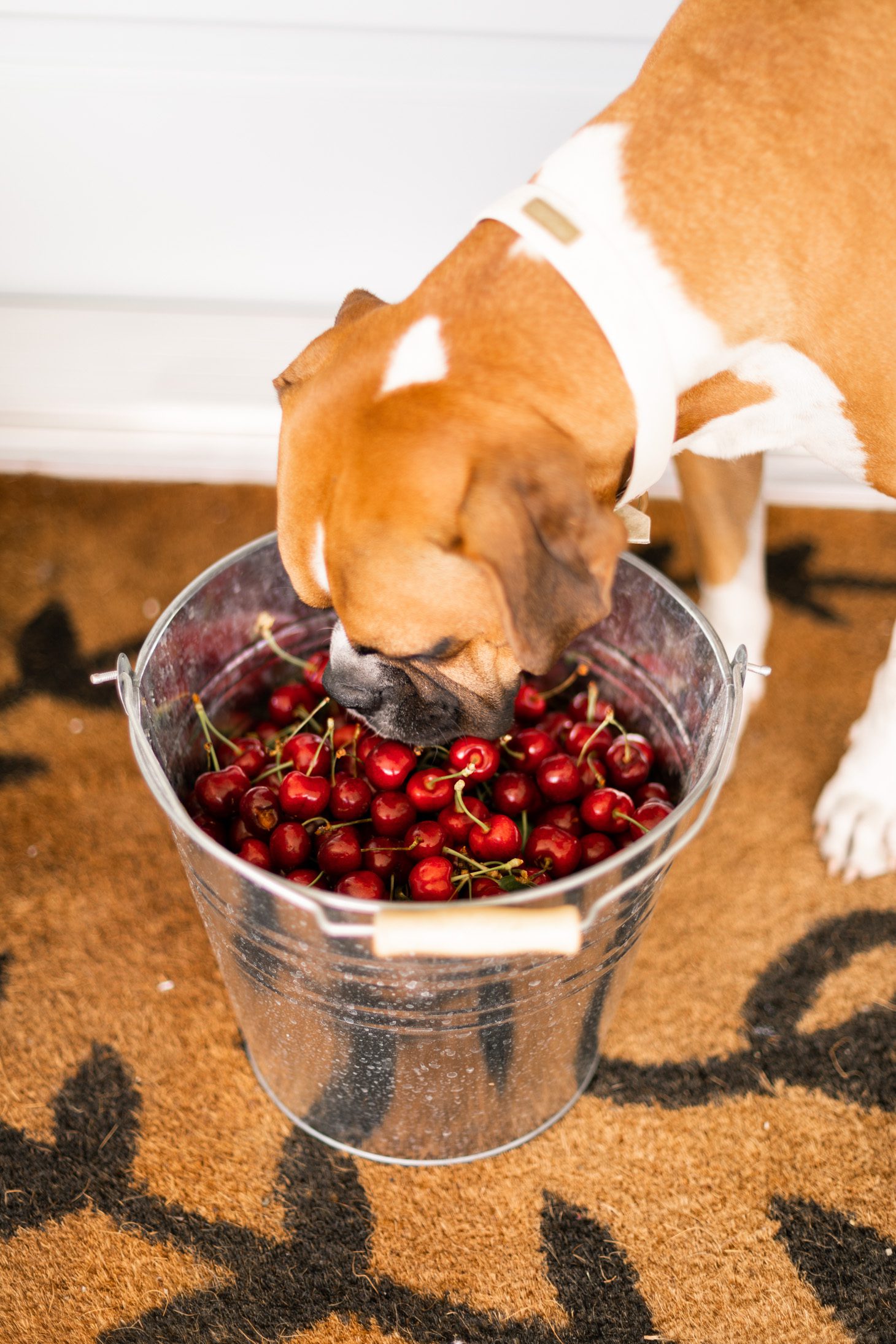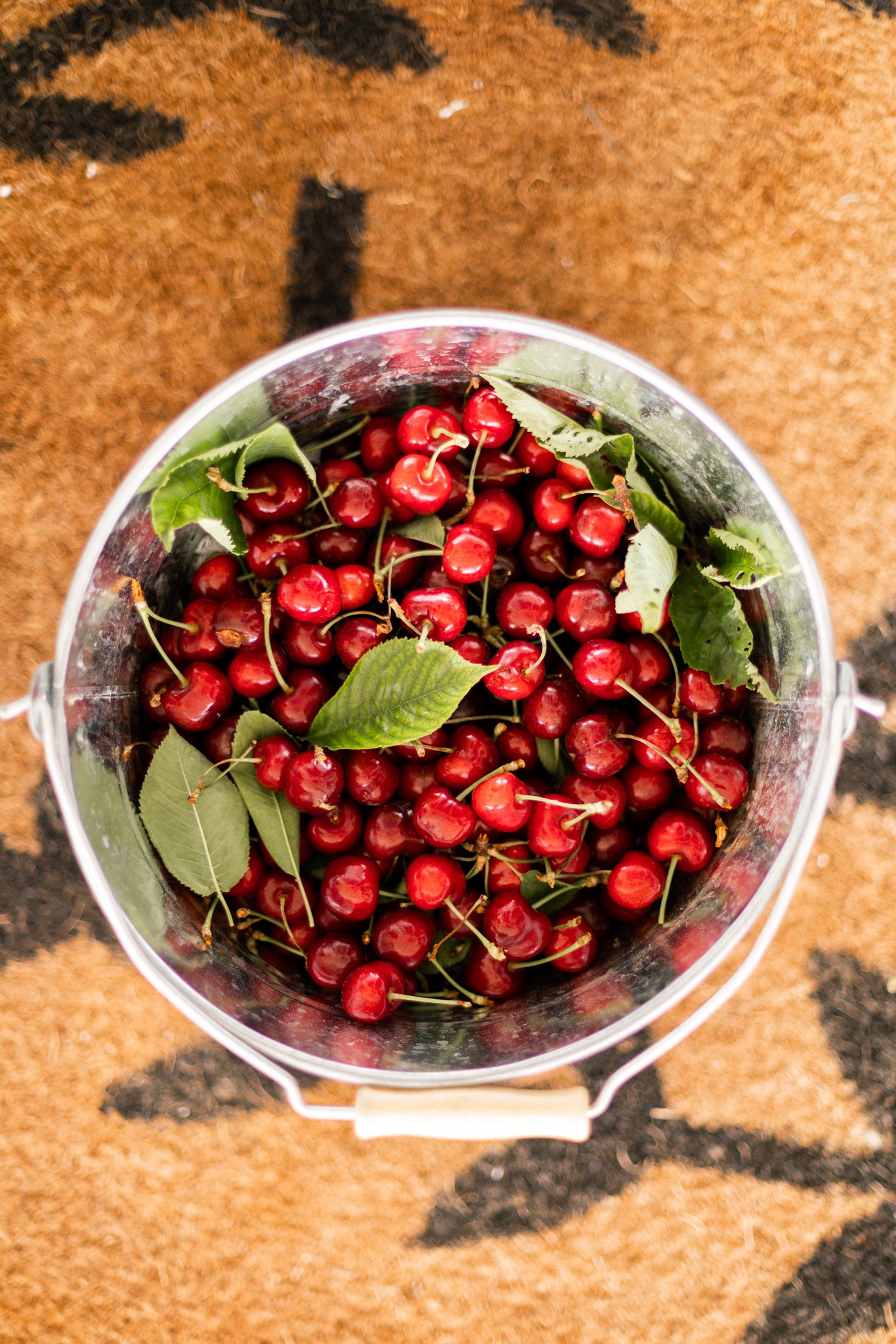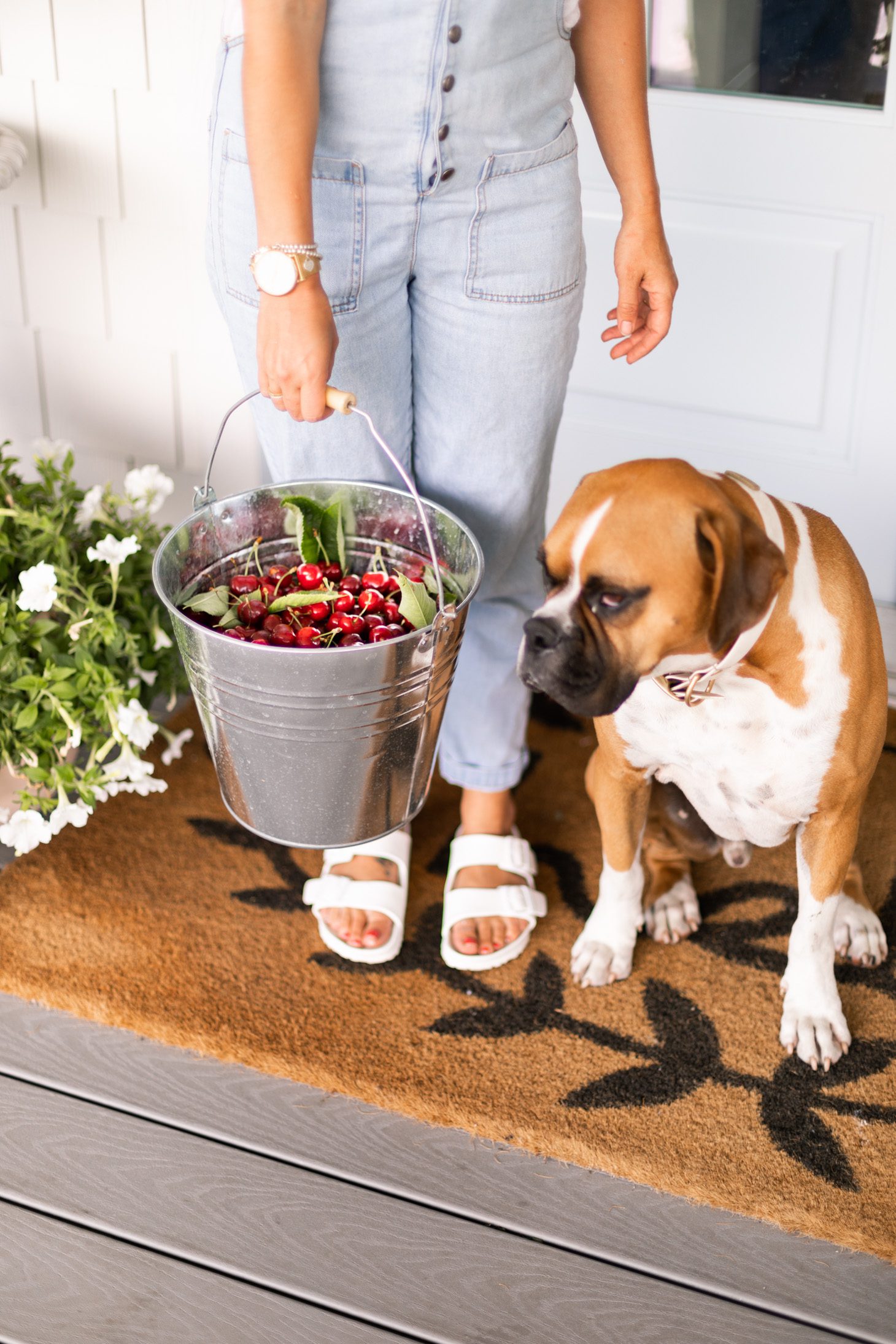 Now, I'll be honest with you … I struggled a little bit with this recipe because let's face it … I'm not as good of a baker as I am a cook! So, originally I attempted to make cookies for the sandwich (similar to the oat bar you would find at Starbucks!). I played around with it for a while and felt like it was a total flop but instead of throwing them out, I tossed them in the freezer and decided to go with a simple graham cracker recipe instead! Instead of fumbling around with the baking once again, Easton gave it a whirl and used this recipe from Cincy Shopper and she NAILED it! The graham crackers turned out perfectly!
In my opinion, the best kind of ice cream is really creamy, rich, and chewy so the key to making vegan ice cream is to make SURE that it's high fat (hey, I didn't say this was a healthy recipe!). I researched many ways on how to make the creamiest vegan ice cream and there were a couple of ingredients that continued to pop up. One is corn syrup (yes, again, not healthy but this is what we call a "sometimes" food … we don't have it often and it really worked well for this recipe!) and the other is xantham gum! You only use a tiny little bit of xantham gum, it acts as a thickener and helps prevent separation of the ingredients!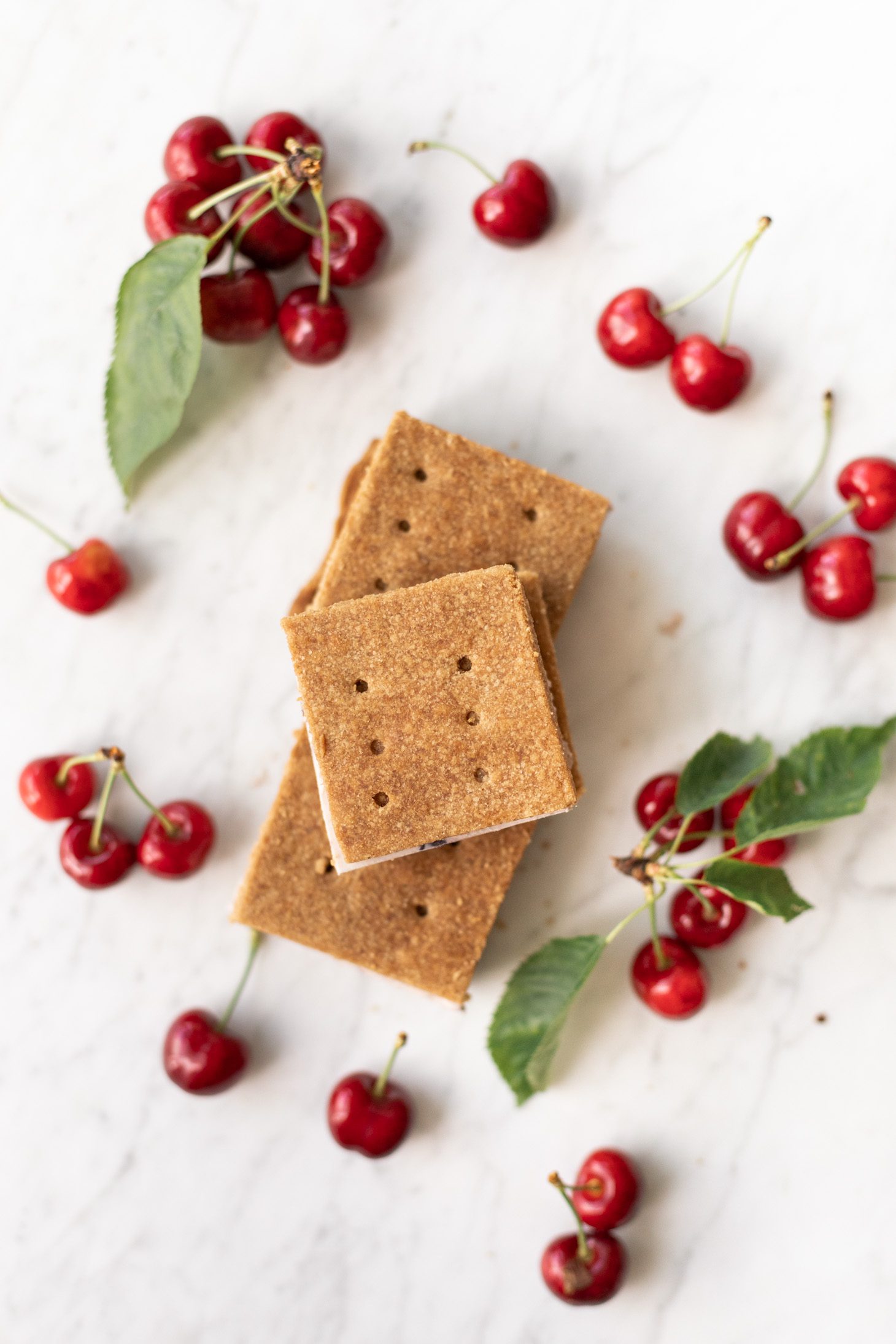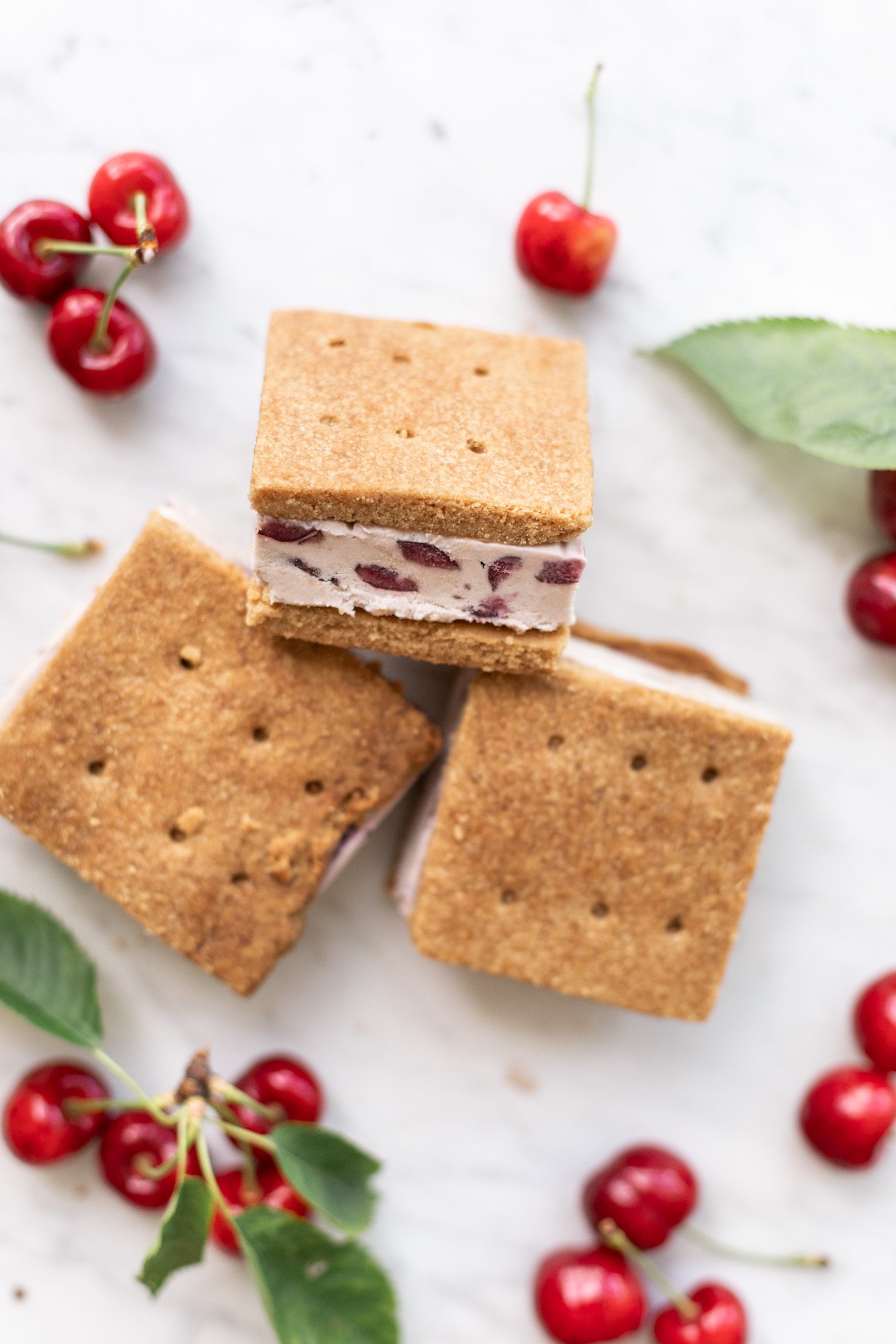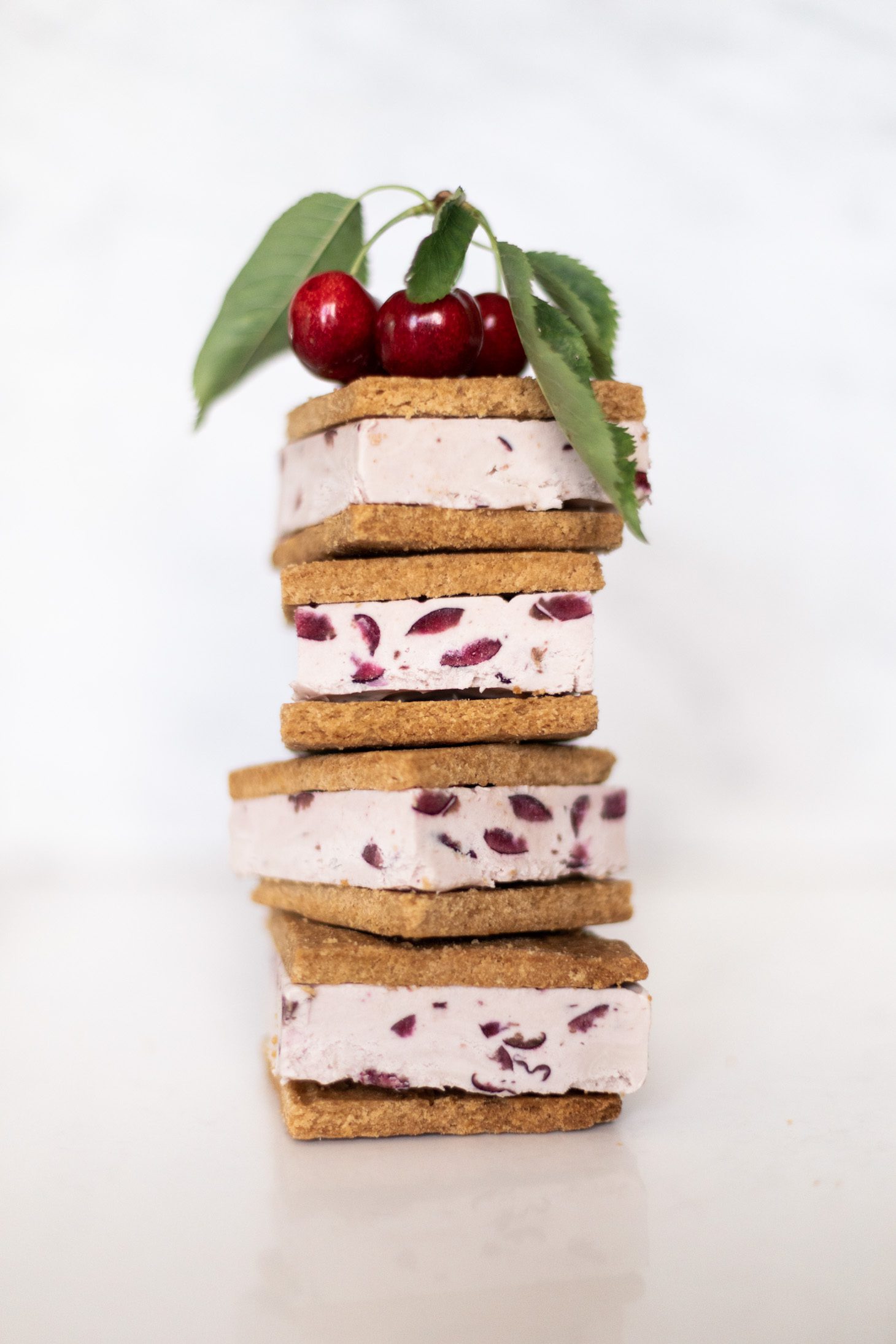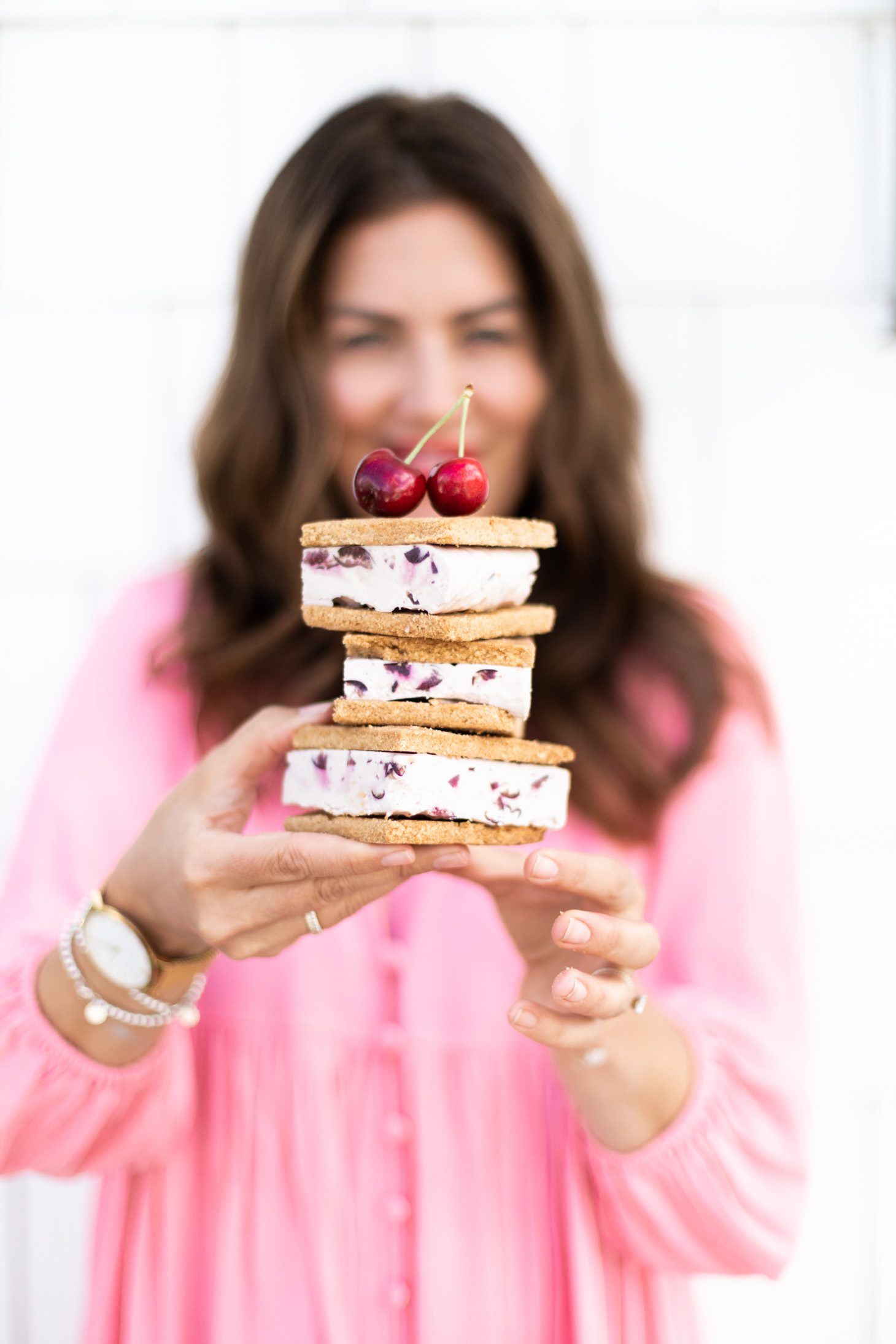 Side note: This recipe is vegan but if you're not into vegan ice cream (or, NICE cream, if you will ?) you could totally make this recipe by swapping the nut milk with heavy cream!

Ingredients
For the Graham Crackers

1 cup softened Butter (we used Earth Balance vegan butter)
3/4 cup Brown Sugar
1/2 tsp Salt
3 tbsp Honey
1 1/2 cup Flour
1 1/2 cup Wheat Flour
1 tsp Baking Soda
1 tsp Cinnamon

For the Cherry Cheesecake Ice Cream

2 cups pitted cherries
1 200ml can of Coconut Cream
1 cup of soaked Cashews (soak overnight or simmer on stovetop in water for approx. 15 minutes)
1/2 cup of Corn Syrup (you can also try maple syrup if you prefer)
1 tsp Almond Extract
1/2 tsp Vanilla Extract
1 cup Vegan Cream Cheese (I used Yoso plain cashew based cream cheese)
1/2 tsp Xantham Gum
1 tbsp Lemon Juice
Pinch of Sea Salt
Instructions
Make the graham crackers as per the recipe from Cincy Shopper. The recipe is linked in the blog above!
Quarter your cherries and set aside.
Add all of the ingredients except for the cherries for the cherry cheesecake ice cream into your blender (I use a Vitamix blender) and blend everything until smooth. Then transfer to your ice cream machine (I have the Cusinart Ice Cream Maker) and let it run for about 15 minutes.
Once your ice cream is ready transfer the ice cream from the ice cream maker along with the quartered cherries (scatter throughout evenly) to a 9x12 pan lined with wax paper. You want the ice cream to be about one inch thick throughout the pan and store in freezer until your graham crackers are ready.
Once the graham crackers are done, pull them out of the oven and let them cool. Once crackers are cool, pull the ice cream out of the freezer and cut the ice cream into squares that will fit the graham crackers.
Assemble ice cream sandwiches by placing your ice cream in between two graham crackers and serve immediately! Enjoy!
https://jillianharris.com/okanagan-cherry-ice-cream-sandwiches/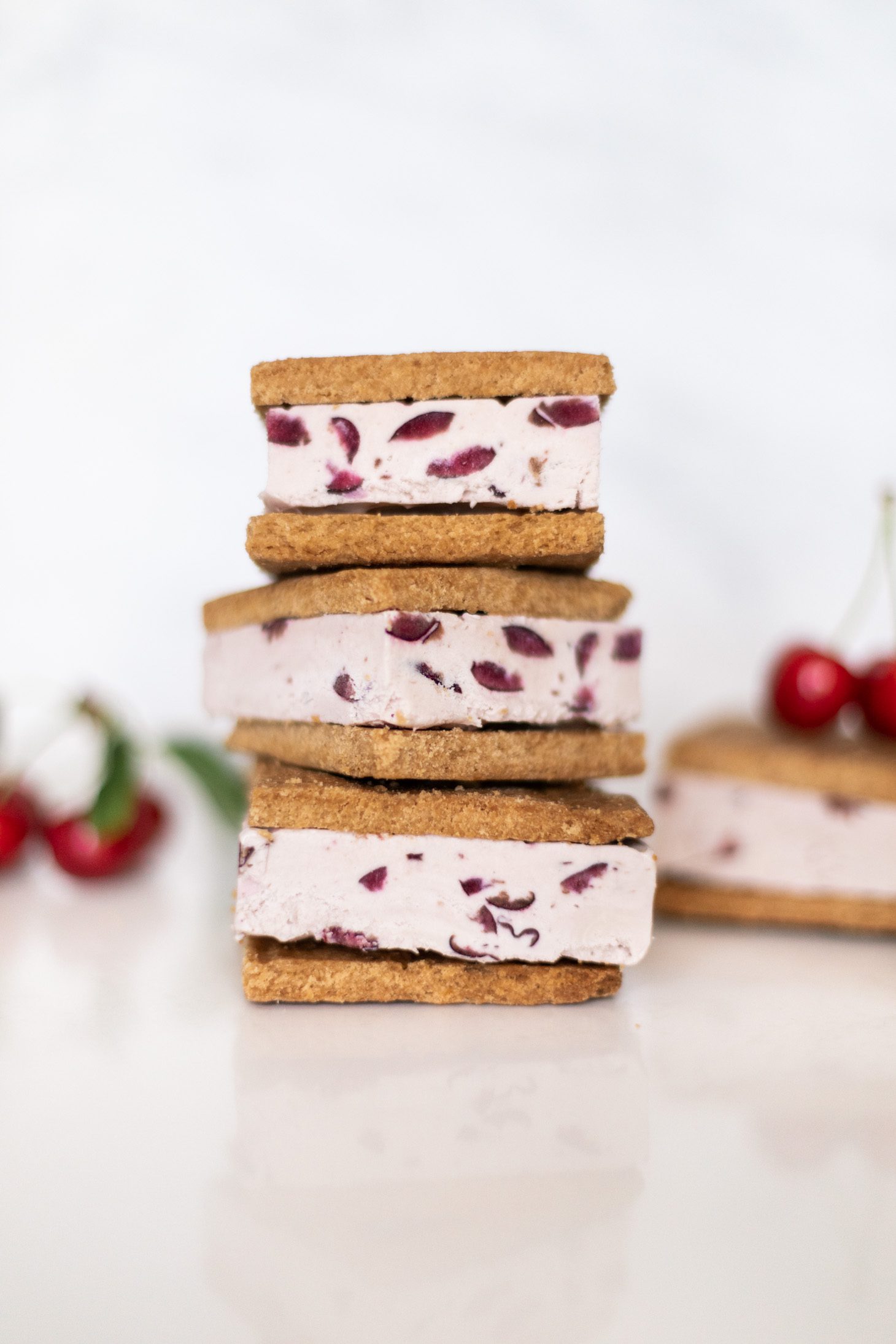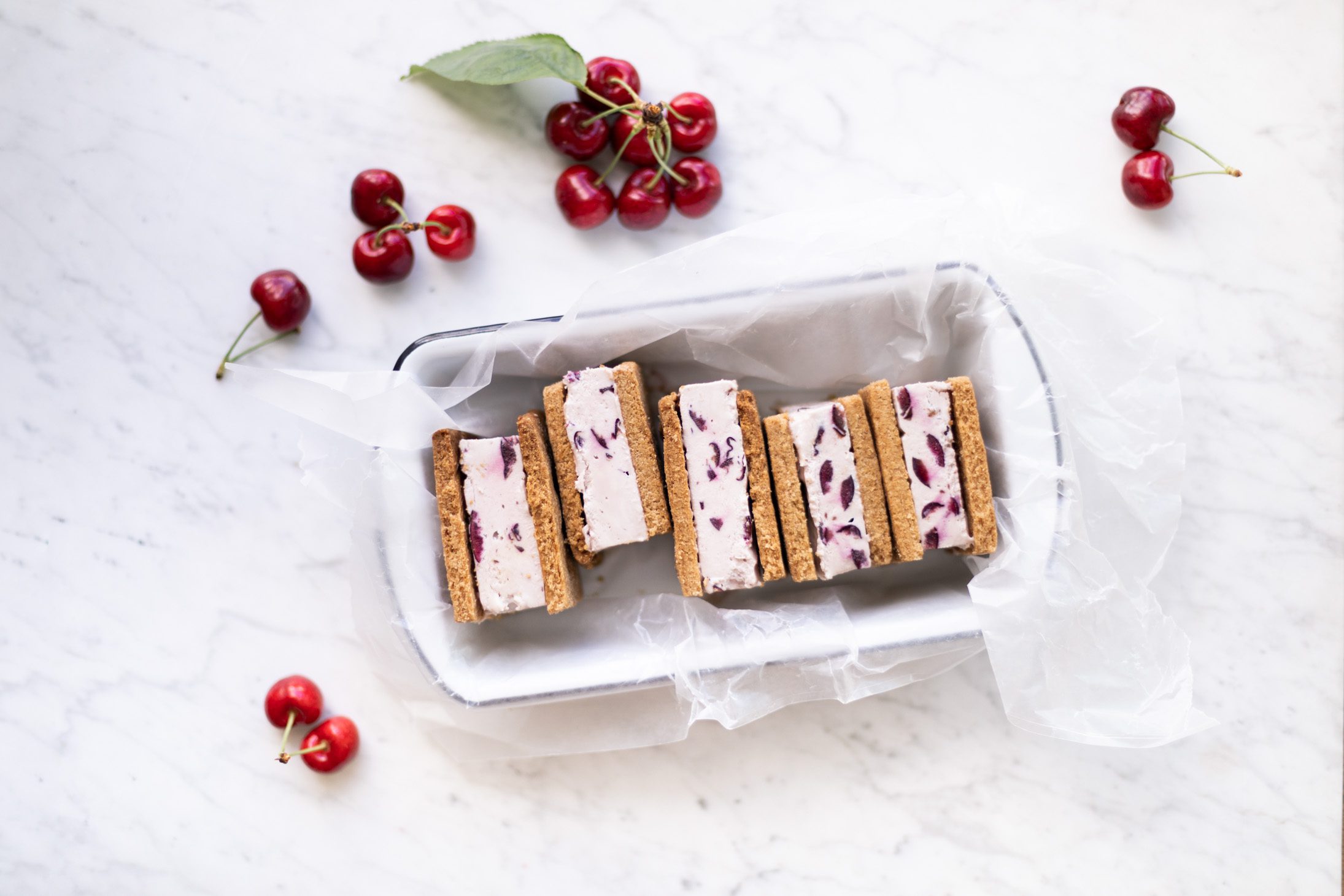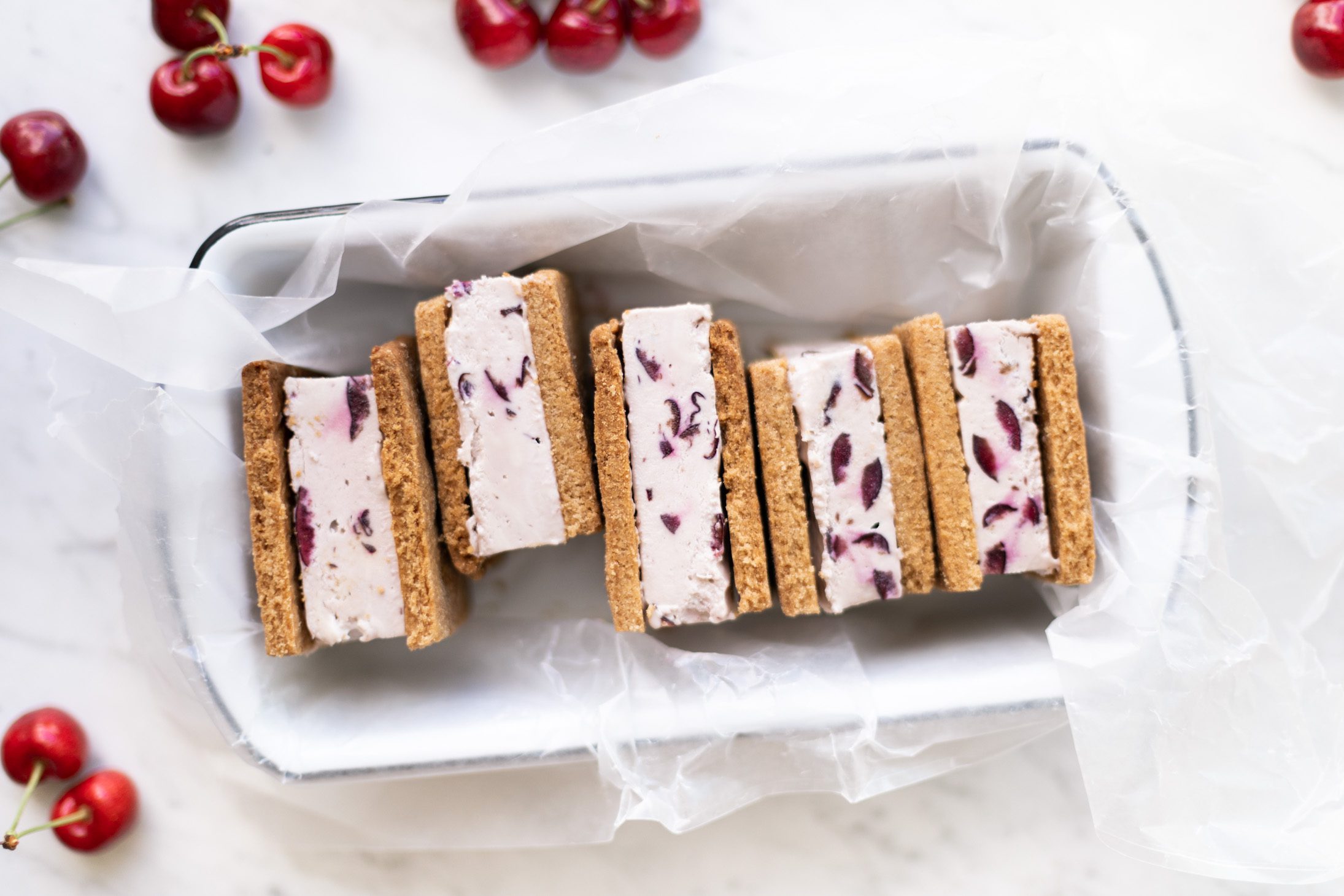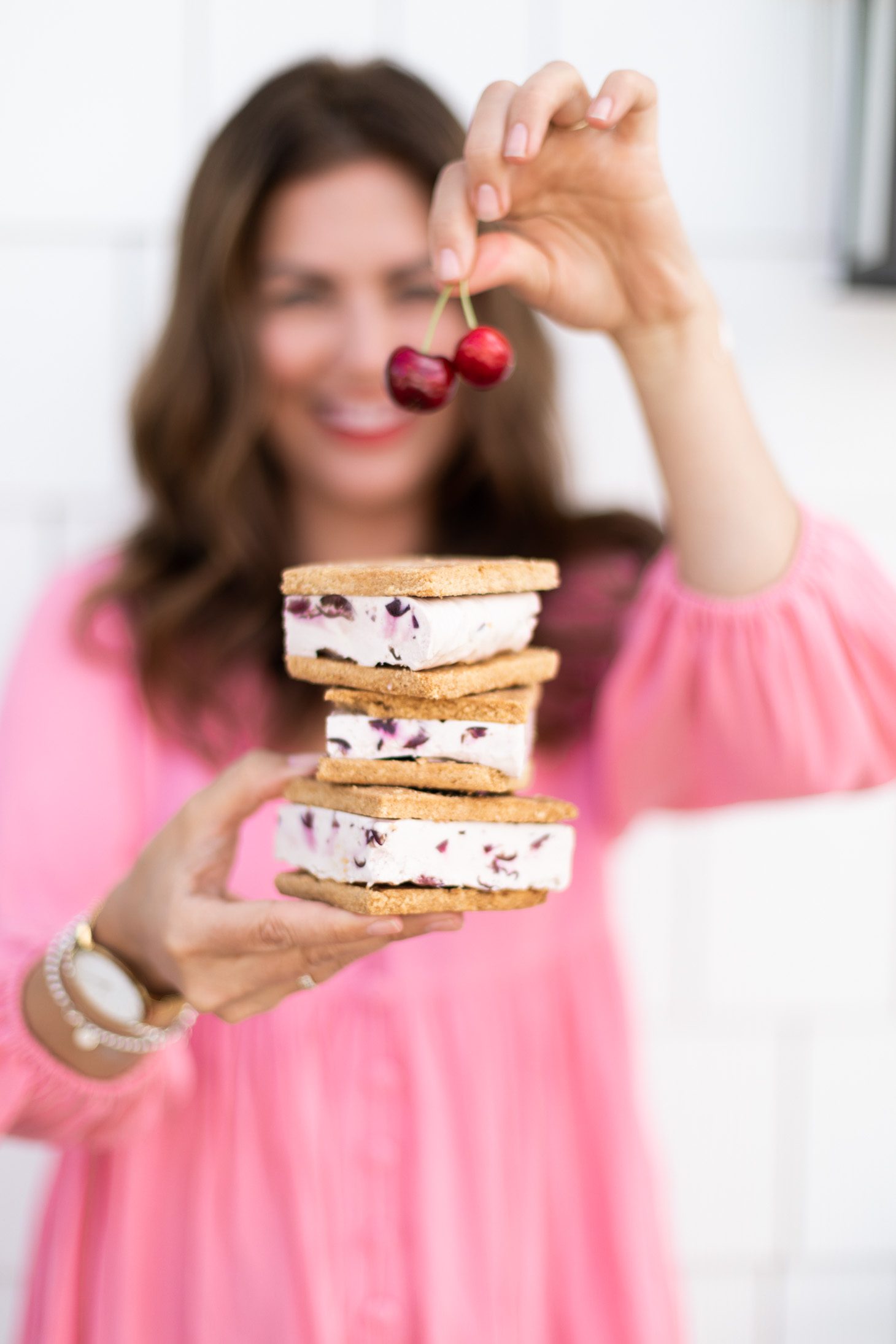 Remember earlier in this post when I said I attempted to make the cookies and I thought they were a flop so I popped them in our freezer? Well, after we whipped up this recipe I decided to crack open the freezer and see how they made out and to my disbelief they were INCREDIBLE! LOL! Maybe I AM a baker after all! ? So, I've decided that when peach season rolls around we're going to do a peach crumble recipe with it! So, stay tuned for more!
xo
Jilly