Hi everyone, Tori here from Fraiche Nutrition!!! With back to school just around the corner, I thought I should start testing out healthy granola bar recipes (these ones are also vegan) that kids love but more importantly that they're allowed to bring to school. With all of the different food allergies out there these days you'd be surprised about what the kids are and aren't allowed to pack in their lunch kits. Soooooo I came up with these chocolate cherry oat bars that Charlie loooooves!!! The chocolate mixed with the tart cherries is the perfect kick for your sweet tooth. Oh and you can pack these in your bag too and you won't feel guilty about a healthy indulgence … these ones DEFINITELY aren't just for the kids (but they're kid friendly)!!!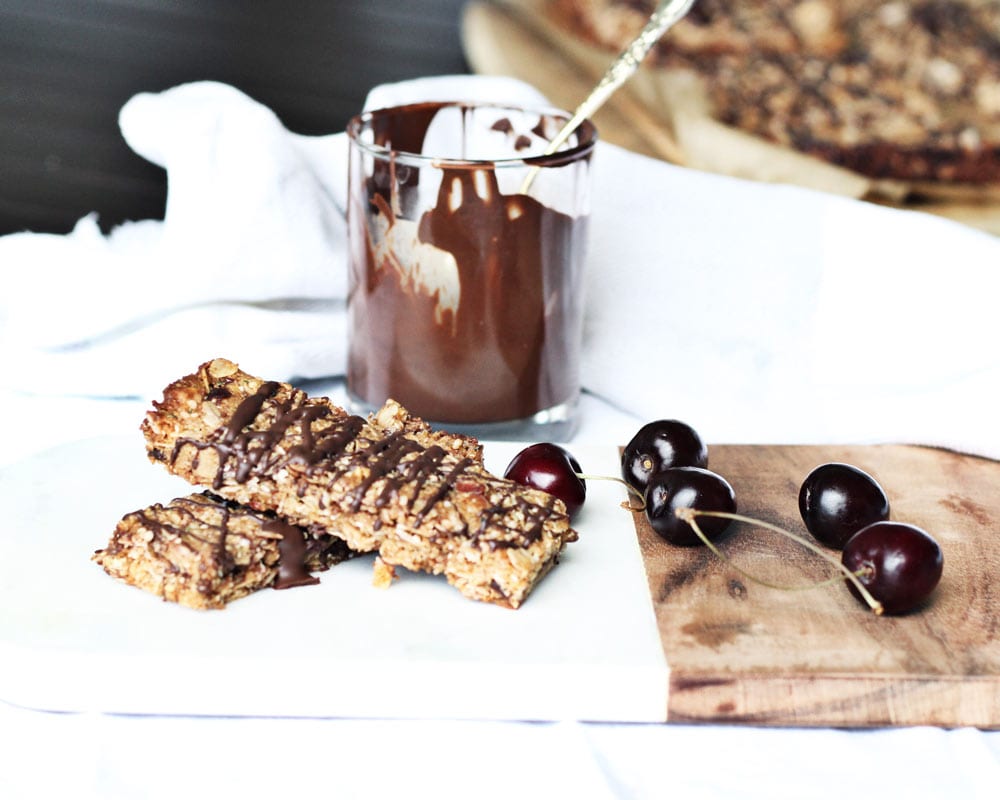 Ingredients:
¾ c. coconut oil
¼ c. honey
¼ c. agave syrup
¼ c. brown sugar
1 tsp. vanilla
½ tsp. almond extract
½ tsp. sea salt
1 ½ c. large flake rolled oats
¾ c. oat flour
1 c. unsweetened shredded coconut
1 c. unsweetened large flaked (ribbon) coconut
1 c. dried sour cherries
½ c. hemp seeds
1 tsp. baking powder
2/3 c. semi-sweet chocolate chips, divided (or vegan chocolate chips)
Directions:
1. Preheat the oven to 350F and line a 9×13" baking pan with parchment paper, leaving some paper sticking out of the sides so that you can easily remove the bars from the pan once cooked (you can grease the pan before lining it with parchment to help it stick).
2. In a small saucepan, combine the coconut oil, honey, agave syrup and brown sugar. Cook on low heat until the coconut oil is melted, stirring well to help dissolve the brown sugar. Add the vanilla and set aside.
3. In a large bowl combine the remaining ingredients and stir to combine. Add the coconut oil mixture and mix well. Fold in 1/3 of the chocolate chips.
4. Pat the mixture into the prepared pan with your hands: you want to make sure that it is firmly pressed to ensure that the bars will stick together.
5. Bake for 25-30 minutes or until golden brown. Remove from the oven and completely cool and press the bars down again before taking the bars out of the pan (this can easily be done by lifting the parchment sides).
6. Melt the remaining 1/3 cup of chocolate in the microwave (at 30 second intervals, stirring in between, until completely melted). Drizzle the chocolate over the bars and cool. Cut into bars with a large sharp knife.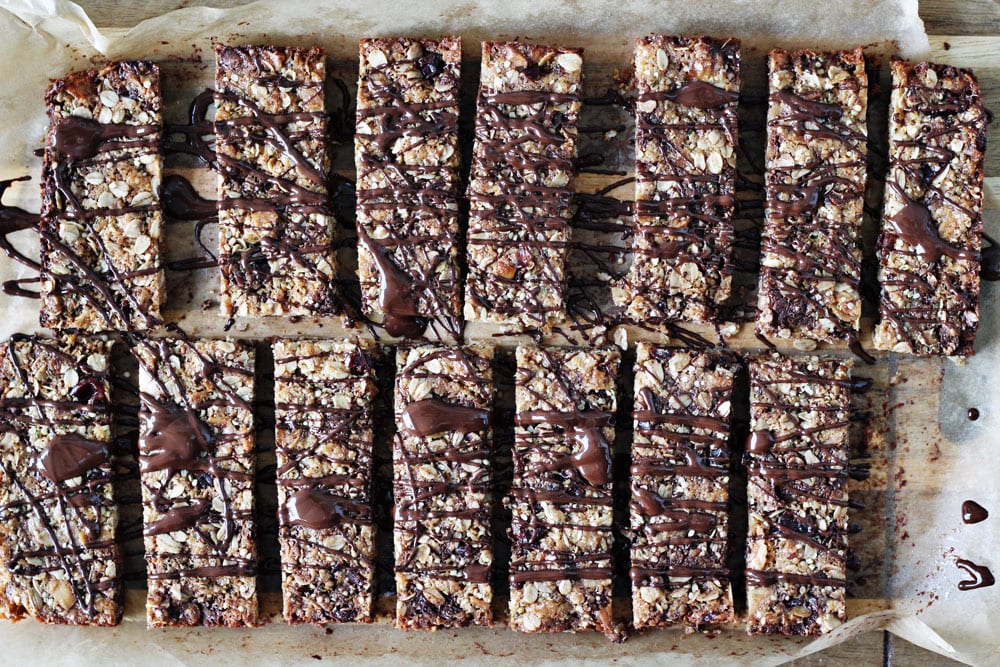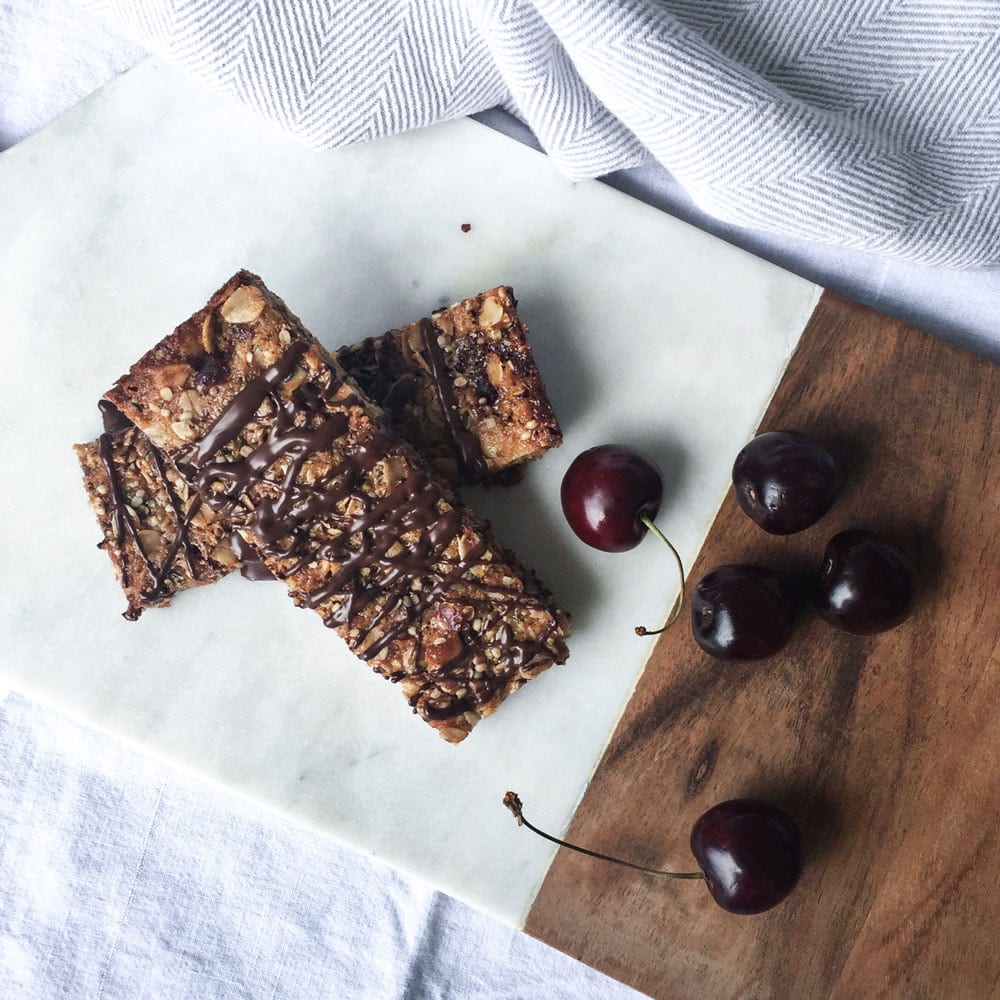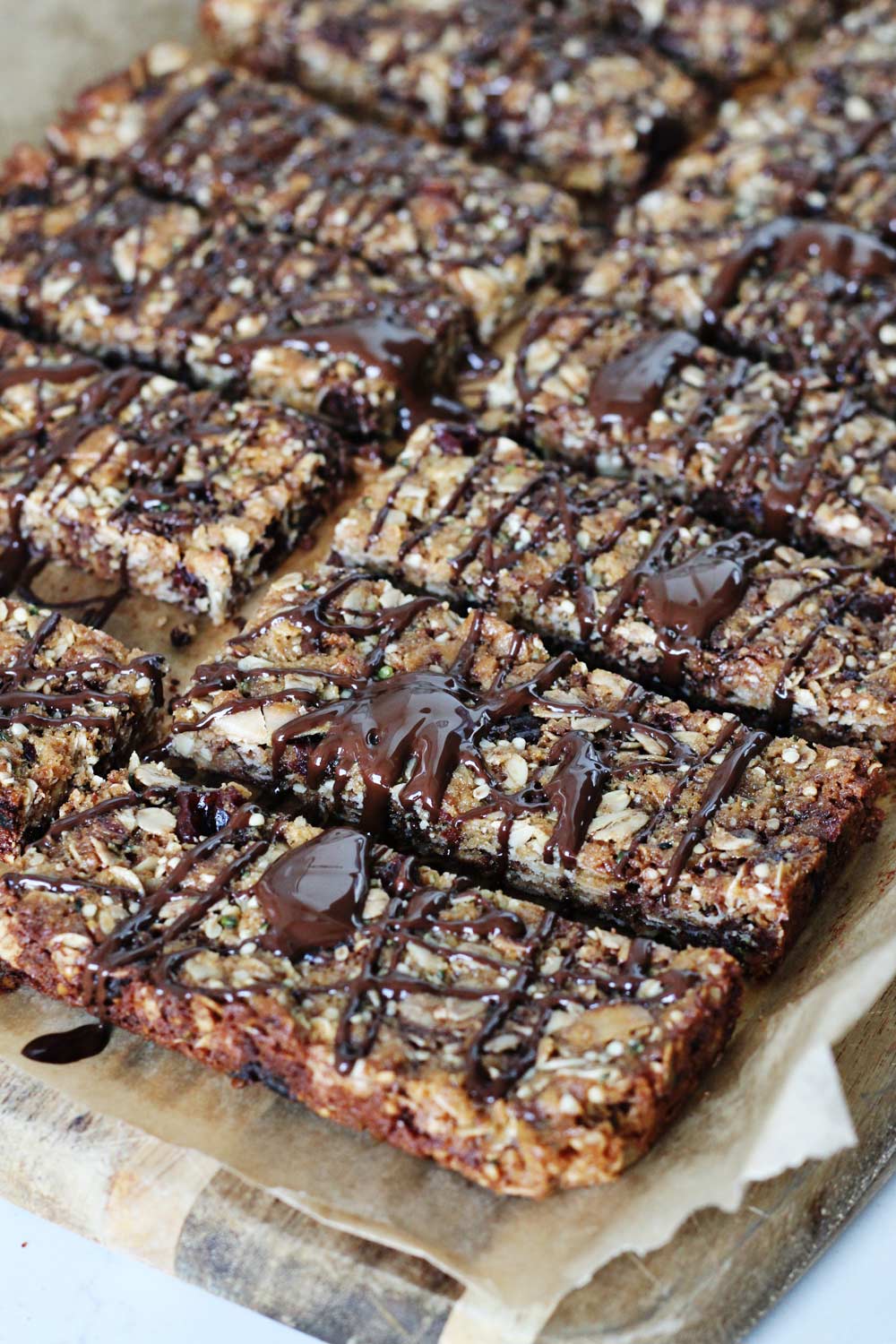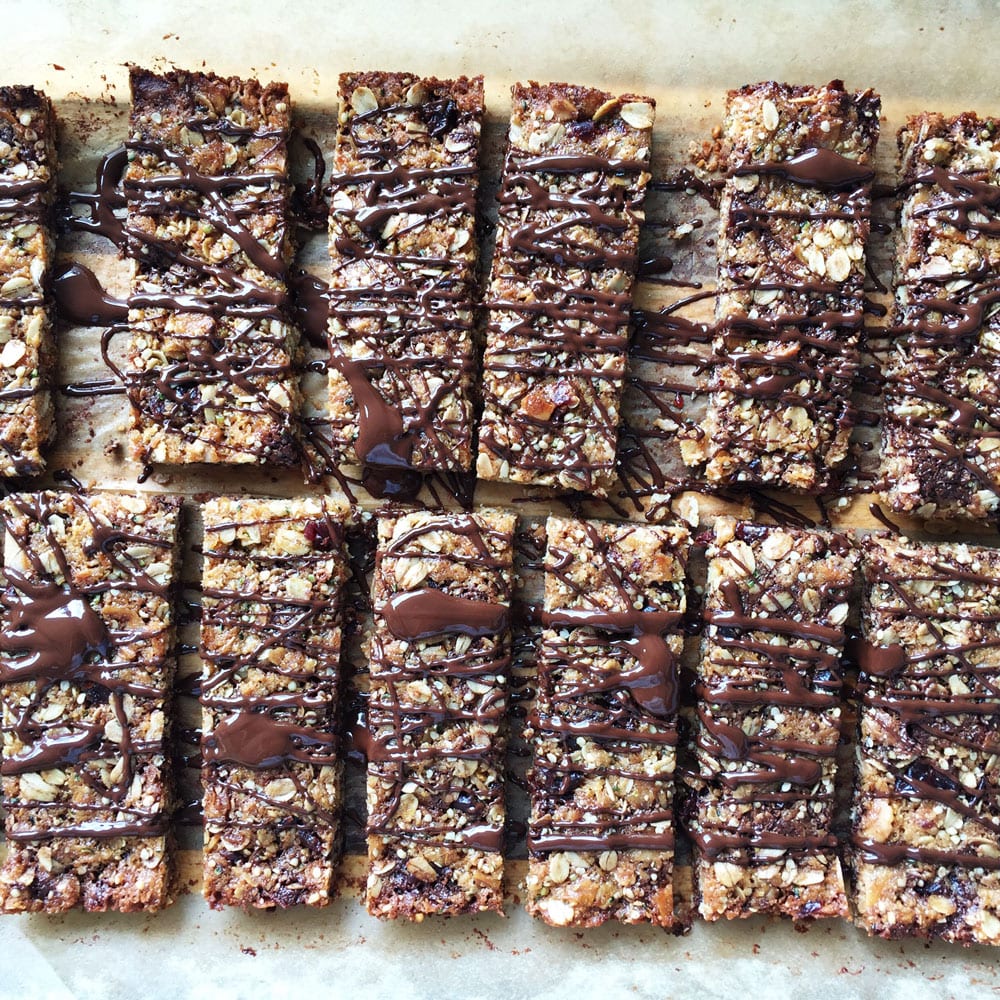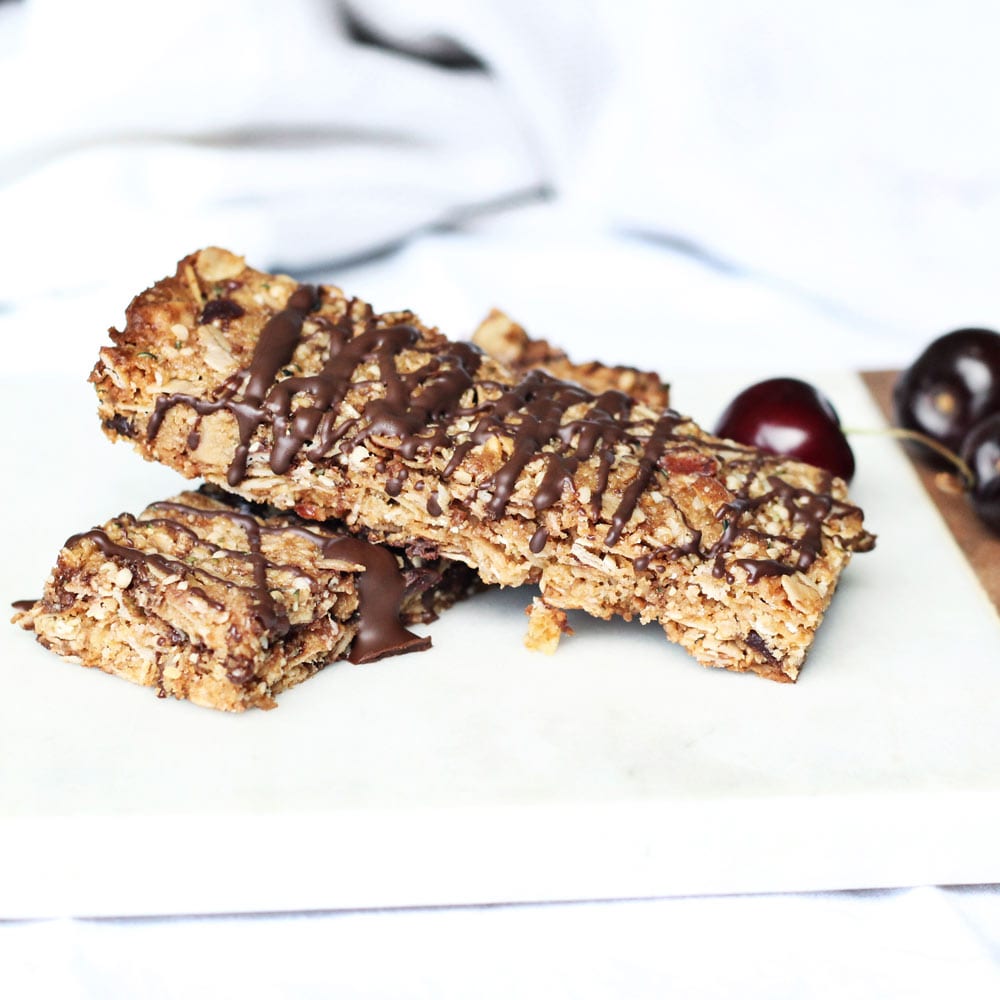 Do you have other healthy recipes that you'd like to see??? Let me know in the comments below …
xo
Tori